---
News, Events and Announcements
---
---
New Year's Eve Guide
---
Hotel California 8th Annual New Year´s Eve Bash - 7 pm. $700 pesos per person. Debbie Stewart, debbie [-at-] hotelcaliforniabaja.com, 145.0525
Rancho Pescadero New Years Eve Beach Party - 2PM. $200 pesos. Reservations Christine Sperber, rancho1 [-at-] ranchopescadero.com, 612 135 5849
Mario's Bar At Hotelito New Years Eve 5PM 'till late. Closed New Years Day.
The Sandbar-- New Years Eve closed -- New Years Day open (for games and food/drinks)
---
Note: Area restaurants, please submit your New Year's Eve Events here: http://www.bajawesternonion.com/submitad.asp
---
Don't Forget, our complete Community Calendar including Recurring Events, Meetings and Workshops is always located near the bottom of each issue of the Baja Western Onion
---
Submit your News, Events and Announcements articles for next week's Baja Western Onion: http://www.bajawesternonion.com/submitad.asp
---

---
Comments, Questions and Answers
---
Biosphere Reserve - I'm curious about an item about permits to enter the biosphere reserve posted in the last issue of the onion. There is no 'course' required for visitors who enter the reserve from any of the controlled access gates on the east side, such as san dionisio or la zorra. If the gate is manned, you pay 20P.,if it isn't manned, you enter free. My understanding from semarnat is that the permit system is intended to control access by large groups, and a permit is not required by two or three people on an overnight hike.- Jack Danylchuk, jdanylchuk [-at-] hotmail.com, 867 873-4824, Canada
---
Cell Phone vs. Mexican I.D. - For the person who heard that a cell would be disconnected without Mexican I.D. -- this is baloney unless there has been some major recent change, which is highly doubtful. I have bought and used Mex celulares for several years, as have lots of expat friends. No one has ever asked me for an id of any kind, except for the one on the $500 peso note. - Paul Rude, 510 644 3725, Todos Santos
---
I Want To Thank The Wonderful Lady Who Found Our Friend's Doggie, Tater, And Took Him To The Police. - We searched for him during the night and the next morning, December 23rd, the police brought him to us. You see, his "dad" is a policeman who is in the hospital. I am sure Tater was out looking for him. He only ran away because we weren't here, we were visiting his "dad" in La Paz. Again, thank you so much. Pamela
---
Passports Also Needed For Infants To Travel (Courtesy Baja Pony Express) - It has just come to my attention that a family planning on spending the Holidays here with their family, were not allowed on the plane as their 15 month old baby did not have a passport. Regardless of age, infant on up passport is needed! Alert your family and friends with babies! - Carlee
---
Hacked Email Accounts - This is a reminder that if you have a Hotmail, Yahoo or Gmail account, and your password is weak, you're practically begging for your Email account to get hacked. Once in, the hacker raids your account's address book and starts sending spam mail to everyone they find there. Often as not, they'll also change your password so you can no longer log in to stop them. I know of at least three accounts where this has happened, just in the last month. If you are using a weak password, like some common word that can be found in a dictionary, you are strongly urged to change it to something stronger. - Alan Thompson, Todos Santos Technologies, alan [-at-] TodosSantosTechnologies.com
---
Re: Airport Parking - I concur with a previous poster, Ivan is the best. $40 a month, free rides to and from the airport and mechanical work if you need it. Speaks English, too. His number is 6241213557 - Carmen Addario, carmenaddario [-at-] hotmail.com, 624 1353078
---
Help Me Save My Dog! Please - Hi everyone. I'm in California USA and I'm trying to rescue a dog in Todos Santos. I cannot find a way to ship it to me without actually being on the plane. Third party pet shippers are absurdly expensive. Any suggestions? similar situations? Anyone traveling to the San Francisco bay area in northern CA soon and willing to transport the dog for me at my expense? I will take care of all paperwork and shots. - Mark Bautista, markbautista1 [-at-] hotmail.com, 408-823-8103
---
Merry Christmas From San Jose Del Cabo - Merry Christmas to all of you living in Todos Santos, Cerritos area and East Cape. It was a special year for all of us, and thanks God it is Christmas that comes with a new Hope. I am sharing this time a Christmas video from San Jose del Cabo. I found this website where you can watch several passed events of what happened in Los Cabos area.
http://vecabos.tv//videos/40/navidad-en-los-cabos
May 2010 brings a lot of blessings, peace and love ! - Jonathan Orozco, jonathan-n-his-band [-at-] hotmail.com, www.jonathanpianista.es.tl, 624 1425406
---
For previous questions and answers, readers can access our back issues here: http://www.bajawesternonion.com/back-issues.asp
---
*** Editor's note: - If you have a helpful reply to any of the above questions that would benefit our other readers, please also send a copy of your answer to the Baja Western Onion. Submit your Comments, Questions and Answers here: http://www.bajawesternonion.com/submitad.asp
---
---
Meetings, Classes and Workshop Announcements
---
Submit your Meetings, Classes and Workshop Announcements here: http://www.bajawesternonion.com/submitad.asp
---

---
Rides or Caravans Needed/Available - New This Week
---
Airport Ride - Ride needed to airport from Todos Santos for 2 people on Monday, December 28. Will share gas expenses. - Kathleen, ksfroese [-at-] hotmail.com, 612 154 5992
---
Todos Santos To Canada March 2010 - ride leaving Todos Santos in March, either north up the west coast or north on 395 through mammoth lakes stopping at natural hotsprings. Final destination Alberta Canada, route and departure flexible, share driving ,must be safe and conservative driver must be dog lover - Iain, whereisiain [-at-] yahoo.com, Todos Santos
---
Airport Ride Calendar
---

Airport Ride needed from Todos Santos - for 2 people on Monday, December 28. Will share gas expenses. - Kathleen, ksfroese [-at-] hotmail.com, 612 154 5992

Dec. 29 from SJD to TS Need A Ride - Gary Gasper, ggasper5 [-at-] msn.com, 612-134-0498, Todos Santos

January 5 - from Todos Santos to SJD for 2 people with luggage - Eli Fleischer, fleischer (at) alaska.com, 1450870,
Caravans/Ride shares North and South Calendar
Caravan to Todos Santos from U.S. -January 10-16 - Brad Kahland, bmkahland [-at-] gmail.com, Todos Santos

Todos Santos To Canada March 2010 - Final destination Alberta Canada, - Iain, whereisiain [-at-] yahoo.com, Todos Santos
---
Submit your Rides Needed/Available articles here: http://www.bajawesternonion.com/submitad.asp
---
---
Restaurant and Food News
---
Submit your Restaurant and Food News articles here: http://www.bajawesternonion.com/submitad.asp
---

---
Music/Entertainment News
---
8th Annual New Year´s Eve Bash - The much-anticipated party at the Hotel California is happening again. Doors will open at 7 pm. "All you can eat" buffet starting with appetizers and ending with desserts. Music throughout the evening AND a pink champagne toast at midnight. Limited tickets available $700 pesos per person...please call Debbie. - Debbie Stewart, debbie [-at-] hotelcaliforniabaja.com, 145.0525
---
Submit your Music/Entertainment News articles here: http://www.bajawesternonion.com/submitad.asp
---

---
Pet Corner (Lost and Found pet articles will run for two weeks)
---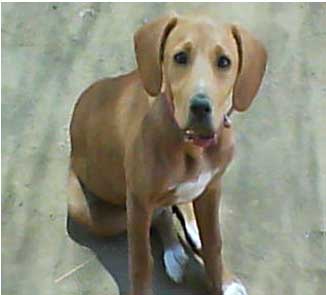 Local Veterinarian's Dog Has Gone Missing - Many of you have met Panza, the honey-colored pup who belongs to Dr. David Martinez, the veterinarian who staffs Dr. Franzoni's clinic Wednesday through Saturday. Her picture is posted here. She is a perfect dog for the clinic. She manages to greet each new patient with affection and curiosity without setting off a dog fight. Once the patient enters the examining room, Panza walks in, sits at attention, and observes the exam. About ten days ago, when I walked out with my two dogs, she escorted us to the car and might have hopped in if I'd encouraged her, but I didn't. An hour later Dr. David called to tell me he was getting ready to leave and couldn't find her anywhere. After five hours of searching he gave up and returned to LaPaz, but he has posted signs throughout town.

Panza is eleven months old and has been living four days a week at the clinic for most of her life. The most likely explanation is that someone invited her into a car and she accepted. She had a wonderful life and Dr. David misses her terribly. The clinic where she was last seen is one block west of Barajas taco stand. If you see her, please contact him on his cell phone at 612-152-3851. If you do not speak Spanish, please call me. Or if you see her and have already deleted all this information, please stop by the bookstore and report where and when. Thanks so much for your help. - Janet Howey, janethowey [-at-] yahoo.com, 612-169-4252
---
Home For The Holidays - I have been trying to find my way home for many weeks and I am tired. Please help me, I want to be home for Christmas. I have heard that home is where the heart is and I have a big heart, I just need someone to give my heart to. I wandered into the spay and neuter clinic looking for a home - didn't find a home but it seems I won't be having any babies. My foster family thinks I am about six months old and will some day be a medium size dog. They have given me all my shots - I didn't like it but it's done. I have lived with other dogs and cats and I get along with them all - but I like humans best. Please come and take me home soon. My name is Topaz and I could be a lovely jewel under your Christmas tree. - Angelique, 14-50-250 bajakitties [-at-] yahoo.com
---
Submit your Pet Corner articles here: http://www.bajawesternonion.com/submitad.asp (and remember to Spay and Neuter your pets)
---
---
Misc. For Sale/Wanted
---
Laying Hens - Please I want to buy about 5 laying hens. I live in Las Brisas, Todos Santos. Elisabeth Spencer, spencerfamily4 [-at-] ymail.com, 612 167 8606, Todos Santos
Propane Frig For Sale - -$1000 or Best offer -like new, purchased in Feb 2009 -Consul CQE 22 - -56.5" H -- 24" W -28.5" Depth - Dean W, laplaya00 [-at-] gmail.com, 624-166-2133, Pescadero
---
Car Needed - A friend's car papers were just stolen, so we can't use the vehicle as we had planned while in Pescadero for a few months. We're coming in mid-January and wonder if anyone has a US-licensed car or truck with insurance good in Mexico that we could rent for up to a possible 6 months? We're two good, US-licensed drivers. - Jolyn Wells-moran, Jwmcounseling [-at-] yahoo.com, (206) 935-0894 (US), Pescadero
---
Submit your Misc. For Sale/Wanted articles here: http://www.bajawesternonion.com/submitad.asp
---
---
Vehicles/Boats for Sale
---
Are You Ready For 2010 ? - Are you ready for some change in 2010 ? Would you like to live in your own trailer ? Here is the opportunity: RV Trailer for sale, well maintained and equipped with all your needs for a relaxed life ! Curious ? If so , please contact - steffyleony [-at-] gmail.com, Todos Santos
---
Submit your Vehicles for Sale articles here: http://www.bajawesternonion.com/submitad.asp
---

---
Employment Wanted/Available
---
Cook Wanted - I'm staying in the Las Tunas area of Todos Santos and am looking for someone to come to our house to cook for 4 people. Dec 26 would be the first night. If you can do this or know who I can contact, please let me know. Thank you! - Robert, rhlanier [-at-] gmail.com, +1-310-871-5832, Todos Santos
---
Interpreter Needed - Need an Interpreter English to Spanish or Spanish to English call or e-mail. - Ramon Yanez, laley0175 [-at-] hotmail.com, 624 175 8174, Baja California Sur
---
Submit your Employment Wanted/Available articles here: http://www.bajawesternonion.com/submitad.asp
---

---
Sales and Services
---

New Propane Refrigerators For Sale - Up to 21 cu ft. - Jim Coulson, jimcoulsoncontractor [-at-] yahoo.com, ccmbaja.com, 624 1656804, Pescadero
Ground Transportation For All Baja C. Sur - More than 15 years of experience servicing the Baja Peninsula. Great service and great PRICES. We cover all destinations on the Baja Peninsula. (Los Barriles, La Ribera, Los Cabos, La Paz, La Ventana, El Sargento, Bahia de Sueños, Loreto, Todos Santos, etc.)Please contact us by email or visit our web site and click on our Transportation menu. From a USA Landline: (011 52) 624 188 30 27 or 29 From a Local phone: (624) 188 30 27 or 2 - Wolf Management, info [-at-] wolf-pm.com, www.wolf-pm.com, (624) 188 30 27, Baja California Sur
---
Skymed Representative For Todos And Pescadero - Medivac Protection - The best gift you can give your loved ones who visit you in Mexico for the holidays is the gift of Peace of Mind! Theirs as well as yours! Imagine having to come up with the cash - $20K, $30K, or $40K, if one of your guests or family members needed an emergency air evacuation! SkyMed has short-term memberships from 4 days to 3 weeks, only $9 per day for an individual and $18 per day for a family, which includes 2 adults, and all minor children. You never know when you may suffer a serious accident or illness while traveling! SkyMed pays 100% of your air evacuation; no deductibles, no copays - you pay Nothing! SkyMed takes you all the way home, and it's affordable, too! Email Roxanne Rosenblatt caboroxy [-at-] yahoo.com or phone one of the following numbers:
In Mexico 612 130-3162 In Mexico cell: 624 122-0724 or US # 415 350-8222
for information on our various medical emergency air evacuation membership programs; one will suit your needs. Short trips, annual, & multi-annual memberships available. One thing will happen if you suffer a medical emergency while traveling; you will either be glad you have SkyMed or wish you did! www.skymed.com/RoxanneRosenblatt/, Pescadero
---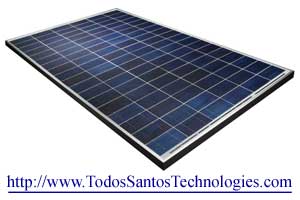 New Lower Prices For Solar Electrical Systems - The cost of solar electrical equipment has never been lower. If you've been waiting to buy a system, now is the time. Here are some of examples of low-cost solar electrical systems we now offer:
480 Watt System - 4 - 120 watt Solar Panels, 1,500 Watt AC Power Inverter, 4 - 225 Amp Hour Deep-Cycle Solar Batteries - Supports basic electrical needs - $5,995 installed*

720 Watt System - 4 - 180 watt Solar Panels, 1,500 Watt AC Power Inverter, 4 - 225 Amp Hour Deep-Cycle Solar Batteries - Supports basic electrical needs plus standard refrigerator - $6,495 installed*

1,080 Watt System - 6 - 180 watt Solar Panels, 2,400 Watt AC Power Inverter, 4 - 415 Amp Hour Deep-Cycle Solar Batteries - Supports moderate electrical needs - $9,495 installed*

Larger systems available with similar price reductions
* Standard installation on flat roof, some restrictions apply. Prices do not include IVA.

We can also help upgrade your current solar electrical system with additional panels, or the latest in charge controller and inverter technology. We also offer monthly maintenance services. For more information, and a free estimate for your particular power needs, please contact us today. - Todos Santos Technologies, alan [-at-] TodosSantosTechnologies.com, www.todossantostechnologies.com/solar-electricity-systems.asp, 530 903 4257 / 612 145 0364, Baja California Sur
---
Merry Christmas From San Jose Del Cabo - Merry Christmas to all of you living in Todos Santos, Cerritos area and East Cape. It was a special year for all of us, and thanks God it is Christmas that comes with a new Hope. I am sharing this time a Christmas video from San Jose del Cabo http://vecabos.tv//videos/40/navidad-en-los-cabos I found this website where you can watch several passed events of what happened in Los Cabos area. And check my Christmas piano songs http://www.jonathanpianista.es.tl/HOME.htm May 2010 brings a lot of blessings, peace and love ! - Jonathan Orozco, jonathan-n-his-band [-at-] hotmail.com, www.jonathanpianista.es.tl, 624 1425406
---
Submit your Sales and Services articles here: http://www.bajawesternonion.com/submitad.asp
---
---
House Sitting, Rentals Available/Wanted
---
American House/pet Sitter Available (los Todos) - My name is Cara, and I'm excited to come to Todos Santos from Brooklyn on February 1 (for 6-8 weeks, possibly longer). I'm a trustworthy and responsible 30-year-old woman with pet sitting experience and references. I grew up in Connecticut and have studied in Boston and Paris and New York, where I've lived for 7 years. I've worked as a writer, researcher and waitress for the past 10 years. I love the outdoors, cooking and yoga. I would take excellent care of your home and/or pet! My rates are negotiable, and I'm open to swapping work for housing. Thank you! - 00 1 646 623 8793, Todos Santos
PAID AD, Dec 5, 2009 thru Dec 16-->
---
Need A House Sitter? - Long time Todo Canuck visitor looking for a house sitting situation starting end of January. Can provide a reference. - Mike Gluss, mgluss [-at-] uniserve.com, www.mikegluss.com, 250-653-4639, Todos Santos
---
Submit your Rentals Available/Wanted articles here: http://www.bajawesternonion.com/submitad.asp
---

---
Real Estate For Sale
---
The Chili House - Located in the Las Tunas/ Los Jardines area of Todos Santos with ocean and mountain views from every room, on an elevated ½ acre lot with patios, terraces, mature landscaping-palms, cactus, bougainvillea, giant birds of paradise and both city and agricultural water. Truly a gardener's paradise. 2bed/2bath 1500sq ft $298,000 USD-Owner financing available. For more photos and information please visit www.bajawildheart.com Leslie Lambert 707 696 9064 US Cell or 612 135 3302 MX, llambert [-at-] sonic.net
---
Submit your Real Estate articles here: http://www.bajawesternonion.com/submitad.asp
---
---
Quote of the Day: &quot: I have long been of the opinion that if work were such a splendid thing the rich would have kept more of it for themselves. <!-END QUOTE OF THE DAY ABOVE--> &quot: Bruce Grocott (1940 - )
---
Community Calendar
Denotes New or Updated Onion Item This Week
---
Events
Sunday
Jan. 11 - 15 - Master Level Exercises Psychocalisthenics®, La Arca, 3:30-4:45 PM, Rhoda Jacobs, barakabaja [-at-] gmail.com, www.arica.org, 044-612-157-6088, Todos Santos

Feb. 28, 2010 - 10AM to 3PM, The Palapa Society's 16 Annual Historic House Tour

Mar. 14, 2010 - Artist's Studio And Gallery Tour - Diane Knight, dianekknight [-at-] hotmail.com, artistsoftodossantos.com, 145 05 86, Todos Santos
Monday
Tuesday
Wednesday
Thursday
Jan. 7 - New Artists Introduction Party, 5:30 to 7:30. Visions Gallery at Cafelix - Michael Mcallister, heronsnestbaja [-at-] earthlink.net, 215-736-0836 USA, Todos Santos

Feb. 4 - First Annual Todos Santos Juried Photography Show. Visions Gallery at Cafelix - Michael Mcallister, heronsnestbaja [-at-] earthlink.net, 215-736-0836 USA, Todos Santos

Friday
Jan. 8 - Agua Vale Mas Que Oro Dinner And Dance Party - 6:00 to 8:30. elhotelito [-at-] mac.com, 612 145 0099
Saturday
Jan. 2 - Todos Santos 5K Walk/Run, 9:00 AM, Plaza Marquez de Leon. Tickets available at Tecolote Book Store, Todos Santos

Jan 9 - Todos Tango Coming to Tods Santos. Contact Marilyn Martin, redcliffproperties [-at-] gmail.com, 612-153-5354, Todos Santos

Jan. 16 - 7th Annual World's Largest Garage Sale at Canada del Diablo's 9 a.m.-1 p.m.

Jan. 16 - The Fashion Show (local designers) at 6:00 p.m. at La Esquina
---
Every Week
Monday Thru Friday
The News in English - CaboMil Radio 96.3 FM, 5:30-6:00 PM. Los Cabos Now - Wednesdays, 5:30 to 6:30 PM www.cabomil.com.mx and click on "LIVE"
Happy Hour at the Sandbar -3PM - Sunset
Monday Thru Saturday
Basilfields Organic Fruit And Vegetable Stand 10:00 to 1:00, Colegio Militar across from Telcel, Todos Santos Zumba Exercise and Dance Classes - 8:00 - 9:00 AM Stadium across from La Arca - Doctora Oliva, 612-145-0201
La Coronela, Live Mexican Music - 12 - 3 PM, Hotel California, Todos Santos
Two For One Happy Hour - 3 - 6 PM, Shut Up Frank's, Todos Santos
Two For One Happy Hour - 5 - 6 PM, La Esquina, Todos Santos
Sundays
Dharma Talks And Guided Meditation - 10-11:30 A.M., La Arca. Community Center, eldharma [-at-] prodigy.net.mx, www.robertkhall.com, 612-145-0676 , Todos Santos
CaboMil Happy Hour - 6 :00 P.M. - 7:00 P.M. Radio 96.3 FM, In English.
Los Cerritos Beach Club - Sunset Sessions, Live music by Daline Jones and Diego Ramirez, 3 to 6 P.M.
Tennis-- Leslie Light, leslie.light1 [-at-] gmail.com
Daniel Siqueiros - Live Music noon to 3 PM, Hotel California, Todos Santos
Mondays
Afternoon Yoga - 3 Pm At La Arca Caroline, 612 156 0421

Tuesdays
Yoga At Hotelito, Todos Santos - 9 am. Janice Kinne, yanibaja [-at-] yahoo.com
Manos Magicas Meetings - 10:00 A.M. at DIF on Topete across from La Copa, - Scotty Mclemore, scottybcs [-at-] hotmail.com, 612-10-05872, Todos Santos
Wednesdays
Karla y Mateo baking bread- 9:00 A.M. - across the street from El Sol II -
Afternoon Yoga - 3 P.M. At La Arca -Caroline, 612 156 0421
Los Cabos Now - Cabomil 96.3 FM, 5:30 PM to 6:30 PM. in English, Host Sabrina Lear. Listen via computer, www.cabomil.com.mx
Recycling Center Open - 1-2 pm, Pescadero - SINADAES, AC, Contact MaryLo 612 130-3172 or marylomh [-at-] prodigy.net.mx
Live Music and All You Can Eat Pizza at The Sandbar, Pescadero
Tennis - Leslie Light, leslie.light1 [-at-] gmail.com
Thursdays
Mario's Bar At Hotelito - 5pm until 10pm wines, cocktails and complimentary tapas

Live Music At Landi's Restaurant - The Todos Santos Inn, todossantosinn [-at-] gmail.com, www.todossantosinn.com/, 612 145 0040, Todos Santos

Drawing / Art Classes - 9:00 - 10:30 - Tori Sepulveda, oscarntori [-at-] yahoo.com, 612-136-6738

Ashtanga Yoga With Zandro 9 a.m. at La Arca, 50 pesos donation. - Beatrice Datwyler , bea.datwyler [-at-] gmail.com, 612 145 0276

Yoga At Hotelito, Todos Santos - 9 am. Janice Kinne, yanibaja [-at-] yahoo.com

Steak Night at La Canada Todos Santos, 6:00 P.M. Reservations Req'd 612-14-00069
Fridays
Mario's Bar At Hotelito - 5 pm until 10 pm wines, cocktails and complimentary tapas
Lobster And Beer Special - Cerritos Beach, 8 am to 11pm, www.cerritosbcs.com, 624 108 8203, Pescadero
Los Cerritos Beach Club - Sunset Sessions, live music , 3 to 6 P.M.
Michael's At The Gallery - Restaurant open at 6:30 pm. Michael Cope, mplcope [-at-] yahoo.com, 145-0500, Todos Santos
> Shawn and Cowboy - 8 to 11 PM Live Music, Hotel California, Todos Santos
Live Reggae Band at the Sandbar
This Weekend in Los Cabos with Jodi Asher on Cabo Mil from 6:00 PM to 6:30
Tennis - Leslie Light, leslie.light1 [-at-] gmail.com
Saturdays
La Canada del Diablo's Farmers' Market 9 am- 1 pm.
Yoga At Hotelito, Todos Santos - 9 am. Janice Kinne, beginning Dec. 5.


Plein Air Painting Class - landscape painting classes - Marsha Dahlquist, maraquist [-at-] hotmail.com, marshadahlquist.blogspot.com, 612 108 0390, Todos


Live Music At Felipe's In Pescadero - Greg Kitchel 6:30 to 8:30

Mario's Bar At Hotelito - 5 pm until 10 pm wines, cocktails and complimentary tapas
Lobster And Beer Special - Cerritos Beach, 8 am to 11pm, www.cerritosbcs.com, 624 108 8203, Pescadero
Karla y Mateo baking bread- 9:00 A.M. - across the street from El Sol II -
Michael's At The Gallery - Restaurant open at 6:30 pm. Michael Cope, mplcope [-at-] yahoo.com, 145-0500, Todos Santos
Music by Flashback - 8 P.M., Hotel California, Todos Santos
Live Music at The Sandbar 9-3 every Saturday until May 29th
---
Workshops and Meetings
Monday Through Friday
Spanish Lessons with Guillermo Bueron, 9 AM, Cultural Center. g_bueron [-at-] yahoo.com, 612 161 4165, Todos Santos

Sundays
Mondays
Hatha Yoga, 8 AM, La Arca, Todos Santos
Hatha Yoga, 9 AM, Mini-Super Los Arcos, Pescadero
AA Meeting, Grupo Serinidad, 5 - 6 PM, Church Courtyard, Info: 145 0265 or 0364, Todos Santos
Tuesdays
AA Meeting, Grupo Serinidad, 5 - 6 PM, Church Courtyard, Info: 145 0265 or 0364, Todos Santos
Yoga Ashtanga at La Arca 9:00 A.M., Todos Santos
Wednesdays
Hatha Yoga, 8 AM, La Arca, Todos Santos
Hatha Yoga, 9 AM, Mini-Super Los Arcos, Pescadero
AA Meeting, Grupo Serinidad, 11 - 12 PM, Church Courtyard, Info: 145 0265 or 0364, Todos Santos
Thursdays
Ashtanga Yoga With Zandro - 9 a.m., La Arca, 50 pesos donation. - Beatrice Datwyler , bea.datwyler [-at-] gmail.com, 612 145 0276

AA Meeting, Grupo Serinidad, 5 - 6 PM, Church Courtyard, Info: 145 0265 or 0364, Todos Santos
Fridays
Hatha Yoga, 8 AM, La Arca, Todos Santos
Hatha Yoga, 9 AM, Mini-Super Los Arcos, Pescadero
AA Meeting, Grupo Serinidad, 5 - 6 PM, Church Courtyard, Info: 145 0265 or 0364, Todos Santos
Saturdays
Plein Air Painting Workshop - Marsha Dahlquist - 108 0390
AA Meeting, Grupo Serinidad, 11 - 12 PM, Church Courtyard, Info: 145 0265 or 0364, Todos Santos



Please notify us of any Community Calendar updates here: http://www.bajawesternonion.com/submitad.asp

---


Help Support The Baja Western Onion!

We can accept donations by PayPal, check or direct deposit.
For more information, please visit our web site at

http://www.BajaWesternOnion.com/donate.asp.

Frequently Asked Questions

Copyright &copy: 2006 - 2009. The Baja Western Onion. All Rights Reserved.

---