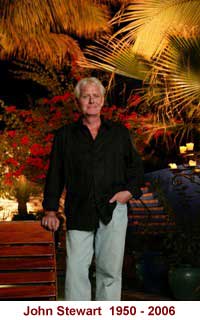 September 06, 2009
Third Anniversary of The Baja Western Onion - September 1st, 2009 marked the third anniversary of the start of the Baja Western Onion. Originally named the Baja Western Union, our first issues began with reports about Hurricane John, exactly three years ago this week. Unfortunately, Hurricane Jimena also chose this week to visit, exactly three years later to the day after John, reminding us all of the frightening power of nature and underscoring the reason we started The Baja Western Onion. As we mark our third year, we also wish to remember John Stewart, one of the founding members of our Todos Santos community who passed away on the eve of Hurricane John.

Three years ago the Baja Western Onion started with just 60 readers, mostly just close friends and family. Coinciding with our three-year anniversary this week, we just topped 2,000 subscribers, with readers now spread around the globe from as far north as Edmonton, Alberta, Canada (welcome Stan), south to Cost Rica, and east to Bourg-en-Bresse, France.

We want to thank our many readers for your continuing support and article submissions, and for your many kind words of appreciation over the past three years for the Baja Western Onion. Directly because of your support and encouragement, we've been able to continue our efforts to bring you community news each week.

- The staff of The Baja Western Onion - Alan Thompson, Debra Webster and Maryann Douglas
---
News, Events and Announcements
---
Jimena Storm Damage Update (courtesy Of Baja Pony Express) - I just received this from the Baja Bush Pilots web page. Maybe you can share, Martha:

Hurricane Jimena - 9/3/2009

Mid-Baja has suffered major damage. We are getting "real time" reports from different sources including people on the ground in the damage areas as well as the Mexican Red Cross. It is not good. The reports that we have indicate:
Matancitas (Lopez Mateos) Almost 90% of the structures are down or severely damaged. All water, power, telephone, etc. out
Ciudad Constitucion: Most roofs are gone; sever damage to 70% of the buildings. Power, water, telephones are out
Loreto: All power / telephone are down, lines are down, trees and buildings blocking the streets, airport is closed at this time.
Mulege: All power, telephone, water, etc. is out. The water crested three feet above the bridge. Water was two feet deep in the fire station which would mean that almost of the entire town was flooded. There has been reports of loss of life.
Punta Chivato: One person indicates that the wind was over 100 mph before the indicator broke. Damage to almost everything. We should hear about the condition of the strip sometime today
Santa Rosalia: Wall of water came down the canyon and through the town, washed cars, etc. into the ocean.
The Red Cross has been in contact with us today, they are still in the process of determining their needs however, they indicate that they will need our help. We will be putting out another alert for donations as well as where they are needed. I have taken the position that we will not be bringing things down unless there is a structured means of distributing them. With Hurricane John, I have to estimate that about half of the donations ended up with people that really did not need them.
---
Ocean Safety - -Union Para la Seguridad en las Playas needs a big bell to put on Cerritos Beach by the litlle palapa on the rocks. Please let us know if you have any to sell or donate. The idea is to have a bell and a tow ring so if people see somebody cought in the current by the rocks they can ask for more help and throw the life saver device (tow ring) to that person or take it with them if they are going to do the rescue. We also want to let people know that we allready have a red flag sistem in Los Cerritos to show the rip current zone. People should not enter in that zone in between the flags (unless they are expert surfers) and please let everybody know about that. There is no lifguards on the beach yet, but with signs, those devices and the help of everyone of us, hopefully we can avoid more accidents meanwhile. We want to thank very much to Irak Collins and Moises Salazar from Cerritos Beach for putting everyday those flags.

We already put some signs in Los Cerritos, Las Palmas, La Cachora, La Poza and Punta Lobos. We are wating for the rest of the signs that the Delegado is doing. Also collecting data from people that have rescued people on the beaches here and organizing a Lifeguard course for locals. If you want to get involved please come to our next meeting Tuesday, Sept.8 th at La Esquina at 5 pm. - Paula Angeloni, ballenatito [-at-] yahoo.com.mx, 612 1610232 -
---
Golden Opportunity - Did you know that in BCS there are school fees totaling $850 pesos per child per semester and $2000 at the universities? For lack of funds, some children are unable to attend school! The Palapa Society sponsors 11 students at the university level and 10 at the high school level. The BECA (scholarship) monies come from the annual Palapa Tianguis and in part, from the Historical House Tour. This year the need is greater than the available funds.
This year, one very kind angel has offered to pay for 4 BECAS. The Palapa Society would like to offer this Golden Opportunity to you! For $1700 pesos a year you can join our BECA ANGEL program and help a child attend school. Call for info: Erick Ochoa 612 140 3990 or call/write Susan Doyle. Get your halo soon! Gracias. - Susan Doyle, timsudoyle [-at-] hotmail.com, 145 0821
---
This Week From The Community Calendar
Tuesday September 8
Union Para la Seguridad en las Playas meeting Tuesday, Sept.8th at La Esquina at 5 P.M.
---
Submit your News, Events and Announcements articles here: http://www.bajawesternonion.com/submitad.asp
---

---
Comments, Questions and Answers
---
Moving to Todos Santos from Texas - As soon as highway is open we are moving to Todos Santos from Texas this month for at least a year. Has anyone recently crossed at Tecate since new customs/immigration agents installed? We have never had a problem at Tecate in the past. We are bringing household goods and concerned about customs fees. Also, we have a 140lb Anatolian dog, too heavy, too big to fly him, too long of a trip to drive him (he is NOT a house/lap dog)any suggestions? - Steve grasslandcattleco [-at-] gmail.com
---
Post-Jimena Baja Highway Condition - Thanks, BWO, for the information on Jimena. I'm getting ready to make the drive down so would like to know more about the condition of the highway. If / when anyone makes that drive, would you please post a report ? Thank you. - Jane Sipe, jasi57 [-at-] juno.com
---
Highway One - I will be traveling north to California norte soon, does anybody know if the road is open all the way up? gas? Thanks, Bobbi - Bobbi Mcelravey, bobbimc1 [-at-] gmail.com, Elias Caies
---
RE: Road Conditions on Highway One Through Baja - Latest reports Sunday night indicate that the road is passable but with several detours and mud. Gas may be a serious problem. Be sure to take a few containers and fill them whenever possible. It was reported that Guerrero Negro was out of gas on Saturday at the eastern station and the western station had a line about 4 blocks long.
---
High Water Bills - So you have this huge water bill, yet everything appeared normal. No, your water meter isn't broken; and no, you don't have a leak or a irresponsible spouse. It's the combination of estimado and the tiered water rate schedule! Here in Todos Santos, the Municipal del Sistema de Agua Potable uses a tiered tariff or rate schedule where the rate changes based on the amount of water consumed. It appears that for many years local consumers have not had their water meters read on a regular basis, but rather estimated at a very low rate. Then, when the meter was read, the resulting adjustment placed them in a much higher rate bracket! Below, I present different scenarios demonstrating the impact of using a tiered rate scale when the water consumption is estimated -- service & other fees or fines are not included. The example residence has a monthly water consumption of approximately 40m3, and 240m3 over a six-month period. The tariff used is the baseline Residential Water Rates from La Paz. as of January 2006, and is used just as an example, and may have changed over the past year.

Amount (cubic meters) Rate (pesos/m3)
< 17m3 3.7948
< 24m3 4.7039
< 35m3 7.3727
< 50m3 7.3979
< 80m3 10.7518
< 100m3 14.6225
> 101m3 advances 25.0 - 29.0 and beyond

Scenario 1: consumption is around 40m3/month and the meter is read every month.
reading: 40m3 x rate 7.3979 = 295.92 x 6 months = $1,775.50 p

Scenario 2: water consumption is estimated at 10m3/month, with a meter reading every 3 months.
estimated: 10m3/mo. x rate 3.7948 x 2 months = 75.90

The actual reading, during the third month, shows 100m3 more water was consumed than was estimated, this kicks the consumer into a higher tier, from 3.7948 to 14.6225p/m3
reading: 100m3/mo. x rate 14.6225 x 1 month = 1,462.25
Months 1, 2 & 3 sub total = 667.25
6 Month Total = $3,076.30 p
73% increase -$1,301p difference. Remember, these scenarios cover just a six-month period. Bottom line is that if your water consumption is estimated, and the meter not actually read every month, you are likely being over billed, probably in excess of 40%! If you have landscaping or gardens, your monthly water consumption will be much higher, probably between 40-60m3, and the error will be much worse. For just these reasons, most utility companies use a flat-rate tariff schedule. For example, a single residence dwelling might be charged a flat $5.95/1,000 gallons of water consumed. For an honest and accurate billing, the water meter must be read every month and not estimated. gcorth [-at-] straydogs.us, Todos Santos
---
*** Editor's note: - If you have a helpful reply to any of the above questions that would benefit our other readers, please also send a copy of your answer to the Baja Western Onion. Submit your Comments, Questions and Answers here: http://www.bajawesternonion.com/submitad.asp
---
Rides or Caravans Needed/Available - New This Week
---
---
Airport Ride Calendar
Caravans/Ride shares North and South Calendar
Travel Companion Wanted - Placerville, CA, mid October to Todos Santos, Sandra Arevalo, arevalosan [-at-] aol.com, 530-622-5350 U.S.
---
Submit your Rides Needed/Available articles here: http://www.bajawesternonion.com/submitad.asp
---
---
Restaurant and Food News
---
Michael's At The Gallery - Sorry we were closed last week but there were a few problems from the storm and renovation work that was being done. We are now ready to resume our regular summer schedule, Friday and Saturdays reservations starting at 6:30 pm. To make reservations call: or email. You don't always need them but it's a good idea. Our special appetizers this week will be fresh Vietnamese Crab and Shrimp Springrolls with two dipping sauces. We appreciate your business and look forward to seeing you at Michael's. - Michael Cope, mplcope [-at-] yahoo.com, 1450-500
---
Submit your Restaurant and Food News articles here: http://www.bajawesternonion.com/submitad.asp
---
---
Music/Entertainment News
---
Tortuga Bar Grand Opening - The Tortuga Bar at Villas de Cerritos Beach Grand Opening Thur Sept 10, just in time for the start of regular season football! Come watch Tennesee take on Pittsburg on our two 50¨ plasmas, kickoff at 6:30. Or if your not a football fan bring the kids by for a swim in our pool. Beer only 15 pesos everyday with swim up bar. Bar opens 1PM til you leave daily, closed Wednesday. The Tortuga bar is located in the Villas de Cerritos Beach condos on the right side of the main road to Cerritos Beach.(the big 3 story building) Turn right at the Tecate sign and follow the road to our parking lot. See you there! - Mark Sherman, 612 143 33 16, Pescadero
---
Submit your Music/Entertainment News articles here: http://www.bajawesternonion.com/submitad.asp
---

---
Pet Corner (Lost and Found pet articles will run for one week)
---
Belgian Malinois Seeking New Home - We have three dogs and find that it is more than we can handle. Our 1.5 yr old pure bred Belgian Malinois male needs a new loving home. He is sweet, gentle and affectionate and gets along well with other dogs. He has been neutered. - Rhoda Jacobs, barakabaja [-at-] gmail.com, 044-612-157-6088, Todos Santos
---
Submit your Pet Corner articles here: http://www.bajawesternonion.com/submitad.asp (and remember to Spay and Neuter your pets)
---

---
Misc. For Sale/Wanted
---
Refrigerator Wanted - I am looking for a working, used, regular size electric refrigerator. It must work well, have a separate freezer, frost free and the doors must close tightly. - dianejoy39 [-at-] yahoo.comTodos Santos
---
Submit your Misc. For Sale/Wanted articles here: http://www.bajawesternonion.com/submitad.asp
---

---
Vehicles/Boats for Sale
---
1993 Chevy Blazer For Sale - 93' Blazer: Auto transmission, 4X4, strong motor & trans, tinted windows, good stereo. Baja plates. Runs well. Within the last 6 months: new battery, rebuilt transmission, oil change. $1500, OBO - Lucas Bennett, lucasbennett [-at-] mac.com, 624-117-9270, Todos Santos
---
Wonderful Super Panga 23ft For Sale - with Yamaha engine 80hp four stroke, new console, radio, lights, out riggers, live bait section, rod holders, water pump, shade, trailer included. Totally renewed this year by the constructor with guarantee. The fastest Panga in the region, rides the waves like you have never seen before. Ready to go fishing with you! Location: Los Barriles. Price 16,000 USD negotiable. For pictures and more details pls. contact us - cld57baja [-at-] gmail.com
---
Rv Trailer - Travel Trailer, 28', perfect for 1-2 people, equipped with all your needs, well maintained - bajalife [-at-] yahoo.com, Todos Santos
---
Submit your Vehicles for Sale articles here: http://www.bajawesternonion.com/submitad.asp
---

---
Employment Wanted/Available
---
Submit your Employment Wanted/Available articles here: http://www.bajawesternonion.com/submitad.asp
---

---
Sales and Services
---
Sierra De La Laguna Guide Service - Local family from San Dionisio (located just above Santiago in the Reserva de la Biosfera de la Sierra de la Laguna) offers guided hiking trips in Sierra de la Laguna. (mules also available) Extensive knowledge of terrain, waterfalls, plant and animal life, as well as Baja history. - Aide Rosas, RosasAide [-at-] gmail.com, 612 143 33 16, Todos Santos
---
Translations From Spanish To English - Hola. hello, bonjour! Need a document, paper, article, etc translated from Spanish to English? I have a lot of experience doing translations including translating scripts, articles, grant proposals and scholarly papers; prices affordable! Translations from French to English also available. Please contact me via email. - Eloise Maeva, maevadreams [-at-] gmail.com
---
Afternoon Yoga At La Arca At 3:00 P.M. - All levels of experience welcome! This class will focus on improving the student´s alignment and breath in each pose. Come at 3:00 P.M. to see how much further your body can open in the middle of the day! - Caroline Benzel, 612 156 0421
---
Submit your Sales and Services articles here: http://www.bajawesternonion.com/submitad.asp
---

iDirect Satellite Internet Systems - iDirect Systems provide commercial-grade satellite Internet service. This is especially important for individuals or businesses that demand more reliable service. iDirect use a more powerful radio than "consumer-grade" satellite services such as Hughesnet or Starband. iDirect System service providers also have fewer users per channel to ensure greater availability and reliability.

In addition, iDirect systems support high-quality Voice Over IP (VOIP) telephone service, providing reliable telephone service over satellite, and it works anywhere in Baja. For more information, visit our site at http://www.bajasatellite.com, or E mail us at alan [-at-] bajasatellite.com - Baja Satellite, 01 33 8421 1421 (Within Mexico). From U.S. Phones, Call 530 903 4257. Todos Santos
---
House Sitting, Rentals Available/Wanted
Housesitting - -Karla, Mateo and Lucas, our kid, and Rita, our dog are looking for a long term house sitting situation starting in October. We know how to take care of a house: with love and respect. We have a lot of references and experience. Please contact us: - Karla Bastida, -karlamateo [-at-] yahoo.com.mx, 044 612 1531486 -
---
House Sitter Available Long Term - I am a healthy, active, senior gringa house sitter in need of a place to live starting November 1st. Tdos Santos preferred. I am experienced, real estate savvy, handy, intelligent and will supply references. I need a long term arrangement with electricity, refrigerator, four burner stove with large oven, internet. -dianejoy39 [-at-] yahoo.com, Todos Santos
---
Looking For A House - I am looking for a house in San Jose del Cabo to rent. in magisterial or centro - need a two bedroom house - furnished or not - just with a stove and fridge would be fine by me - needs to accept children - I have a 11 month daughter. - Viridiana Gonzalez, viridiana_g09 [-at-] hotmail.com, 6241081934, San Jose Del Cabo
---
La Paz - Looking for affordable home to rent (La Paz) All offers welcome. Long term house sitting is an option too. - Michelle Kaufmann, michelle.kaufmann16 [-at-] yahoo.com, La Paz
---
Submit your Rentals Available/Wanted articles here: http://www.bajawesternonion.com/submitad.asp
---
---
Real Estate For Sale
---
Sea Of Cortez - Beach front lot, north of La Paz, on the Sea of Cortez, 5 hectares (12.5 acres) with 100 meters of beach frontage (335 feet) right in front of the famous ecological reserve of Espiritu Santo Island. Option available on other adjacent lots. Owner is extremely motivated to make a deal. Priced at $495K U.S. dollars ($39.6K an acre), with $200K down, owner's financing available. - Roger Marius Ciceron, cabomarius [-at-] yahoo.com, www.costatepentu.com, 044-624-122-0167, La Paz

---
Submit your Real Estate articles here: http://www.bajawesternonion.com/submitad.asp
---

---
Quote of the Day: &quot: It is impossible to defeat an ignorant man in argument. <!-END QUOTE OF THE DAY ABOVE--> &quot: William G. McAdoo (1863 - 1941)
---
Community Calendar
Denotes New or Updated Onion Item This Week
---
Events
Sunday

October 25, 9:00 am to 5:00 pm, Festival de las Minas, El Rosario Nov. 22 - Classical Music Performance in Todos Santos - Contact Sylvia St. Clair, sasinbaja [-at-] yahoo.com, 145-0563
February 28, 2010 - 10AM to 3PM, The Palapa Society's 16 Annual Historic House Tour
Monday

Mon. Nov. 9, 16, 23, 30 - Actor's Workshop, 4-6pm La Arca
Tuesday
September 8 - Union Para la Seguridad en las Playas meeting La Esquina at 5 P.M.

Wednesday
Thursday

.Nov.12, 19, 26, Dec, 3 -Actor's Workshop-4-6pm,La Arca

Friday
October 30 - 8:-- P.M. Galerias Pax Painting contest, Guillermo Prieto 1250, col. Centro, La Paz, BCS.
Dec.4- Comic Evening of Short Plays for info: bluemooninbaja [-at-] yahoo.com -

Saturday
October 31 - Halloween Fund Raiser At The Sandbar
November 28 - Dancing With The Stars! Todos Santos Film Festival Benefit. Hotelito.
November 28 11 - 3 - The Palapa Society's 3rd Annual Tianguis (yard Sale) at The Palapa Center, Calle Obregon
---
Every Week
Monday Thru Friday
The News in English - CaboMil Radio 96.3 FM, 5:30-6:00 PM. Los Cabos Now - Wednesdays, 5:30 to 6:30 PM www.cabomil.com.mx and click on "LIVE"

Happy Hour at the Sandbar -3PM - Sunset
Monday Thru Saturday
Zumba Exercise and Dance Classes - 8:00 - 9:00 AM Stadium across from La Arca beginning Feb. 9th. - Doctora Oliva, 612-145-0201

La Coronela, Live Mexican Music - 12 - 3 PM, Hotel California, Todos Santos

Two For One Happy Hour - 3 - 6 PM, Shut Up Frank's, Todos Santos

Two For One Happy Hour - 5 - 6 PM, La Esquina, Todos Santos
Sundays
CaboMil Happy Hour - 6 :00 P.M. - 7:00 P.M. Radio 96.3 FM, In English.

Los Cerritos Beach Club - Sunset Sessions, Live music by Daline Jones and Diego Ramirez, 3 to 6 P.M.

Tennis-- Leslie Light, leslie.light1 [-at-] gmail.com

Daniel Siqueiros - Live Music noon to 3 PM, Hotel California, Todos Santos
Mondays
Basilfields Organic Fruit And Vegetable Stand 10:00 to 1:00, Colegio Militar across from Telcel, Todos Santos
Tuesdays
Manos Magicas - 9:30 A.M.at DIF

Drawing Classes - every Thursday - 9:00-10:30 - Tori Sepulveda, oscarntori [-at-] yahoo.com
Wednesdays
Los Cabos Now - Cabomil 96.3 FM, 5:30 PM to 6:30 PM. in English, Host Sabrina Lear. Listen via computer, www.cabomil.com.mx

Recycling Center Open - 1-2 pm, Pescadero - SINADAES, AC, Contact MaryLo 612 130-3172 or marylomh [-at-] prodigy.net.mx

Basilfields Organic Fruit And Vegetable Stand. 10:00 to 1:00, Colegio Militar across from Telcel, Todos Santos

Live Music and All You Can Eat Pizza at The Sandbar, Pescadero

Tennis - Leslie Light, leslie.light1 [-at-] gmail.com
Thursdays
Steak Night at La Canada Todos Santos, 6:00 P.M. Reservations Req'd 612-14-00069
Fridays
This Weekend in Los Cabos with Jodi Asher on Cabo Mil from 6:00 PM to 6:30

Michael's At The Gallery - Restaurant open at 6:30 pm. Michael Cope, mplcope [-at-] yahoo.com, 145-0500, Todos Santos

Basilfields Organic Fruit And Vegetable Stand 10:00 to 1:00, Colegio Militar across from Telcel, Todos Santos

Los Cerritos Beach Club - Sunset Sessions, live music , 3 to 6 P.M.

Shawn and Cowboy - 8 to 11 PM Live Music, Hotel California, Todos Santos

Live Reggae Band at the Sandbar

Tennis - Leslie Light, leslie.light1 [-at-] gmail.com
Saturdays
Karla y Mateo baking bread- 9:00 A.M. - Casa Antigua (Topete/Horizonte) -


Basilfields Organic Fruit And Vegetable Stand. 10:00 to 1:00, Colegio Militar across from Telcel, Todos Santos




Michael's At The Gallery - Restaurant open at 6:30 pm. Michael Cope, mplcope [-at-] yahoo.com, 145-0500, Todos Santos

Music by Flashback - 8 P.M., Hotel California, Todos Santos

Live Music at The Sandbar
---
Workshops and Meetings
Monday Through Friday
Aerobics - 8 - 9 PM, La Arca, Todos Santos
Sundays
Mondays

Nov.9 - Actor's Workshop, 4-6pm La Arca
Nov.16- Actor's Workshop-4-6pm,La Arca
Nov.23-Actor's Workshop-4-6pm,La Arca
Nov.30-Actor's Workshop-4-6pm,La Arca

Hatha Yoga, 8 AM, La Arca, Todos Santos

Hatha Yoga, 9 AM, Mini-Super Los Arcos, Pescadero

AA Meeting, Grupo Serinidad, 5 - 6 PM, Church Courtyard, Info: 145 0265 or 0364, Todos Santos
Tuesdays
Manos Magicas - 10:30 A.M. at DIF on Topete across from La Copa, Todos Santos

AA Meeting, Grupo Serinidad, 5 - 6 PM, Church Courtyard, Info: 145 0265 or 0364, Todos Santos

Yoga Ashtanga at La Arca 9:00 A.M., Todos Santos
Wednesdays
Hatha Yoga, 8 AM, La Arca, Todos Santos

Hatha Yoga, 9 AM, Mini-Super Los Arcos, Pescadero

AA Meeting, Grupo Serinidad, 11 - 12 PM, Church Courtyard, Info: 145 0265 or 0364, Todos Santos
Thursdays

Nov.12-Actor's Workshop-4-6pm,La Arca
Nov.19-Actor's Workshop-4-6pm,La Arca
Nov.26-Actor's Workshop-4-6pm,La Arca
Dec.3-Actor's Workshop-4-6pm,La Arca

Drawing Classes - 9:00 to 10:30 AM, Todos Santos, E mail or call for info and directions - Tori Sepulveda, oscarntori [-at-] yahoo.com, 612-136-6738

AA Meeting, Grupo Serinidad, 5 - 6 PM, Church Courtyard, Info: 145 0265 or 0364, Todos Santos
Fridays
Hatha Yoga, 8 AM, La Arca, Todos Santos

Hatha Yoga, 9 AM, Mini-Super Los Arcos, Pescadero

AA Meeting, Grupo Serinidad, 5 - 6 PM, Church Courtyard, Info: 145 0265 or 0364, Todos Santos
Saturdays
Plein Air Painting Workshop - Marsha Dahlquist - 108 0390

AA Meeting, Grupo Serinidad, 11 - 12 PM, Church Courtyard, Info: 145 0265 or 0364, Todos Santos

Please notify us of any Community Calendar updates here: http://www.bajawesternonion.com/submitad.asp

---


Help Support The Baja Western Onion!

We can accept donations by PayPal, check or direct deposit.
For more information, please visit our web site at

http://www.BajaWesternOnion.com/donate.asp.

Frequently Asked Questions

Copyright &copy: 2006 - 2009. The Baja Western Onion. All Rights Reserved.

---