| | |
| --- | --- |
| | September 03, 2009 |
---
News, Events and Announcements
---
Initial Reports Of Severe Storm Damage From Hurricane Jimena - There are many initial reports of serious damage to homes and property all the way from Puerto San Carlos and Cuidad Constitucion, near where Jimena came ashore as a category 2 hurricane, to Santa Rosalia. The communities of Constitucion, Insurgentes, Loreto, Mulege, and Santa Rosalia all reported major damage. In San Carlos several homes near the sea were washed away. The Insurgentes electric sub stacion was destroyed. Hundreds of cell phone towers, power, light and telephone poles are down. Power is out in many areas and the main highway between Santa Rosalia and Loreto is cut. The new large bridge south of Santa Rosalia is down. Loreto may be out of power for several days due to felled electrical transmission towers. Many 1,000s of people have been left homeless.

Between 7 AM to 9 AM Tuesday morning, the storm hit the Cuidad Constitucion area at full force. Electrical, telephone and light poles there were snapped off. Here is a link to images from the aftermath of the hurricane at Puerto San Carlos:
http://www.oem.com.mx/elsudcaliforniano/notas/g41639.htm
The storm then continued across the Baja penninsula and struck several communities along the Sea of Cortez. It was reported in Loreto tha palm trees on the Malecon between the Mision Hotel and Mediteranean Restaurant were sheared off at the ground. Here is a You Tube video of the storm surge from Loreto Wednesday afternoon:
http://www.youtube.com/watch?v=tgFF5isOSGA

Possibly the most serious damage is in Mulege. The delegado of Mulege was on the radio Wednesday morning and said that the river rose two meters higher than it did during Hurricane John, and flooded over the bridge on the main road by two feet. Also reported, the schools and the new hospital have suffered damage and the roof torn off the fire house. Many streets in Mulege are virtually impassable due to mud and debris left by the flood. At least one death has been reported there. Here is a link to pictures of some of the damage at Mulege:
http://mulege-mls.com/images/Jimena-ani.gif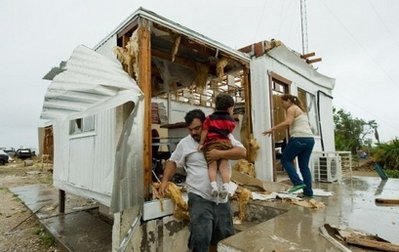 (Left) A family inspect their damaged office hit by Hurricane Jimena, in Puerto San Carlos, Baja California. Hurricane Jimena crashed Wednesday onto Mexico's Baja California peninsula, forcing thousands to seek shelter as it buffeted islands off the coast with high winds and heavy rain. (AFP/Ronaldo Schemidt)

Downgraded to a tropical storm, Jimena crossed the Sea of Cortez and also caused damage in other parts of mainland Mexico. As of 9PM Wednesday, the storm was stalled over the sea of Cortez, and threatening to cross back over the Baja Penninsula before dying out. It was reported that Guaymas on the mainland received 22 inches of rain. Here is a link to storm pictures from San Carlos:
http://picasaweb.google.com/cybercoseguridad/Jimena
News stories indicated that the Mexican authorities themselves were unaware of the extent of the damage in Mulege until Wednesday morning. The Mexican Civil Defense is mounting an aid effort in the worst hit areas. There are already several relief efforts underway, and funds are being collected to help the needy in the stricken areas. Donations can be made through the Mexican Red Cross. Go to:
http://www.cruzrojaamericana.org/detalle_noticias.asp?SN=204&id=525
Please give a thought and prayer for our fellow Baja friends and neighbors who will need all our help during this difficult time to rebuild these shattered communities.
---
U.S. Consulate In Cabo - I recently had occasion to visit Trina Brown, Consular Agent at the U.S. Consulate in Cabo. I called first and was told an appointment was not necessary. There was a very short wait to see her and I found her to be very considerate, thoughtful and helpful. The office is easy to find once you figure out where to park and how to get into the center of Cabo with all the road construction. They are located on the Marina side of Plaza Nautica, right in the middle of San Lucas. Their phone number is 624-143-3566 - Maryann Douglas, maryann [-at-] bajawesternonion.com
---
Local Community Strives To Protect Sea Turtles - All sea turtles are endangered. Although they have long fascinated people and figured prominently in the mythology and folklore of many cultures, the spiritual significance of sea turtles has not saved them from being exploited for both food and for profit. Millions of sea turtles once roamed the earth's oceans, but now only a fraction remains. Destruction of feeding and nesting habitats and pollution of the world's oceans all are taking a serious toll on remaining sea turtle populations. Many breeding populations already have become extinct, and entire species are being wiped out. Sea turtles date back more than 100 million years, but in Baja they are threatened by more than natural predators–ATV vehicles destroy turtle nests, and the ruts left by vehicle tires make it difficult, if not impossible, for hatchlings to make it to the ocean.

Beaches from La Paz, around the Cape, and up to Todos Santos are the nesting places for Olive Ridleys and the Leatherback turtles. Only females come ashore to nest; males rarely return to land after crawling into the sea as hatchlings. Most females return to nest on the beach where they were born. The ability of a sea turtle to migrate hundreds of miles from its feeding ground to its nesting beach is one of the most remarkable acts in the animal kingdom. That adult females return faithfully to nest on the very beach she was born is even more amazing.

Residents of Rancho Nuevo are actively working to protect sea turtle nests. In addition to constructing protection around the nests, the community has created a public outreach message to discourage the driving of vehicles, specifically ATVs, on the beach, especially during nesting season. Printed cards with this message in both English and Spanish are being distributed at rental sites, and to riders encountered on the beach. Please tell your friends and neighbors that driving any vehicle on Mexican beaches is illegal, and can result in fines and/or impound of the vehicle by the Mexican government. Questions and comments can be directed to sharon.sheldon [-at-] starband.net, 612-171-2097
---
Hiking Trip To The Sierra Laguna Mountains (courtesy Baja Pony Express) - I am planning another trip across our beautiful Sierra de Las Lagunas mountains. We will take 4 days to summit, spend a day relaxing in the dry lake bed, and then exit down the west face coming out near Todos Santos. We usually carry our own gear (40-50lb packs) but have made the trip with a mule before, too. You should be prepared for 6+ hours of strenuous hiking, climbing, and boulder-hopping each day except the day we spend at the lake. We will share the costs (guide, transportation, etc.) and share gear wherever possible to reduce weight. We will go sometime between mid-October and mid-November depending on the availability of the guide. If you are interested in joining us contact me at: - pamelagray [-at-] mac.com
---
5th Annual Catch And Release Fishing Tournament (courtesy, Baja Pony Express) - A.L.M.A. (Animal Lover's of Mexico) Humanitaria, AC, will host the 5th annual catch and release fishing tournament this October. Make your plans early for reservations of rooms, boats and favorite captain at the beautiful Hotel Buena Vista Beach Resort.

When : Oct. 16, 17, 18, 2009
Captain's meeting and registration: Fri. Oct. 16 at 5:00 pm.
Entry fee: $100.00 person ( Does not include boat).
Grand Prize 2009 - Entry to 2010 Bisbee's East Cape Offshore Tournament
For more details see www.almacares.com click on Fishing Tournament. All proceeds benefit local animals. If you are looking for a great time in a beautiful place this is the tournament for you! The awards dinner on Sunday Oct. 18, 2009 is open to the public. Tickets will be available for $25.00 US and include one national drink, one beer, water or soda.

Raffle, live and silent auction. Come and join us for a great evening as well as helping the local ALMA Humanitarian, AC continue to provide much needed services for animals of the East Cape.
---
Playa Punta Lobos Cleanup - Mexican residents of Todos Santos and Pescadero are planning a Punta Lobos cleanup Saturday September 5, starting at 5:30am to avoid the heat of the day. All American residents are invited to participate to make this a joint endeavor. This event is being sponsored by Padre Sergio Renteria. For more information contact Catherine Wall at 145-0819. - Cathrine Wall, catherine_wall [-at-] hotmail.com, catherinewallart.com, 245-0819, Todos Santos
---
Spamming Our Readers - This is a reminder that it is strictly against the rules and spirit of the Baja Western Onion for anyone to copy Email addresses from the Onion and then use those addresses to send unsolicited commercial Email (AKA "Spam" or "Correo Basura") to our readers. This has been happening on a local basis with a few companies out of La Paz and Los Cabos sending spam. I have already identified a couple of companies who are doing this.

If you are caught doing this, you will be permanently banned from the Baja Western Onion, and you will be reported to your Internet Service Provider for spamming. If anyone receives such "local" Spam as a result of posting something in the Baja Western Onion, please let us know and we deal with the guilty party if we can find them in our database. - Alan Thompson, Publisher, Baja Western Onion, www.bajawesternonion.com/faq.asp#5
---
This Week From The Community Calendar
Saturday September 5
Punta Lobos cleanup starting at 5:30 a.m. For more information contact Catherine Wall at 145-0819.
---
Submit your News, Events and Announcements articles here: http://www.bajawesternonion.com/submitad.asp
---

---
Comments, Questions and Answers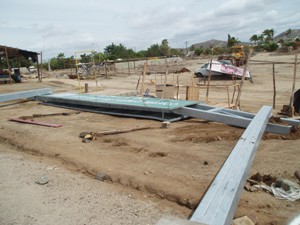 ---
Half Magic - A drive through town the day after Hurricane Jimena reveals only one seriously damaged item - the sign that greeted visitors arriving form the south end of town declaring Todos Santos a Pueblo Magico is all the way down. No other evident damage.
---
Water Bills - Your water meters are likely reading air trapped in the lines- Pressure the water dept to issue the meters that allow air to escape. Take your own readings, and take dated photos of your water meters, showing the cubic meters consumued- the average house in TS uses 30-40 cubic meters a month-maximum, and possibly less. Water bills for small houses in Cabo rarely exceed $40-$50 USD month. - Kevin Lynk, kevinlynk [-at-] prodigy.net.mx
---
High Water Bills - If your water bill is hi you might want to put a air bleed valve in befor the water meter. This prevents air in the line before your house from spinning the meter. - Bob, Todos Santos
---
U.s. Notary Services Available - U.S. Notary services will be available at the U.S. Consular Agency in Cabo San Lucas on Sept. 3, 4, 8, and 9. Address: Plaza Nautica #4, Cabo San Lucas (downtown next to Tesoro Hotel). 9 AM to 2 PM. Please call for appointment: 624 143 3566. - Trina Brown, usconsulcabo [-at-] yahoo.com, tijuana.usconsulate.gov/, 624 143 3566, Baja California Sur
---
Can You Import Recent Year Cars? - i understood that until recently you could only import cars form 1998 or earlier, but that now you can import any vehicle. does anybody have any info on this? - Dave Wolf, lobogrande [-at-] gmail.com, Baja California Sur
---
Vehicle Registration/insurance For Imported Vehicles - looking for info on registering and insuring legally imported american cars in baja...how much does it cost, how difficult is it to renew tags or any other issues that might make this something to carefully consider. i hope to bring down a 2004 chevy astro this fall and import it at the border. - Dave Wolf, lobogrande [-at-] gmail.com, Baja California Sur
---
The Fourlane - It changes that tense, stressful experience and lets you feel secure, no? Driving to LAP is no longer a test of your nerve endings? Don't drop your guard, there is still livestock on the road, and this week from Sunday nite to Wed nite, three wrecks caused by hitting the black cow at night. Don't know the result of the injuries, but we saw some bloody passengeers. Folks are driving faster, and that doesn't help. - Patrick Coffman, coffman [-at-] prodigy.net.mx, 145 0275, Todos Santos
---

*** Editor's note: - If you have a helpful reply to any of the above questions that would benefit our other readers, please also send a copy of your answer to the Baja Western Onion. Submit your Comments, Questions and Answers here: http://www.bajawesternonion.com/submitad.asp
---
---
Rides or Caravans Needed/Available - New This Week
---
Can Bring Your Things South - Will be driving down to Todos Santos from California in mid Sept.Will bring your items down for you in exchange for pitching in on gas money. - Terrence Moore, trandbrandy [-at-] hotmail.com, 612 153 0779
---
Airport Ride Calendar
Caravans/Ride shares North and South Calendar
Travel Companion Wanted - Placerville, CA, mid October to Todos Santos, Sandra Arevalo, arevalosan [-at-] aol.com, 530-622-5350 U.S.
---
Submit your Rides Needed/Available articles here: http://www.bajawesternonion.com/submitad.asp
---
---
Restaurant and Food News
---
El Gusto at Posada La Poza - Closed Thursday Night - The only night El Gusto at Posada La Poza is closed is Thursday night. All other nights open till 6 - 9 pm - reservation requested - Jurg Wiesendanger, reservations [-at-] lapoza.com, www.lapoza.com, 145-0400
---
Submit your Restaurant and Food News articles here: http://www.bajawesternonion.com/submitad.asp
---
---
Music/Entertainment News
---
Submit your Music/Entertainment News articles here: http://www.bajawesternonion.com/submitad.asp
---

---
Pet Corner (Lost and Found pet articles will run for one week)
---
Belgian Malinois Seeking New Home - We have three dogs and find that it is more than we can handle. Our 1.5 yr old pure bred Belgian Malinois male needs a new loving home, preferably with another female playmate as he is used to having two female playmates. He is sweet, gentle and affectionate. He has been neutered. - Rhoda Jacobs, barakabaja [-at-] gmail.com, 044-612-157-6088, Todos Santos
---
Happy Tails - Thanks to BWO readers and our neighbors and friends Chris and Betsy, darling Miel found her forever home in La Paz. She is living with a family that includes cats whom she has quickly learned to respect and all reports are that she has settled in nicely.

We are so grateful to our readers for your response to Miel's plea for a home. While the spay and neuter program here in Todos Santos is ongoing, there are always dogs and cats of all ages and sizes looking for loving families. Contact Angelique at bajakitties [-at-] yahoo.com if you have room in your heart and home for a cat. And we will continue to publish stories and pictures of homeless dogs and puppies whenever they are brought to our attention.
-
---
Baja Dogs - Baja Dogs is a registered Mexican non-profit, and relies completely on private donations as we receive no government funding. Any donations of money, food, leashes, toys, crates and cleaning supplies are always welcome. Baja Dogs La Paz AC has many homes waiting in Portland, Vancouver and Calgary. The only thing standing between one of these wonderful dogs and a loving home is some kind soul that will accompany the dog north. If you are able to help please contact us. I guarantee we will make it as easy as we can for you. All the dogs are healthy and have had all their vaccines. We will pay the transport charges and have someone meet you on departure and arrival. You will have made an incredible difference in the life of one of these precious animals. Please email dhorearyon [-at-] hotmail.com

Pease visit our website for more information on dogs for adoption, or to make a donation via Paypal. If you require more photos of any particular dog or require additional information, please call 044 612 140 2575 (English), or 044 612 155 8948 (Spanish) between 10am and 5pm, or email us at info [-at-] bajadogshelplineoflapaz.org. We are located between Chametla and Centenario, 4 kilometers behind the Tecate Six store located on the curve. Signs reading BD will lead you to the refugio! We are open 11AM - 4PM daily. Many thanks from the Baja Dogs and all of the Baja Dog support team! - Dhorea Ryon, info [-at-] bajadogshelplineoflapaz.org, www.bajadogshelplineoflapaz.org, 612-128-8235, La Paz
---
Submit your Pet Corner articles here: http://www.bajawesternonion.com/submitad.asp (and remember to Spay and Neuter your pets)
---

---
Misc. For Sale/Wanted
---
Laptop Wanted - I'm looking for a inexpensive laptop for a Mexican worker in Pescadero. It would be nice to have Spanish software loaded on the computer but not necessary. Looking to spend no more than $150.00 US dollars. - Terry Mcbride, tleemcbride [-at-] gmail.com, 612-149-2743, Pescadero
---
Trailer For Sale - 5'x10'Landscape/Utility Trailer with 4' high caged sides and ramp. Excellent condition. $700.00 US Located in Elias Calles. - Susan Smith, susanmckeensmith [-at-] hotmail.com, 1.972.740.4776, Elias
---
Jensen Speakers For Sale - 8 inch woofer, mid, and tweeter, 80-watts continuous, one pair, like new, can likely deliver, $100 or best offer - Lianne Armitage, Liannearmitage [-at-] yahoo.com, 624-156-3760, San Jose Del Cabo
---
Massage Table For Sale - Extra-wide, extra comfortable portable table, holds 350 lbs., beautiful and hardly-used, face cradle, face cut-out and arm rest. Sturdy wood construction, 44-lbs. $120 US or best offer, can possibly deliver. - Lianne Armitage, LianneArmitage [-at-] yahoo.com, 624-156-3760, San Jose Del Cabo
---
Rustica Desk Price Discounted! - Large, very nice, glass-topped wooden rustica-style desk needs to go now. 4 file-size drawers and 1 smaller one. Price now discounted to $225 or best offer. Email me for photo. - Janning Kennedy, janningk [-at-] gmail.com, 612 171 2205, Todos Santos
---
Phone/internet Number For Sale - Yes, it is strange to those of us accustomed to US phone services, but this will allow you to get a phone line at a discount and now, instead of waiting. I am moving and can recoup some of the initial cost of my phone line by selling it. I'm asking 75% of the current TelMex rate. We have to go together to La Paz to do the change, and you may have to pay to install a phone line if there is not one already connected to your residence. I am located in Barrio San Vicente. Email me if you are interested. - Janning Kennedy, janningk [-at-] gmail.com, 612 171 2205, Todos Santos
---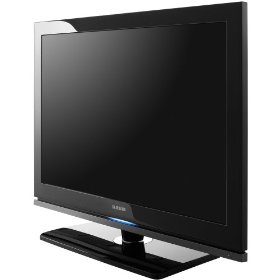 New Samsung 40" High Definition LCD Flat Panel TV - High Definition, full 1080P Samsung Model LNT4069. This was a customer return. He decided he wanted a 58" Samsung Plasma instead. Samsung is one of the Top-rated LCD TV manufacturers, and Consumer Reports rated this TV a "Best Buy:"
HD-Grade 1920 (H) x 1080 (V) pixel resolution: High resolution pixel density with built-in image scaler to handle inputs from a variety of sources
Wide Color Enhancer optimizes a color's hue resulting in more natural colors
Auto Motion Plus 120Hz panel
178 (H)/178 (V) viewing angle
20,000:1 contrast ratio/550nit brightness
Dimensions: 39.4 x 3.4 x 25.1 inches
The TV comes complete with base, remote control and all manuals. This TV is not available in Mexico at any price. We imported it. $1,500.00 Dlls, local delivery and setup included. Optional wall mount available. - Alan Thompson, alan [-at-] bajasatellite, http://www.bajasatellite.com, 530 903 4257 or 612 145 0364, Todos Santos
---
Submit your Misc. For Sale/Wanted articles here: http://www.bajawesternonion.com/submitad.asp
---

---
Vehicles/Boats for Sale
---
Perfect 1997 Ford Explorer Eddie Bauer Edition - Extremely well-maintained and like-new condition. Dark Green with tan interiors. Leather seats, radio/cd player, AC, new tires, cargo liner. Automatic transmission, 4.0 L, V6 engine. 118,000 miles, California plates. $6,500. Email for photos. - Elizabeth Mcmillian, elizabethmcmillian8 [-at-] gmail.com, 612-118-8371, Todos Santos
---
18 Ft. Fishing Boat $ 4500 - center console 70 hp.motor, great trailer, excellent cond.ready for fishing. sweet deal - Kent Hansen, kenthansen [-at-] shaw.ca, 612 1248480 casa #, La Paz
---
Super Clean Grand Marquis For Sale - 1997 Mercury Gran Marquis. Excellent condition. Must see it to believe it. $4,000usd/obo. - Jaime Dobies, poloko2004 [-at-] hotmail.com, 612-134-0480, Pescadero
---
Rent ATV - Retired banker coming to Buena Vista for the month of October looking to rent an ATV. Have 3 car garage to store and will pay security deposit. Please contact any ideas and price to - Ted Lemanowicz, tlemanowic [-at-] sbcglobal.net, San Diego phone no. 760-727-5063, Los Barriles
---
Submit your Vehicles for Sale articles here: http://www.bajawesternonion.com/submitad.asp
---

---
Employment Wanted/Available
---
Submit your Employment Wanted/Available articles here: http://www.bajawesternonion.com/submitad.asp
---

---
Sales and Services
---
Reiki - Kundalini Reiki session available, will trade with other goods or services. - Roger Marius Ciceron, cabomarius [-at-] yahoo.com, 624.122.0167, Baja California Sur
---
New Pilates Sessions - Todos Santos - New Pilates sessions - Todos Santos. Fridays/Saturdays/Sundays, 9 am and 10.30 am at "El Hotelito" (Camino a la Cachora). book at mara [-at-] pilatesincabo.com - Mara Adame, mara [-at-] pilatesincabo.com, pilatesincabo.com, 6241009601, Todos Santos
---
Palmetto Inc - Palapa construction, maintenance and repairs.
We have 30 years experience in palapa, adobe and clay construction including plumbing, electrical and gardenning.
We also do baja style rustic carpentry.
Reliability and satisfaction is our motto.
We provide references to certify the quality of our work.
Very reasonable prices. Call for free estimate. - Pablo Lopez, pab_lopez [-at-] yahoo.com, 612 151 4701, Pescadero
---
Submit your Sales and Services articles here: http://www.bajawesternonion.com/submitad.asp
---

iDirect Satellite Internet Systems - iDirect Systems provide commercial-grade satellite Internet service. This is especially important for individuals or businesses that demand more reliable service. iDirect use a more powerful radio than "consumer-grade" satellite services such as Hughesnet or Starband. iDirect System service providers also have fewer users per channel to ensure greater availability and reliability.

In addition, iDirect systems support high-quality Voice Over IP (VOIP) telephone service, providing reliable telephone service over satellite, and it works anywhere in Baja. For more information, visit our site at http://www.bajasatellite.com, or E mail us at alan [-at-] bajasatellite.com - Baja Satellite, 01 33 8421 1421 (Within Mexico). From U.S. Phones, Call 530 903 4257. Todos Santos
---
House Sitting, Rentals Available/Wanted
---
Looking For A Long-term House Sitting Position In The Cabo Area. - We are a thirty something couple living in Cabo San Lucas who would love to care for your home. We are very honest, reliable and trustworthy. Let us give you peace of mind. We can provide general up keep to the interior and exterior of your home, pay your bills, even pet sit if needed. We have lived in the Cabo area for almost 2 years. Please email us for further information. gibbscabobound [-at-] yahoo.com, Cabo San Lucas
---
Submit your Rentals Available/Wanted articles here: http://www.bajawesternonion.com/submitad.asp
---
---
Real Estate For Sale
---
Property In Elias Calles For Sale - Ocean, river and sierra views, up and coming Elias Calles: new families and famous artists moving to the area, business or residential, 1,500 meters, +2 small buildings, +water meter and contract with city, +fenced, dirt road access. bathroom with black-water purification system, kitchen palapa over 10,000 gallon water pila, unique. good deal reduced to us$70k. Title, tax number, ready for transfer.
also possible to expand and buy two adjacent lots, 1/3 of an acre each approx making a total of one acre all three together giving access thru 2 streets.(2 extra lots for 35K, each,(*reduced) one lot has sturdy concrete building, 1 boat and truck garage unfinished_only needs interior plastering, doors, windows and floor has second story potential/view) - - G. Meyer, gmanflash [-at-] yahoo.com, 6241377004
---

---
Beach Lots 3 Acres North Of TS - great deal for investors side by side beach lots for sale three acres each lot is 20 meters by 534 meters good access great investment lots sacrifice price 55,000 US each For information contact Sidne at La Paz Real Estate 612 125 9599 - Sidne Byars, sidnebyars [-at-] hotmail.com, 6121273191 cel, Baja California Sur
---
Submit your Real Estate articles here: http://www.bajawesternonion.com/submitad.asp
---

---
Quote of the Day: &quot: I have opinions of my own -- strong opinions -- but I don't always agree with them. <!-END QUOTE OF THE DAY ABOVE--> &quot: George Bush (1924 - )
---
Community Calendar
Denotes New or Updated Onion Item This Week
---
Events
Sunday

October 25, 9:00 am to 5:00 pm, Festival de las Minas, El Rosario Nov. 22 - Classical Music Performance in Todos Santos - Contact Sylvia St. Clair, sasinbaja [-at-] yahoo.com, 145-0563
February 28, 2010 - 10AM to 3PM, The Palapa Society's 16 Annual Historic House Tour
Monday

Mon. Nov. 9, 16, 23, 30 - Actor's Workshop, 4-6pm La Arca
Tuesday
Wednesday
Thursday

.Nov.12, 19, 26, Dec, 3 -Actor's Workshop-4-6pm,La Arca

Friday
October 30 - 8:-- P.M. Galerias Pax Painting contest, Guillermo Prieto 1250, col. Centro, La Paz, BCS.
Dec.4- Comic Evening of Short Plays for info: bluemooninbaja [-at-] yahoo.com -

Saturday September 5 - Punta Lobos cleanup starting at 5:30 a.m. For more information contact Catherine Wall at 145-0819.
October 31 - Halloween Fund Raiser At The Sandbar
November 28 - Dancing With The Stars! Todos Santos Film Festival Benefit. Hotelito.
November 28 11 - 3 - The Palapa Society's 3rd Annual Tianguis (yard Sale) at The Palapa Center, Calle Obregon
---
Every Week
Monday Thru Friday
The News in English - CaboMil Radio 96.3 FM, 5:30-6:00 PM. Los Cabos Now - Wednesdays, 5:30 to 6:30 PM www.cabomil.com.mx and click on "LIVE"

Happy Hour at the Sandbar -3PM - Sunset
Monday Thru Saturday
Zumba Exercise and Dance Classes - 8:00 - 9:00 AM Stadium across from La Arca beginning Feb. 9th. - Doctora Oliva, 612-145-0201

La Coronela, Live Mexican Music - 12 - 3 PM, Hotel California, Todos Santos

Two For One Happy Hour - 3 - 6 PM, Shut Up Frank's, Todos Santos

Two For One Happy Hour - 5 - 6 PM, La Esquina, Todos Santos
Sundays
CaboMil Happy Hour - 6 :00 P.M. - 7:00 P.M. Radio 96.3 FM, In English.

Los Cerritos Beach Club - Sunset Sessions, Live music by Daline Jones and Diego Ramirez, 3 to 6 P.M.

Tennis-- Leslie Light, leslie.light1 [-at-] gmail.com

Daniel Siqueiros - Live Music noon to 3 PM, Hotel California, Todos Santos
Mondays
Basilfields Organic Fruit And Vegetable Stand 10:00 to 1:00, Colegio Militar across from Telcel, Todos Santos
Tuesdays
Manos Magicas - 9:30 A.M.at DIF

Drawing Classes - every Thursday - 9:00-10:30 - Tori Sepulveda, oscarntori [-at-] yahoo.com
Wednesdays
Los Cabos Now - Cabomil 96.3 FM, 5:30 PM to 6:30 PM. in English, Host Sabrina Lear. Listen via computer, www.cabomil.com.mx

Recycling Center Open - 1-2 pm, Pescadero - SINADAES, AC, Contact MaryLo 612 130-3172 or marylomh [-at-] prodigy.net.mx

Basilfields Organic Fruit And Vegetable Stand. 10:00 to 1:00, Colegio Militar across from Telcel, Todos Santos

Live Music and All You Can Eat Pizza at The Sandbar, Pescadero

Tennis - Leslie Light, leslie.light1 [-at-] gmail.com
Thursdays
Steak Night at La Canada Todos Santos, 6:00 P.M. Reservations Req'd 612-14-00069
Fridays
This Weekend in Los Cabos with Jodi Asher on Cabo Mil from 6:00 PM to 6:30

Michael's At The Gallery - Restaurant open at 6:30 pm. Michael Cope, mplcope [-at-] yahoo.com, 145-0500, Todos Santos

Basilfields Organic Fruit And Vegetable Stand 10:00 to 1:00, Colegio Militar across from Telcel, Todos Santos

Los Cerritos Beach Club - Sunset Sessions, live music , 3 to 6 P.M.

Shawn and Cowboy - 8 to 11 PM Live Music, Hotel California, Todos Santos

Live Reggae Band at the Sandbar

Tennis - Leslie Light, leslie.light1 [-at-] gmail.com
Saturdays
Karla y Mateo baking bread- 9:00 A.M. - Casa Antigua (Topete/Horizonte) -


Basilfields Organic Fruit And Vegetable Stand. 10:00 to 1:00, Colegio Militar across from Telcel, Todos Santos




Michael's At The Gallery - Restaurant open at 6:30 pm. Michael Cope, mplcope [-at-] yahoo.com, 145-0500, Todos Santos

Music by Flashback - 8 P.M., Hotel California, Todos Santos

Live Music at The Sandbar
---
Workshops and Meetings
Monday Through Friday
Aerobics - 8 - 9 PM, La Arca, Todos Santos
Sundays
Mondays

Nov.9 - Actor's Workshop, 4-6pm La Arca
Nov.16- Actor's Workshop-4-6pm,La Arca
Nov.23-Actor's Workshop-4-6pm,La Arca
Nov.30-Actor's Workshop-4-6pm,La Arca

Hatha Yoga, 8 AM, La Arca, Todos Santos

Hatha Yoga, 9 AM, Mini-Super Los Arcos, Pescadero

AA Meeting, Grupo Serinidad, 5 - 6 PM, Church Courtyard, Info: 145 0265 or 0364, Todos Santos
Tuesdays
Manos Magicas - 10:30 A.M. at DIF on Topete across from La Copa, Todos Santos

AA Meeting, Grupo Serinidad, 5 - 6 PM, Church Courtyard, Info: 145 0265 or 0364, Todos Santos

Yoga Ashtanga at La Arca 9:00 A.M., Todos Santos
Wednesdays
Hatha Yoga, 8 AM, La Arca, Todos Santos

Hatha Yoga, 9 AM, Mini-Super Los Arcos, Pescadero

AA Meeting, Grupo Serinidad, 11 - 12 PM, Church Courtyard, Info: 145 0265 or 0364, Todos Santos
Thursdays

Nov.12-Actor's Workshop-4-6pm,La Arca
Nov.19-Actor's Workshop-4-6pm,La Arca
Nov.26-Actor's Workshop-4-6pm,La Arca
Dec.3-Actor's Workshop-4-6pm,La Arca

Drawing Classes - 9:00 to 10:30 AM, Todos Santos, E mail or call for info and directions - Tori Sepulveda, oscarntori [-at-] yahoo.com, 612-136-6738

AA Meeting, Grupo Serinidad, 5 - 6 PM, Church Courtyard, Info: 145 0265 or 0364, Todos Santos
Fridays
Hatha Yoga, 8 AM, La Arca, Todos Santos

Hatha Yoga, 9 AM, Mini-Super Los Arcos, Pescadero

AA Meeting, Grupo Serinidad, 5 - 6 PM, Church Courtyard, Info: 145 0265 or 0364, Todos Santos
Saturdays
Plein Air Painting Workshop - Marsha Dahlquist - 108 0390

AA Meeting, Grupo Serinidad, 11 - 12 PM, Church Courtyard, Info: 145 0265 or 0364, Todos Santos

Please notify us of any Community Calendar updates here: http://www.bajawesternonion.com/submitad.asp

---


Help Support The Baja Western Onion!

We can accept donations by PayPal, check or direct deposit.
For more information, please visit our web site at

http://www.BajaWesternOnion.com/donate.asp.

Frequently Asked Questions

Copyright &copy: 2006 - 2009. The Baja Western Onion. All Rights Reserved.

---