---
News, Events and Announcements
---
Bootlegger's Ball - A fun filled night of vaudeville style entertainment. Unique & desirable auction items and generous raffle surprises. Lite hors d'oeuvres, drinks, and cigars etc., sponsored by Hotel California, Hotel California Tequila, La Copa Wine Bar, Sandbar, Il Giardino, Buena Vida, and many more. "Kids Night Out" room upstairs, for 200MN includes professional babysitters, children's all you can eat buffet, games, movies, and art to take home. All proceeds benefit children of the agricultural labor camps (specifically: Blankets and Food) & the animals of Todos Santos (specifically: low cost and free spay and neutering) . Sunday, March 29 6-10pm. At La Esquina Cafe. 100MN door cover. Roaring 20s costume optional. Accessories available on site. For more information: - Tamara Vega, t.vega.ts (-at-) gmail.com, 612-102-8820, Todos Santos
---
Flea And Art Market In La Paz - Sunday 5 Of April - - Flea and Art Market in La Paz - Sunday 5 of April - A benefit event for Baja Dogs - Used and new things, food, coffee, art, jewelry etc. - Independencia and Ramirez - La Paz Central - from 10 AM to 6 PM - If you want to sell something: lapazbusiness (-at-) live.com.mx.
---
Third Annual Humpback Whale Benefit Sail Sat March 28 - The Third Annual Humpback Whale Benefit Sail with Dr. Urmas Kaldveer onboard the historic Talofa Tall Ship is this Saturday March 28. Talofa will depart from the Cabo San Lucas Marina at 11:30 AM for three hours of sailing with lunch, beverages, open bar and Dr. Kaldveer's fascinating commentary on humpback whales. Donation is $80 USD per person, to reserve call (624) 142 0357 or cell phone 624 155 7271. Proceeds to benefit humpback whale identification and research. And if you love to sail, Talofa won Sail Training Tall Ship of the Year at 2005's Tall Ship Challenge (ASTI); come and sail train on this historic vessel. For photos and history visit talofatallship (-at-) gmail.com, www.talofatallship.com, (624) 142 0357, Cabo San Lucas
---
Radio Talk About Whales (Courtesy Baja Pony Express) - This Wednesday March 25 from 5:30 to 6:30 pm tune in to Los Cabos Now with Sabrina Lear on 96.3 FM Radio Cabo Mil. Urmas Kaldveer PhD will be talking about his favorite topic, the fascinating humpback whales of the Sea of Cortez from 6:05 to 6:30. If you have a whale question for Dr Kaldveer, email sanjoseinfo (-at-) gmail.com before noon this Wed March 25 and it will be read live on the show.

You don't need a radio to listen to Cabo Mil, log on to www.cabomil.com.mx and hit "LIVE. It's Los Cabos' only talk show in English, each Wednesday from 5:30 to 6:30 p.m.
---
This Week From The Community Calendar
Thursday, March 26
Meet The Artists At Cafelix- 5:30 Tori Sepulveda, Marsha Dahlquist and Ruth Asercion, Todos Santos
Mar. 26-29 - Baja Shakespeare , "Comedy of Errors" Rancho Buena Vista Call Marilyn at 624 142 8008 or email, bajarhino (-at-) yahoo.com, and your tickets will be in Will Call.

Friday Mar. 27
Noche Jazz/Jazz Night at Cafelix with Tracy Durland, 9-7 PM, Todos Santos

Saturday March 28
Vocal Perfomance: "Mi Corazón Se Abre a Tu Voz" (my heart opens itself to your voice) Loyda Ana Vázquez (soprano), David Vázquez Cosio (piano) and Grupo Casandra Maledicto. 6 PM Teatro de la Ciudad, Av. Navarro 700, Centro, La Paz, Phone: 612/125-0486. Admission 50 pesos.
Grand Re-opening Brunch, The Secrets Of The Garden Restaurant - 9 AM to 12 PM. Reservations - Laura, 612 1194766, Todos Santos

Sunday March 29
The Bootleggers' Ball comes to La Esquina. Todos Santos
Assoc. De Artes 16th Annual "Festival de Artes" Rancho Buena Vista

Don't Forget, our complete Community Calendar including Recurring Events, Meetings and Workshops is always located near the bottom of each issue of the Baja Western Onion
---
Submit your News, Events and Announcements articles here: http://www.bajawesternonion.com/submitad.asp
---

---
Comments, Questions and Answers
Let's Talk Further About Abandoned Animals - In light of Dale Townsend's recent experience with abandoned pups (see BWO 3/21), I think it appropriate that the community is informed about the priority shifts in financial support that apparently have taken place amongst 'amigos de los animales' fundraisers. Many people still expect that contributions support a physical location where unwanted animals are housed. During many years we have gotten accustomed to the existence of 'El Refugio'. Not everyone yet knows that El Refugio can no longer accept animals, although there still are about 15 dogs there that need new homes.

Bringing animals to the La Paz volunteer group is not an answer. The immense and usually unappreciated work involved in animal sheltering is hard to overstate: The daily cleaning and scrubbing of kennels, the endless wash loads of dirty/infected bedding, the wounded and recovering animals needing attention 24/7, the cleaning of the surgery area as well as the regular bathing of dogs and tick hunting. If we add unwanted Todos Santos animals to another volunteer group we will cause them to burn out sooner than they already will.

The work 'amigos de los animales' have done for many years here and still is doing is incredible. I have only gratitude and admiration for those involved. But I request that you please clarify the uses for the raised funds and help the community understand what options are or are not available when the next box of puppies or kittens appears on someone's door step. I believe we may need to include the option of euthanasia. Obviously a very difficult subject to consider. - Gitte gittelz (-at-) yahoo.com, 612 1188 057, Pescadero
---
Driving Down The Baja - We're going to be driving down the Baja to Todos Santos next month, crossing at Tecate. Would appreciate any info from anyone who has driven down in the last week or so. Seems to be some very disturbing news regarding the border towns. Any problems or anything to be aware of? Thank you. - oceanfront1943 (-at-) yahoo.com, Todos Santos
---
Driveway Gate - I am looking for a gate for my driveway in Pescadero. Either all steel or steel and palo de arco. Does anyone know of a good local crafstman who specializes in this type of item. I do know of Martin in Pescadero, and his work is excellent, but I am looking for a less expensive alternative. Thank you - Brad Geisler, bradandsoniag (-at-) gmail.com, (425)355-5983, Pescadero
---
*** Editor's note: - If you have a helpful reply to any of the above questions that would benefit our other readers, please also send a copy of your answer to the Baja Western Onion. Submit your Comments, Questions and Answers here: http://www.bajawesternonion.com/submitad.asp
---
---
Rides Needed/Available
---
Ride Share from San Jose Del Cabo Airport To Todos Santos This Sunday, March 29 - I'd be happy to share a ride with someone from the SJDC airport. Coming in at 12:15 PM on Mexicana. Carrying 1 large bag and my laptop. - Alan Thompson, alan (-at-) baja1.com, Phone 530 903 4257, Cell - 530 417 1451, Todos Santos
---
Ride Offered To U.S. - Ride offered to U.S., leaving Todos Santos around Sunday, March 30, somewhat flexible date. Would love a slow drive north but could speed it up if needed. Professional driver with references, need help with gas! Your iPod welcome. - Brad Kahland, bmkahland (-at-) gmail.com, (044) 612 147 5019, Todos Santos
---
Cabo Airport To Todos Santos - looking for a ride for two, and two suitcases, May 4th at 2:30 PM from Cabo airport to Todos Santos. - Lori Oliver, oliverlori (-at-) hotmail.com, Todos Santos
---
San Diego - Driving to San Diego this week. Have room in my honda accord for someone who will help with gas. - Dave Williams, willid2 (-at-) hotmail.com, 612-169-4242
---
Submit your Rides Needed/Available articles here: http://www.bajawesternonion.com/submitad.asp
---

---
Restaurant and Food News
---
Grand Re-opening Brunch Of The Secrets Of The Garden Restaurant - This Saturday, March 28 from 9 AM to 12 PM we will be celebrating our new location, 1 block north of El Sol II Supermarket, al otro lado. We will have a special menu which includes a choice of the following meals: Cilaquiles with chicken comes with rice and beans or fruit; Pancakes with bacon, also comes with fruit; Quiche (a la Mexicana) with bacon and beans or fruit. Drinks are included. Come celebrate with us in our friendly family atmosphere. Call us for reservations, please. - Laura, 612 1194766, Todos Santos
---
April 1 Will Be The Last Day Of This Season For Peace & Loaf. - Come and enjoy sitting under the Ficus trees in one of our communal tables. Sip a cup of coffee while you have a yummy cinnamon roll or one of our other breads. Talk to old or new friends. It has been a fantastic season full of good memories, many thanks. Check our blog: http://peaceandloaf.blogspot.com - Gloria Ruenitz, gruenitz10 (-at-) yahoo.com, peaceandloaf.blogspot.com, 612-118-3683, Todos Santos
---
New York Foody Caters - Sick of eating out? Want some great dinners and desserts in the comfort and privacy of your own home? Let me help. Delicious, nutritious, as organic as possible, home cooked meals from soup to desserts. Elias Calles, Pescadero, Todos Santos area only. References gladly supplied. for more information and menus, email Diane Klein, dianejoy39 (-at-) yahoo.com, Todos Santos
---
Save The Date - The Sandbar Southern Style Bar-B-Que Brunch starting at noon on Easter Sunday April 12. Live entertainment and Easter Egg Hunts, one for kids at noon and one for the adults at 3 all at a wallet pleasing price. More info to come. - Tyler, Sandbar_Pescadero (-at-) me.com, SandbarPescadero.com, Pescadero
---
---
Submit your Restaurant and Food News articles here: http://www.bajawesternonion.com/submitad.asp
---
Music/Entertainment News
---
Greg Kitchel Performing Live At Felipe's In Pescadero Sat. Nites 6:30 To 8:30 Or So - - Greg Kitchel, greg (-at-) gregkitchel.com, gregkitchel.com, 612 119 37 05, Pescadero
---
Blues/gospel Singer Needed - Looking to hire a blues/gospel singer for this Easter Sunday, April 12th. Possible future bookings available. Call or email for details. Helen 310 780 66454 (US cell) or Gabe 612 159 0481 ( manager in Baja). - Helen Bay, helenweatherell (-at-) aol.com, sandbarpescadero.com/, 310 780 6644, Todos Santos
---

---
Submit your Music/Entertainment News articles here: http://www.bajawesternonion.com/submitad.asp
---

---
Pet Corner
---
---
Wanted: Dog Trainer - Rowdy one year old adoptee needs training. - Judy Flohr, Juflo333 (-at-) aol.com, 612-145-0044
---

---
Submit your Pet Corner articles here: http://www.bajawesternonion.com/submitad.asp (and remember to Spay and Neuter your pets)
---
---
Misc. For Sale/Wanted
---
I Need French Classes. - I´d like to learn French. Is there any teacher who would like to teach me? I live in Pescadero. - Joel Antonio Estamates , caballito_b (-at-) hotmail.com, 6121426184, Pescadero
---
Wrought Iron Table - 30" X 48" Light weight table with glass top and four chairs. Recently refinished and new fabric on the chairs. The table is white and the chairs are yellow. I will send photo if you are interested. 200US cocos - Teri Sahli, terisahli (-at-) hotmail.com, 612-14-50552
---
Entertainment Center - Stylish Black Entertainment Center , made of Black Tubuler Steel (a nice open feel) and can be completely dissambled for moving (assembled with 136 machine threaded bolts). Approx 6' by 6' with storage for 50 CD's Plus storage for 82 DVD's OR 41 VHS Tapes. The TV space measures 30" Wide X 26+" High and can hold 250 pounds. I can just fit my 30" HDTV in the opening. I am changing styles for my new home. It is currently assembled and ready to trade for 150 coconuts. Send your email address if you would like pics. Thanks - Ron Litz, Ronlitz1 (-at-) gmail.com, Todos Santos
---
Yakima Space Booster, 11 Cubic Foot Pod, Sans Racks - Yakima pod for sale, brand new, 11 cu ft, "lobster claw" attachment, Dec. '08 list was $269usd. Selling for $200usd. Racks NOT included. - Paul Romo, romaine.paul (-at-) gmail.com, cell 612-156-6162
---
Submit your Misc. For Sale/Wanted articles here: http://www.bajawesternonion.com/submitad.asp
---
---
Vehicles/Boats for Sale
---
Ford Exporer - 1998 2 door Explorer. Well maintained with only 2 owners. Had 80,000 mile full service at Ford, Los Angeles. Good condition. A/c Low mileage and runs really well. - Jenny Armit, jennyarmit (-at-) mac.com, 612 137 3123
---
96 Land Rover SE7 - for sale, must sell, 5000 oobo, 64k original miles, new front tires, new battery, ready to go, onapaffa paid until 2010 - Diana, di4cabo (-at-) yahoo.com, 6241059024, Cabo San Lucas
---
Generator For Free/ Travel Trailer - Generator for free if you make yourself a present and purchase this Travel Trailer: 27 foot, 2005, in good condition. For free: Craftsman Generator (used), 7.0 HP GenTek OMV Engine,3600 Watt,5300 Surge Watts - Fran Boschung, franboschung (-at-) yahoo.com.mx, Todos Santos
---
6'x12' Cargo Trailer - Great Timber cargo trailer with hydraulic rear ramp and side door access. Spare tire carrier and spare tire included. Single axle. Used twice to haul furniture to Pescadero. Light weight, pulls great. Could also be used for hauling or storing 4-wheeler. Email picture, call for directions to see. $2700 US 612-147-0434 cell in Mexico - Sandy Telgren, stelgren (-at-) rap.midco.net,
---
2007 42' Escalade 5th Wheel Toy Hauler - Still has 8 years bumper to bumper warranty left. Beautiful dark wood interior. Comes with side by side stainless fridge with ice maker and water dispenser. Electric Fireplace, Onan 5.5 generator, wheel covers, slide out stabilizers and much more. asking 69,000 USD. Call (cell) 624 109-0184 mx. - Bonnie, migrinovida (-at-) hotmail.com, 624-109-0184
---
Submit your Vehicles for Sale articles here: http://www.bajawesternonion.com/submitad.asp
---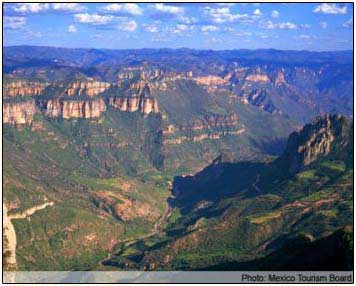 Sales and Services
---
Visit Mexico's Copper Canyon, May 18-26, 2009 - Todos Santos resident and eco-adventure guide Sergio Jauregui is organizing this trip for Baja residents to explore Mexico's answer to the Grand Canyon, Barranca del Cobre, Copper Canyon. The Copper Canyon is home to some of the most spectacular and stunning natural scenery in Mexico's inland territory. Deeper, longer - in fact seven times larger - than the Grand Canyon, the Copper Canyon is actually 20 canyons carved out of the Sierra Madre Occidental by at least six different rivers.

The Tarahumara people, descendants of the Aztecs and fabled long-distance runners, live a simple life in these canyons that has remained largely unchanged for centuries. To learn more about this area and obtain a detailed itinerary please contact Todos Santos Eco Adventures. - Sergio Jauregui, TSEcoAdventures (-at-) hotmail.com, www.tosea.net, 14-50189; 044-612-1613208, Todos Santos
---
Voice Over Internet Telephone (VoIP) Service Special - Have you ever wanted to...
Get unlimited local and long distance calling from Mexico to the U.S. & Canada for $24 a month, and unlimited calling to over 60 countries for only $15 more a month?
Enable friends and family to call you in Mexico from North America or Europe at local rates?
Call 800 numbers in the U.S. & Canada from Mexico at no charge?
Enable Pay Per View and interactive functions on your Dish Network satellite TV system and eliminate the $5.00 per month surcharge for not having the receiver connected to a US-based phone line?
We're offering a special on our Voice Over Internet (VoIP) telephone systems. If you have a broadband Internet connection, we can install a VoIP adapter and set you up with a US or Canadian phone number of your choosing. Cost of the complete system is $195.00 installed.

Monthly service starts at $24 per month for unlimited local and long distance calling in the U.S. & Canada, and unlimited calling to over 60 countries for only $15 more.

VoIP Frequently Asked Questions:
How does VoIP / Internet Voice Service Work?
VoIP services convert your voice into a digital signal that travels over the Internet. If you are calling a regular phone number, the signal is converted to a regular telephone signal before it reaches the destination.

If I have VoIP service, who can I call?
You can call anyone who has a telephone number - including local, long distance, mobile, and international numbers. If you are calling someone who has a regular analog phone, that person does not need any special equipment to talk to you.

What Are Some Advantages of VoIP?
You can get a US Phone Number for your VOIP phone in Mexico. You then make calls just as if you were dialing a telephone in the US. Callers can reach you in Mexico by dialing a US Number and your telephone will ring, just as if you and your phone were in the US. Calling features such as VoiceMail, Call Waiting, Call Forwarding, Caller ID, and more are included at no extra charge.
Complete details can be found on our website: www.bajasatellite.com/voip-telephone-systems-sales-and-service.asp. For more information, please contact us. - Alan Thompson, Baja Satellite, alan (-at-) bajasatellite.com, 530-903-4257/612-145-0364
---
Experienced Babysitter - I'm available 7 days a week, for day and evening appointments. References available. Thanks - Roberta Borghini, rborghin (-at-) gmail.com, 612+1339002, Todos Santos
---
Baja Window Armor - Soft Side Hurricane Panels - As Architects and Engineers, our firm set out to find a hurricane protection system that met specific criteria including: durability, protection meeting Dade County standards, aesthetically unobtrusive, easy to install and store. ArmorPanel System of hurricane protection meets all these expectations! Baja Window Armor is the turn key ArmorPane panel distributor for Baja California Sur. We cover homes in Cabo San Lucas and North to Todos Santos and La Paz. ArmorPanelis a State of Florida Building Commission Approved hurricane protection solution designed specifically with ballistic components to create a flexible, light weight yet rugged, copolymer hurricane panel system that provides the same protection offered steel, aluminum, and polycarbonate hurricane panels. Our DuPont KEVLAR® reinforced hurricane panel system represents a significant advancement in storm protection and has undergone and passed all of the same rigid State of Florida Building Commission testing requirements of steel, aluminum and polycarbonate hurricane panels. Our services are provided to you in three easy steps:
Step One: Product Review / Consultation. During this phase of discovery, you will then have the opportunity to speak with a principle of our firm for a free consultation. We will discuss the process, pricing and timing. We will gladly answer any and all questions regarding our product and services.
Step Two: Measurement, Pricing and Fulfillment. We send an architect or engineer to your home to measure all windows. Based on these specifications, will then put together a quote for your review which will include standard and customized panels, hardware, shipping and installation.
Step Three: Installation. Panels and Hardware are installed our by installation team within 48 hours of product receipt. Each panel will be labeled for easy storage and re-hanging.
- Linda Blakemore, linda (-at-) bajawindowarmor.com, www.bajawindowarmor.com, 949-887-0938 or toll free: 800-788-8746, Todos Santos
---
New York Licensed Massage Therapist - Relocated to Elias Calles. Licensed Professional Massage Therapist/Registered Nurse, available for therapeutic massage, deep tissue work, pain relief, relaxation and rejuvenation. References gladly supplied. Diane Joy Klein - dianejoy39 (-at-) yahoo.com, Todos Santos
---
Submit your Sales and Services articles here: http://www.bajawesternonion.com/submitad.asp
---

---
Rentals Available/Wanted
---
Casita Available - One bedroom furnished casita available mid-April through October. Solar power, propane fridge, gardener. North of Todos Santos. See the ocean, hear the waves, walk to the beach. Inquiries: cliffnjamies (-at-) hotmail.com - Jamie Stephens, Todos Santos
---
House Sitting Long Term Wanted - I am a 100% healthy, strong, active, female senior citizen, retired, handy around the house, seeking full time house sitting in Todos Santos, Pescadero, Elias Calle areas. have own transportation. references gladly supplied. dianejoy39 (-at-) yahoo.com - Diane Klein, dianejoy39 (-at-) yahoo.com, Todos Santos
---
Submit your Rentals Available/Wanted articles here: http://www.bajawesternonion.com/submitad.asp
---
---
Real Estate For Sale
---

---

---

---
Submit your Real Estate articles here: http://www.bajawesternonion.com/submitad.asp
---
---
Quote of the Day: " These days an income is something you can't live without--or within. <!-END QUOTE OF THE DAY ABOVE--> " ~ Tom Wilson, "Ziggy" (comic)
---
Community Calendar
Denotes New or Updated Onion Item This Week
---
Events
Sunday
Mar. 29 - The Bootleggers' Ball comes to La Esquina. 6- 10 PM, 100 pesos. Info: Tamara Vega, t.vega.ts (-at-) gmail.com, 612-102-8820, Todos Santos
Mar. 29 - Assoc. De Artes 16th Annual "Festival de Artes" Rancho Buena Vista
April 5 - Daylight Saving Time in Mexico. Move clocks forward one hour
April 12 - Easter Sunday
April 12 - The Sandbar Southern Style Bar-B-Que Brunch, 12PM. Live entertainment & Easter Egg Hunts. Sandbar_Pescadero (-at-) me.com, SandbarPescadero.com, Pescadero
Jun. 14 - ALMA Spay & Neuter Clinic, Los Barriles
Monday
May 11-13th, 2009 - The Fourth Annual Todos Santos Poetry Workshop led by Naomi Shihab Nye Email for details. - Janet Howey, janethowey (-at-) yahoo.com, Todos Santos
May 18 thru 26 - Visit Mexico's Copper Canyon, Contact Todos Santos Eco Adventures. - Sergio Jauregui, TSEcoAdventures (-at-) hotmail.com, www.tosea.net, 14-50189; 044-612-1613208, Todos Santos Jun. 8 - ALMA rummage Sale, Los Barriles

Tuesday

Wednesday
Apr. 22 - Rotary Club & UVERDE – "Earth Day" celebration
Thursday
March 26th at 5:30. Meet The Artists At Cafelix- Tori Sepulveda, Marsha Dahlquist and Ruth Asercion, Todos Santos
Mar. 26-29 - Baja Shakespeare , "Comedy of Errors" Rancho Buena Vista Call Marilyn at 624 142 8008 or email, bajarhino (-at-) yahoo.com, and your tickets will be in Will Call.
Friday
Mar. 27 -Noche Jazz/Jazz Night at Cafelix with Tracy Durland, 9-7 PM, Todos Santos
Apr. 3 - "Paws for the Cause" buffet dinner, music for dancing and auction 7pm-12. Contact Stephanie 612 169 8195, finalstagedesigns (-at-) gmail.com
Apr 3 - Vocal Perfomance: "Mi Corazón Se Abre a Tu Voz" (my heart opens itself to your voice) Loyda Ana Vázquez (soprano), David Vázquez Cosio (piano) and Grupo Casandra Maledicto. 5 PM - Teatro Jaurez, Belizario Dominguez between 16 de Septiembre & Independencia, La Paz
Saturday
Mar 28 - Vocal Perfomance: "Mi Corazón Se Abre a Tu Voz" (my heart opens itself to your voice) Loyda Ana Vázquez (soprano), David Vázquez Cosio (piano) and Grupo Casandra Maledicto. 6 PM Teatro de la Ciudad, La Paz. Admission 50 pesos.
Mar 28 - Grand Re-opening Brunch, The Secrets Of The Garden Restaurant - 9 AM to 12 PM. Reservations - Laura, 612 1194766, Todos Santos
May 2 - Rotary Second Annual "Tres Pez" Fishing Tournament. Info: Big Daddy Tournament Chair, 142-8008 or bajarhino (-at-) yahoo.com, Los Barriles
---
Every Week
Monday Thru Friday
The News in English - CaboMil Radio 96.3 FM, 5:30-6:00 PM. Los Cabos Now - Wednesdays, 5:30 to 6:30 PM www.cabomil.com.mx and click on "LIVE"
Happy Hour at the Sandbar -3PM - Sunset
Monday Thru Saturday
Zumba Exercise and Dance Classes - 8:00 - 9:00 AM Stadium across from La Arca beginning Feb. 9th. - Doctora Oliva, 612-145-0201
Basilfields Organic Fruit And Vegetable Stand. 10:00 to 1:00, Colegio Militar across from Telcel, Todos Santos
La Coronela, Live Mexican Music - 12 - 3 PM, Hotel California, Todos Santos
Two For One Happy Hour - 3 - 6 PM, Shut Up Frank's, Todos Santos
Two For One Happy Hour - 5 - 6 PM, La Esquina, Todos Santos
Sundays
CaboMil Happy Hour - 6 :00 P.M. - 7:00 P.M. Radio 96.3 FM, In English.
Los Cerritos Beach Club - Sunset Sessions, Live music by Dalina Jones and Diego Ramirez, 3 to 6 P.M.
Tennis-- Leslie Light, leslie.light1 (-at-) gmail.com
Daniel Siqueiros - Live Music noon to 3 PM, Hotel California, Todos Santos
Mondays

Tuesdays
Eco Cafe Series - 5:00 PM La Esquina, Todos Santos
Wednesdays
Recycling Center Open - 1-2 pm, Pescadero - SINADAES, AC, Contact MaryLo 612 130-3172 or marylomh (-at-) prodigy.net.mx
Peace and Loaf Bakery - 9 AM to noon, Calle Las Brisas, El Otro Lado, gruenitz10 (-at-) yahoo.com, peaceandloaf.blogspot.com, 612-118-3683, Todos Santos
Live Music and All You Can Eat Pizza at The Sandbar, Pescadero
La Jardinera Organic Produce at La Esquina - 9:30 - 1 PM, Todos Santos
Tennis - Leslie Light, leslie.light1 (-at-) gmail.com
Thursdays
Meet the Artists Series - 5:30PM - Visions in Cafelix.
Steak Night at La Canada, Todos Santos, 6:00 P.M. Reservations Req'd 612-14-00069
Fridays
David de la Valle at Felipe's, Pescadero 6:30 to 8:30 - Felipe Mesabailador, 612-130-3127
Los Cerritos Beach Club - Sunset Sessions, live music , 3 to 6 P.M.
Shawn and Cowboy - 8 to 11 PM Live Music, Hotel California, Todos Santos
Live Reggae Band at the Sandbar
Tennis - Leslie Light, leslie.light1 (-at-) gmail.com
Saturdays
Music By Greg Kitchel, Felipe's In Pescadero 6:30 To 8:30, greg (-at-) gregkitchel.com, www.gregkitchel.com, 612 119 3705
Peace and Loaf - 9 AM to noon, -Calle Las Brisas, El Otro Lado, gruenitz10 (-at-) yahoo.com, peaceandloaf.blogspot.com, 612-118-3683, Todos Santos
Music by Flashback - 8 P.M., Hotel California, Todos Santos
David de la Valle at Cerritos Beach Club 2:30 to 5:30
Live Music at The Sandbar

---
Workshops and Meetings
Monday Through Friday
Aerobics - 8 - 9 PM, La Arca, Todos Santos
March 16 - 20, Psychocalisthenics Workshop, 3:30 - 4:45 PM, La Arca, 650 Pesos. Info Rhoda Jacobs, barakabaja (-at-) gmail.com, 612 157 6088, Todos Santos
Sundays
3rd Sunday each month, Open Reading, 3 PM, Todos Santos Gallery. Info: Scotty Mclemore, scottybcs (-at-) hotmail.com, 612-10-05872, Todos Santos
Dharma Talks and Guided Meditation with Robert K. Hall M.D. 10:00 A.M.--11:30 A.M. - La Arca, Todos Santos. (Translated into Spanish on the 1st Sunday each month)
Palapa Society Double Dutch Jump Rope Workshops, 4-5 PM, Central Plaza, Todos Santos, palapasociety (-at-) yahoo.com, 1450-299
Mondays
Todos Tortugeros, 2nd Monday each Month, 6 PM, Cultural Center, Todos Santos
Hatha Yoga, 8 AM, La Arca, Todos Santos
Hatha Yoga, 9 AM, Mini-Super Los Arcos, Pescadero
AA Meeting, Grupo Serinidad, 5 - 6 PM, Church Courtyard, Info: 145 0265 or 0364, Todos Santos
Tuesdays
Manos Magicas - 10 A.M.-12 P.M. at DIF on Topete across from La Copa, Todos Santos
AA Meeting, Grupo Serinidad, 5 - 6 PM, Church Courtyard, Info: 145 0265 or 0364, Todos Santos
T'ai Chi Classes - 4:15-5:30, La Arca, beginning December 2nd for 12 weeks - Rhoda Jacobs, barakabaja (-at-) gmail.com, 612 157 6088, Todos Santos
Yoga Ashtanga at La Arca 9:00 A.M., Todos Santos
Wednesdays
Hatha Yoga, 8 AM, La Arca, Todos Santos
Hatha Yoga, 9 AM, Mini-Super Los Arcos, Pescadero
AA Meeting, Grupo Serinidad, 11 - 12 PM, Church Courtyard, Info: 145 0265 or 0364, Todos Santos
Thursdays
Drawing Classes - 9:00 to 10:30 AM, Todos Santos, E mail or call for info and directions - Tori Sepulveda, oscarntori (-at-) yahoo.com, 612-136-6738
AA Meeting, Grupo Serinidad, 5 - 6 PM, Church Courtyard, Info: 145 0265 or 0364, Todos Santos
Fridays
Hatha Yoga, 8 AM, La Arca, Todos Santos
Hatha Yoga, 9 AM, Mini-Super Los Arcos, Pescadero
AA Meeting, Grupo Serinidad, 5 - 6 PM, Church Courtyard, Info: 145 0265 or 0364, Todos Santos
Saturdays
Plein Air Painting Workshop - Marsha Dahlquist - 108 0390
AA Meeting, Grupo Serinidad, 11 - 12 PM, Church Courtyard, Info: 145 0265 or 0364, Todos Santos



Please notify us of any Community Calendar updates here: http://www.bajawesternonion.com/submitad.asp