Wednesday, March 04, 2009
---
News, Events and Announcements
---
Open Reading - Open Reading will be Sunday, March 15, 3PM at the Todos Santos Gallery. The usual drill - original work under five minutes. Because of the time of day a hat would be desirable. Please come to read or to enjoy the readings. - Scotty Mclemore, scottybcs [ at ] hotmail.com, 612-10-05872
---
Gloria Santoyo Ruenitz Presents "the Femenine" At Galeria On-cé. - Please mark your calendars Thursday March 12th (2-5PM) will be the opening reception for Gloria Santoyo Ruenitz' exhibition "The Femenine" at Galeria On-cé (Hidalgo between Juárez and Colegio Militar). This work was created during her HWF Artist Residency in Taos, NM. Wine and appetizers. Don't miss it! - Gloria Ruenitz, gruenitz10 [ at ] yahoo.com, www.ruenitz.com, 612-118-3683, Todos Santos
---
Baja Shakespare (courtesy Baja Pony Express) - Howdy Pardners! Baja Shakespeare's 9th Annual Production "The Comedy of Errors" will be at Rancho Buena Vista, Thursday March 26, Friday 27, Saturday 28 and Sunday March 29, with dinner at 6pm and the play at 7:30pm. The Baja Belles will be performing during dinner. They are a group of local residents who've been line dancing together for several years. The Baja Belles are: Kay Mundt, Sylvia Marshall, Leona Jordaan, Mary Catlin & Jane Perry, guaranteed to get you in the country & western mood! Tickets for "The Comedy of Errors" may be purchased at Smokey's Cantina, Los Barriles. Or, through Will Call: bajarhino [ at ] yahoo.com 142-8008. Dinner & show $30, show only $20. The message from the Sheriff: "...don't worry 'bout all these shows, there'll still be plenty of drinkin' time...." -
---
Spay & Neuter Clinic - The spay/neuter clinic is approaching fast. We still need volunteers to help with the setting up on the 10th at the Canada del Diablo, as well as on the 11th & 12th (clinic dates). Tear down on the 13th also needs some more volunteers. Please call Angelique [ at ] 14-502-50 or Barb P. at 612-14-00069. Thank you for your support. Angelique - Angelique, bajakitties [ at ] yahoo.com, 14-50250
---
Fortalecer Fundraiser - Friday March 13 "Hairpiece" will also benefit Fortalecer that does wonderful work helping local Mexican kids. More reasons to come to opening night of 'Hairpiece' in Todos Santos at Leo's Salon. Tickets $15 U.S. or 200 pesos at Tecolote, Encanto Real Estate and Coldwell Banker. bluemooninbaja [ at ] yahoo.com, 612 140-1414
---
There's Still Space Left! - Experience the grace, talent and inspiration of Naomi Shihab Nye, teacher of the Fourth Annual Poetry Workshop. Featured on two PBS poetry specials - The Language of Life with Bill Moyers and The United States of Poetry, Naomi is prasised as much for her teaching skills as she is for her writing talents. May 11-13th at the beautiful Serendipity Ventures. - Janet Howey, janethowey [ at ] yahoo.com, 612-169-4252, Todos Santos
---

---
This Week From The Community Calendar
Thursday, March 5
Mar. 5-8 - Sexto Festival Internacional de Cine Latino Begins. First film: 'Eréndira la indomable', 6 PM, Theatre Gral manuel Marquez de León, Todos Santos. Download the Complete schedule here: www.TodosSantosCineFest.com

Friday, March 6
Reception at 1 PM and film "Rancho Aparte" (from the Youth in Video program) 2:30 PM at the Cultural Center, Sexto Festival Internacional de Cine Latino, Todos Santos

Saturday, March 7
Film "Don Quijote, cabalgando por el cine" 2:00 PM at the Cultural Center, Sexto Festival Internacional de Cine Latino, Todos Santos
---
Submit your News, Events and Announcements articles here: http://www.bajawesternonion.com/submitad.asp
---

---
Comments, Questions and Answers
---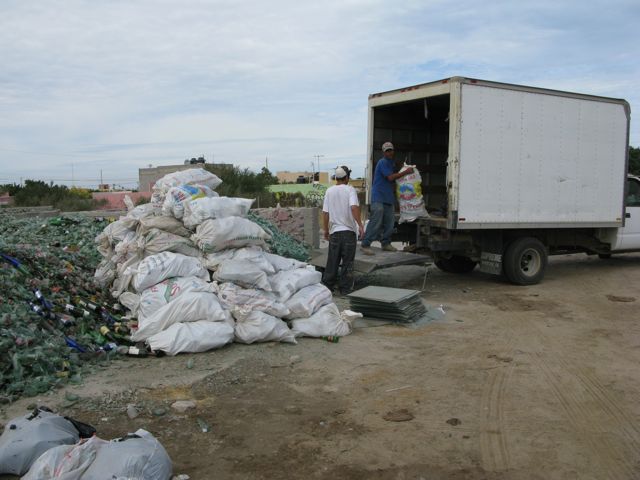 Recycling News - Thanks to everyone who wrote to express their condolences about the closure of the Todos Tortugueros recycling program. A special thanks to all those who came to volunteer their time and those who brought their recyclable materials. It was quite a shock for me to see that all the material we had so carefully collected and sorted taken away to the dump.

However, there was definitely something to be learned and after talking to several teachers in the Meliton Albañez Primary school, I now realize that I should have first made sure the program inside the school was functioning 100%, with cooperation from teachers, parents and neighbors, then invite the foreign commuinty to participate. As it was, although the school's Director was in agreement, the teachers could not see the benefits and merely saw the "mess" which was how our successful progam was perceived in their minds.

There will be a community meeting, Monday March 9th, 11am Casa de La Cultura to discuss our options. I am hoping to form a commitee to take over the running of a recycling center as I can no longer be the "cabeza". I will dedicate my time to influencing regional government policy around recycling and garbage issues, developing turtle conservation and recycling curriculum for our programs and making videos with the youth of Todos Santos and Pescadero. We all must reduce our use of plastics and in our daily purchases and when available buy products in returnable or recyclable containers. We need to stop the use of plastic shopping bags immediately.

The SINADAES, AC Pescadero recycling center is open 1-2 pm on Wednesdays, contact MaryLo at 612 130-3172 or marylomh [ at ] prodigy.net.mx for more info. - Patricia Baum, teampaty1 [ at ] hotmail.com, www.todostortugueros.org, 612 145-0882
---
Musical Instruments - We have a guitar, a saxophone, and a trombone we would like to donate to a youth music program in Todos Santos. Does anyone know who we should contact? Thanks - Jamie Stephens, cliffnjamies [ at ] hotmail.com, 612-134-0482, Todos Santos
---
Pier 1 Imports In La Paz (courtesy Baja Pony Express) - FYI: There is a Pier 1 Imports in La Paz on the second floor of Dorian's in the Soriana Plaza. We were there the other day and they were still setting up but were open for business. Everything is displayed beautifully and the sales people speak English. There were dishes, candles, cushions, furniture, glass ware---wonderful! I stood looking with my mouth open like a country bumpkin. - Chris and Jimmy White
---
Clothes Line - If anyone knows who makes or carries a good clothes line stand, I have seem some people with a metal "T" but don't know where to get one. If you know it would be great or if you make them let me know so I can dry my clothes. - Rob Reisen, rob.reisen [ at ] cookeaqua.com, Elias Caies
---
All American Direct To Switch Networks From Atlanta To New York - If you are subscribed to the Distant Networks from San Francisco and Atlanta through your Dish Network receiver, the following notice from All American Direct.com, the provider of these services, will be of interest (Sorry, Atlanta Fans):
Effective March 4, 2009:

All American Direct.com will be switching your east coast feeds of our Distant Networks from the Atlanta Networks to the New York Networks. This is in response to the overwhelming number of requests that we have received as well as having the opportunity to increase the quality of our signals.

If you are a current subscriber, no action is needed on your part for the switch to the New York feeds.
Of course, let us know if we can help answer any questions. - Alan Thompson, alan [ at ] bajasatellite.com, www.bajasatellite.com, Todos Santos
---
Palapa Society 2009 Historic House Tour - Palapa Society commends all those who efforts helped to make the 2009 Todos Santos Historic House Tour an outstanding success. After the annual house tour donation of $20,000 pesos to The Bomberos of Todos Santos, Palapa realized the sum of $107,900 pesos to fund on-going programs. It is with the continuous support and effort of patrons and dedicated volunteers that The Palapa Society of Todos Santos, A.C. is able to develop and administer programs for the benefit of children and their families. We believe the secret to the future of this pueblo, and the promise for a more hospitable community for all, resides in the education and welfare of the children. We are grateful for your support as we continue to pursue these endeavors. - Donna Viglione, palapasociety [ at ] yahoo.com, 1450-299
---
Moving Company - We are planning a move from Canada (Toronto) to Pescadero. Can anyone suggest a moving company that you may have had luck with?? Any suggestions/help will be greatly appreciated. Thank you! Shelby - Shelby Branzanti, sreddick [ at ] rci.rogers.com, Pescadero
---
Airport Parking - Hello, can anyone tell me what the best place to park for 4 nights at the airport? is there overnight parking or is there a Park&Ride idea?
Any help would be good - Rob, rob.reisen [ at ] cookeaqua.com
---
Robbery At Cerritos - This Sunday March 1st, between 4 and 5 PM, a couple (a young Mexican man around 30 and an American woman around 40) took our Mexican market beach bag with a Huichol purse in blue and orange, driving license, two old nokia cellphones, sunglasses, a red camera (panasonic lumix F55) and a Pacifico (It seems they like beer). This happened at Cerritos beach. Apparently this couple used to steal around the area: Pescadero, Sandbar, Cerritos, etc. They had being seen driving an old black Ford pick up. If something similar happens to you, please report it to the police, we already did. - Jesús Fernández De Castro, cachurrillo [ at ] yahoo.com.mx, 6121577692
---
Actual Cost Of Gas At Your Local Pemex - I decided to check to see how accurate the gas pump meters were at various Pemex stations around the area. These stations are all franchises and independently run. What got my interest is the 2 Polanco sattions (one in La Paz and one at La Ventanas) which advertise "Litros Completos" as something special. To check I have used a plastic gas can that weighs 2 1/2 lbs and I buy exactly 20 liters. According to Wikapedia the gas should weigh right around 33 lbs, so 35 1/2 lbs should be about full measure. I tried 5 different stations in La Paz and all were within 1/2 lb of each other all were essentially providing honest measure. At the station just north or Dorians on the west side which provided the most of any, the owner came out to see what I was doing. He sent on of his staff who arrived with a carefully calibrated 1 liter test tube and the implication is every Pemex owns one of these to verify that they are delivering full measure (or not). The station at the north end of Los Barilles was also accurate. The small station at San Antonio was 6% under. The Ejido station just north of TS is 5% under. The Pescadero north pump is 10% under. Averaging 2 pumps at the TS in town station works out to 16% under. If the in town station sells 10,000 liters per day (200 of 50 liter fills) that amountos to US$820.00 per day or $300,000.00 per year. Based on the same volume the Ejido station would realize US$90,000.00 per year. I ask that no one approach the stations as I wish for no trouble with demando's. This information is provided solely for your entertainment and in no way is meant to influence your purchasing practices.
-----------------------------------------

The author of this item has asked to remain anonymous.
---
Gardening Or Housecleaning - There's a new woman in Colonia Esperanza looking for work. It seems she would prefer the outdoor work, but is also willing to do house cleaning. She is related somehow to my gardener, Miguel, and I watched as she helped him with a cement project. She can carry two cubetas of sand up my steps. If you need such a worker, you can contact me and I'll get the word to her. She doesn't have a vehicle, so best location is going to be the La Poza, Esperanza or San Vicente neighborhoods. - Jane Sipe, jasi57 [ at ] juno.com
---
Looking For Importation Company - Does anyone know of a reliable and reasonably priced importation/shipping company? I would like to shop around and see if I can get a better deal than I am getting now. - Jon Perkins, ravemind [ at ] hotmail.com, Pescadero
---
*** Editor's note: - If you have a helpful reply to any of the above questions that would benefit our other readers, please also send a copy of your answer to the Baja Western Onion. Submit your Comments, Questions and Answers here: http://www.bajawesternonion.com/submitad.asp
---

---
Rides Needed/Available
---
Ride Needed - Todos Santos to Cabo airport March 12 approx. 9 AM.. Will share expenses. nancywnm [ at ] yahoo.com, 612-145-0857, Todos Santos
---
Ride To Shakespeare Production - Am hoping to be lucky enough to catch a ride with someone driving down from Todos to the Shakespeare production at Rancho Nueva on either March 26, 27 or 28. - Darlene Harris, darlene [ at ] dccnet.com, 612 100 5110
---
Submit your Rides Needed/Available articles here: http://www.bajawesternonion.com/submitad.asp
---
---
Restaurant and Food News
---

---
Tuna Baguette For This No Meat Season At Cafelix - Hello my sweeties! Here I am letting you know that we are serving tuna baguettes for holy fridays and kesadillas with chicken, come and taste them you will love them, bring your lap and swim on the web, enjoy a capuccino, a big one and breath, feel the spirits on your mind remember this is the place for you. See you here my fellows. shanti. cafelix - Felix Vazquez, salesboy_vagu [ at ] hotmail.com, 6121312081, Todos Santos
---
---
1st Annual St. Patrick's Day Celebration At The Sandbar - That's right lads and lasses, the Sandbar is hosting their 1st Annual St. Patrick's Day Celebration on Tuesday, March 17th, beginning at 5PM featuring live music and Helen's family recipe "Guinness Steak Pie" and Chips (papas) for 50 pesos. Also, for the first 50 people in the door, FREE Green beer. So come out and shake your shamrocks and enjoy an evening of good drink, good food and other Irish merriment. We hope to see you there! - Tyler, sandbar_pescadero [ at ] me.com, SandbarPescadero.com

---
Submit your Restaurant and Food News articles here: http://www.bajawesternonion.com/submitad.asp
---

---
Music/Entertainment News
---
Submit your Music/Entertainment News articles here: http://www.bajawesternonion.com/submitad.asp
---

---
Pet Corner
---
---
Where's Clint ? - Missing for a few days,Clint Eastwood from Cafe D'licia, now fully retired from his former life on the street has gone missing. Formally known as Scarface on the Supermercado El Sol 2 road he is a large dog, tan, 11 years old, jowels turning white, slightly drags one foot from a broken leg. I talked with a former caretaker of Clint who informed me that there is a pack of dogs attacking dogs not in the pack and I saw a dog which had been severely mauled and which will probably die. If you have seen Clint or know of a dog that might be Clint that needs help please contact me. Gracias - Don Mitchell, kiwimay1999 [ at ] yahoo.com, 1450862
---

---
Submit your Pet Corner articles here: http://www.bajawesternonion.com/submitad.asp (and remember to Spay and Neuter your pets)
---
---
Misc. For Sale/Wanted
---
Need Big Boots!! - Need to borrow/buy size 13 or 14 cowboy boots for Shakespeare Play. Email or call - Ron Weber, rweber88 [ at ] hotmail.com, 612-108-1240, Rancho Migriño
---
Need A Propane Freezer - I'm looking for a good-sized propane freezer for the boarding school in Candelaria, one that's used but still has lots of life. Because they have no freezer, they are unable to buy food in bulk for the children. If anyone knows where I can purchase or trade for a good used one, please email me. - Teri Walsh, TeriWalsh [ at ] att.net , United States
---
Use of Swimming Pool Wanted - Looking for private home, casita, guesthouse or villa with swimming pool to rent (2 persons): March 09 to March 12 (3 nights), area Elias Calle-Pescadero-Todos Santos-La Paz (anywhere beach, desert or mountain). - Francis, bajalife [ at ] yahoo.com, Todos Santos
---
Solar System For Sale - I have a complete solar system for a home already imported and ready to install. - Anthony , bcssolar [ at ] gmail.com, Todos Santos
---
Submit your Misc. For Sale/Wanted articles here: http://www.bajawesternonion.com/submitad.asp
---

---
Vehicles/Boats for Sale
---
Live Comfortably On Your Land While You Build - "Rosita" is an RV and more: a guest house, a spare bedroom, a bodega. She's a true Baja girl who needs a new owner because I now live on the mainland. She's a '69 Ford Lazydaze and from the outside, she fools thieves because they'd never guess how cool she is on the inside. She sleeps four and has A/C, a solar panel, a 4-burner propane stove and OVEN, a double sink, a bathroom w/ porta potty and shower, TONS of storage, TWO tanks for gasoline, and a strong, healthy engine. New water pump needs only to be hooked up. Her tires are great. Her Dometic fridge stopped working last time someone stayed in her but could be fixed or replaced. Works on propane OR electricity. They truly do not make 'em like her anymore. Will sacrifice for $3600 or take closest offer. I'll be in TS 3/10--3/19 to complete the sale, so write soon for an appointment to see her. - Feeny, feenylipscomb [ at ] gmail.com, 322-149-3472 San Pancho
---
Submit your Vehicles for Sale articles here: http://www.bajawesternonion.com/submitad.asp
---
---
Sales and Services
---
Job Wanted ! - Responsible, dependable with experience as: Director Assistant, Certified English Teacher, Spanish Teacher, English and Spanish Translations, Public Relations, Tourist Guide, Party Organizer. Can also, house, baby and dog sit; can help newcomers to settle down and find their way in Mexico. Isabel Jáuregui. Home 145-0532, chabeisamar [ at ] yahoo.com.mx, 044(612)152-3813, Todos Santos
---
Skymed Representative For Todos And Pescadero - Medivac Protection - What would you do if faced with a critical accident or illness while in Baja? Do you know how you could get back home? An emergency air ambulance to the U.S. or Canada can cost tens of thousands of dollars! And in these hard economic times, saving thousands of dollars in the event of an unexpected medical emergency, is more important than ever!". As a SkyMed member, you are transported free! No deductibles, no copays, no claim forms. 100% paid to the destination you designate. SkyMed takes you HOME! For less than a dollar a day, you can have peace of mind!

If you have medivac coverage, (1) does it take you home or to the nearest qualified medical facility, possibly thousands of miles from your home? (2) does it require a copay on your part to pay for the transportation? (3) is there a deductible which could cost you several thousand dollars? Current costs for medivac to the US range from $18,000 to $30,000.

If you have US or Canadian medical insurance, but do not have the coverage to get you home in the event of a serious accident or medical emergency, contact Roxanne Rosenblatt, representative for SkyMed in Todos Santos and Pescadero. Call (612) 130-3162 or cel (624) 122-0724 for assistance. - Roxanne Rosenblatt, caboroxy [ at ] yahoo.com, www.skymed.com/RoxanneRosenblatt, Pescadero
---
Mexico Help - If you need help with working with Immigration, Hacienda or general help with answering questions regarding doing business in Mexico, living here, getting water or electricity, etc. Or need help with stuff in La Paz, I would be very happy to lend you a hand. Give me a call anytime. - Kathy Gordon, katmarbaja [ at ] gmail.com, 612-142-8755, Todos Santos
---
March 16-20 Psychocalisthenics® Class - Don't let the name scare you away! Psychocalisthenics is a series of exercises developed in 1958 by the Bolivian mystic and philosopher, Oscar Ichazo, the founder of the Arica® School. Psychocalisthenics awakens our organism in a serial fashion and produces a flash of vital energy through all of the muscles, organs, glands and tissue resulting in complete revitalization. Each exercise has a precise movement and breathing pattern that promotes anti-aging, improved health, mental clarity, emotional balance, expanded happiness, and increased agility.

The series is offered once each month and will be taught over 5 consecutive days. Each class is 1 hour 15 minutes. Once learned, you will be able to practice on your own taking 15-20 minutes to complete the series. Weekly/monthly practice sessions are available. Certified instructor, Rhoda Jacobs, will be offering classes 3:30-4:45 P.M. at La Arca. Dates of workshops are March 16-20. Tuition $650 pesos. You can try the first class of the series for $130 pesos before signing up for the 5 days. Arica® and Psychocalisthenics® are registered trademarks. - Rhoda Jacobs, barakabaja [ at ] gmail.com, 612-157-6088, Todos Santos
---

Todos Santos Technologies - Are you looking for technical solutions? Todos Santos Technologies provides Sales, Repair and Installation of:
Solar Electrical Systems
Whole-house and Kitchen Water Purification
Dish Network Satellite Television
HughesNet and iDirect Satellite Internet Systems
Home Wireless Networking and Voice Over Internet Telephone Equipment
Alan Thompson, Todos Santos Technologies, http://www.TodosSantosTechnologies.com, alan [ at ] TodosSantosTechnologies.com, Mexican Office: 612 145 0364 and 530 313 5225. US Office: 530 903 4257.
---
Submit your Sales and Services articles here: http://www.bajawesternonion.com/submitad.asp
---

---
Rentals Available/Wanted
---
Swimming Pool - Looking for private home, casita, guesthouse or villa with swimming pool to rent (2 persons): March 09 to March 12 (3 nights), area Elias Calle-Pescadero-Todos Santos-La Paz (anywhere beach, desert or mountain). - Francis, bajalife [ at ] yahoo.com, Todos Santos
---
For The Best Rentals In All Of Todos Santos Visit Us - Come see our website at www.ricardoamigo.com or call our office at 612-145-0551 or on our American number-619-270-2241 for the best oceanview properties at the best rates in Todos Santos. - Bill Friend, billyraremex [ at ] gmail.com, 612-145-0551
---
Submit your Rentals Available/Wanted articles here: http://www.bajawesternonion.com/submitad.asp
---
---
Real Estate For Sale
---

---
Fixer Upper For Sale - In Todos Santos, B.C.Sur. with 223 SQ MT.10 palm trees, full new service all ready, just 5 blocks from the center of town, on Ocampo street between Carrillo & del Huerto. $62,500 U.S. - Hugo Figueroa., cortezfirst [ at ] yahoo.es, Cel: 612-10-3-79-13 , Todos Santos
---

---
Submit your Real Estate articles here: http://www.bajawesternonion.com/submitad.asp
---

---
Quote of the Day: " Friends may come and go, but enemies accumulate. <!-END QUOTE OF THE DAY ABOVE--> " ~ Thomas Jones (1892 - 1969)
---
Community Calendar
Denotes New or Updated Onion Item This Week
---
Events
Sunday
March 15 - Dr. Thynn Thynn at La Arca 10:00 AM
March 15 - Open Reading 3 PM at the Todos Santos Gallery
Mar. 22 - First Annual La Paz Arts Festival 8-5, Marina Palmira, La Paz, Contact: Maureen Ryan (bi-lingual) 612-122-9277 morene4 [ at ] yahoo.com
Mar. 29 - The Bootleggers' Ball comes to La Esquina. Todos Santos.
Mar. 29 - Assoc. De Artes 16th Annual "Festival de Artes" Rancho Buena Vista
Jun. 14 - ALMA Spay & Neuter Clinic, Los Barriles
Monday

Mar. 9 - Community Meeting to Discuss Recycling Options, 11am, Casa de La Cultura, Todos Santos. Info: Patricia Baum, teampaty1 [ at ] hotmail.com, www.todostortugueros.org, 612 145-0882.
May 11-13th, 2009 - The Fourth Annual Todos Santos Poetry Workshop led by Naomi Shihab Nye Email for details. - Janet Howey, janethowey [ at ] yahoo.com, Todos Santos
Jun. 8 - ALMA rummage Sale, Los Barriles
Tuesday

Mar 17 - 1st Annual St. Patrick's Day Celebration, 5PM, The Sandbar, Pescadero. Info: Tyler, sandbar_pescadero [ at ] me.com, SandbarPescadero.com
Wednesday
Mar. 5-8 - Sexto Festival de Cine de Todos Santos
Mar. 11 - Spay and Neuter clinic at La Canada del Diablo
Apr. 22 - Rotary Club & UVERDE – "Earth Day" celebration
Thursday

March 12 - 2-5 PM Opening reception for Gloria Santoyo Ruenit at Galeria On-cé, Hidalgo between Juárez and Colegio Militar, wine and appetizers. Mar. 12 - Spay and Neuter clinic at La Canada
Mar. 26-29 - Baja Shakespeare , "Comedy of Errors" Rancho Buena Vista Call Marilyn at 624 142 8008 or email, bajarhino [ at ] yahoo.com, and your tickets will be in Will Call.
Friday

Mar. 13 - 'Hairpiece' at Leo's Salon, Fortalecer Fundraiser night. Cash bar 6:30, play at 7:30 Tickets $15 U.S. at Tecolote book store or 'Will Call' 612 140-1414 Info: bluemooninbaja [ at ] yahoo.ca
Saturday

Mar. 14 -- 'Hairpiece' at Leo's Salon, Palapa Society Fundraiser night. Cash bar 6:30, play at 7:30 Tickets $15 U.S. atTecolote book store or 'Will Call' 612 140-1414 Info: bluemooninbaja [ at ] yahoo.ca
Mar. 21 to 27 - Holistic Light Retreat, Buena Fortuna Gardens in la Ribera, Contact Kitzia Danel, luz.holistica [ at ] gmail.com, 624 1683225, La Ribera

---
Every Week
Monday Thru Friday
The News in English - CaboMil Radio 96.3 FM, 5:30-6:00 PM. Los Cabos Now - Wednesdays, 5:30 to 6:30 PM www.cabomil.com.mx and click on "LIVE"
Happy Hour at the Sandbar -3PM - Sunset
Monday Thru Saturday
Zumba Exercise and Dance Classes - 8:00 - 9:00 AM Stadium across from La Arca beginning Feb. 9th. - Doctora Oliva, 612-145-0201
Basilfields Organic Fruit And Vegetable Stand. 10:00 to 1:00, Colegio Militar across from Telcel, Todos Santos
La Coronela, Live Mexican Music - 12 - 3 PM, Hotel California, Todos Santos
Two For One Happy Hour - 3 - 6 PM, Shut Up Frank's, Todos Santos
Two For One Happy Hour - 5 - 6 PM, La Esquina, Todos Santos
Sundays
CaboMil Happy Hour - 6 :00 P.M. - 7:00 P.M. Radio 96.3 FM, In English.
Los Cerritos Beach Club - Sunset Sessions, Live music by Dalina Jones and Diego Ramirez, 3 to 6 P.M.
Tennis-- Leslie Light, leslie.light1 [ at ] gmail.com
Daniel Siqueiros - Live Music noon to 3 PM, Hotel California, Todos Santos
Mondays

Tuesdays
Eco Cafe Series - 5:00 PM La Esquina, Todos Santos
Wednesdays

Recycling Center Open - 1-2 pm, Pescadero - SINADAES, AC, Contact MaryLo 612 130-3172 or marylomh [ at ] prodigy.net.mx
Peace and Loaf Bakery - 9 AM to noon, Calle Las Brisas, El Otro Lado, gruenitz10 [ at ] yahoo.com, peaceandloaf.blogspot.com, 612-118-3683, Todos Santos
Live Music and All You Can Eat Pizza at The Sandbar, Pescadero
La Jardinera Organic Produce at La Esquina - 9:30 - 1 PM, Todos Santos
Tennis - Leslie Light, leslie.light1 [ at ] gmail.com
Thursdays
Meet the Artists Series - 5:30PM - Visions in Cafelix. Steak Night at La Canada, Todos Santos, 6:00 P.M. Reservations Req'd 612-14-00069
Fridays
Music At Felipe's - Los Almas Perditos, Dave De La Valle and Jesse Hamilton, 6:30-8:30, Pescadero
Los Cerritos Beach Club - Sunset Sessions, live music , 3 to 6 P.M.
Shawn and Cowboy - 8 to 11 PM Live Music, Hotel California, Todos Santos
Live Reggae Band at the Sandbar
Tennis - Leslie Light, leslie.light1 [ at ] gmail.com
Saturdays
Peace and Loaf - 9 AM to noon, -Calle Las Brisas, El Otro Lado, gruenitz10 [ at ] yahoo.com, peaceandloaf.blogspot.com, 612-118-3683, Todos Santos
Music by Flashback - 8 P.M., Hotel California, Todos Santos
Live Music at The Sandbar

---
Workshops and Meetings
Monday Thru Friday
Aerobics - 8 - 9 PM, La Arca, Todos Santos
March 16 - 20, Psychocalisthenics Workshop, 3:30 - 4:45 PM, La Arca, 650 Pesos. Info Rhoda Jacobs, barakabaja [ at ] gmail.com, 612 157 6088, Todos Santos
Sundays
3rd Sunday each month, Open Reading, 3 PM, Todos Santos Gallery. Info: Scotty Mclemore, scottybcs [ at ] hotmail.com, 612-10-05872, Todos Santos
Dharma Talks and Guided Meditation with Robert K. Hall M.D. 10:00 A.M.--11:30 A.M. - La Arca, Todos Santos. (Translated into Spanish on the 1st Sunday each month)
Palapa Society Double Dutch Jump Rope Workshops, 4-5 PM, Central Plaza, Todos Santos, palapasociety [ at ] yahoo.com, 1450-299
Mondays
Todos Tortugeros, 2nd Monday each Month, 6 PM, Cultural Center, Todos Santos
Hatha Yoga, 8 AM, La Arca, Todos Santos
Hatha Yoga, 9 AM, Mini-Super Los Arcos, Pescadero
AA Meeting, Grupo Serinidad, 5 - 6 PM, Church Courtyard, Info: 145 0265 or 0364, Todos Santos
Tuesdays
Manos Magicas - 10 A.M.-12 P.M. at DIF on Topete across from La Copa, Todos Santos
AA Meeting, Grupo Serinidad, 5 - 6 PM, Church Courtyard, Info: 145 0265 or 0364, Todos Santos
T'ai Chi Classes - 4:15-5:30, La Arca, beginning December 2nd for 12 weeks - Rhoda Jacobs, barakabaja [ at ] gmail.com, 612 157 6088, Todos Santos
Yoga Ashtanga at La Arca 9:00 A.M., Todos Santos
Wednesdays
Hatha Yoga, 8 AM, La Arca, Todos Santos
Hatha Yoga, 9 AM, Mini-Super Los Arcos, Pescadero
AA Meeting, Grupo Serinidad, 11 - 12 PM, Church Courtyard, Info: 145 0265 or 0364, Todos Santos
Thursdays
Drawing Classes - 9:00 to 10:30 AM, Todos Santos, E mail or call for info and directions - Tori Sepulveda, oscarntori [ at ] yahoo.com, 612-136-6738
AA Meeting, Grupo Serinidad, 5 - 6 PM, Church Courtyard, Info: 145 0265 or 0364, Todos Santos
Fridays
Hatha Yoga, 8 AM, La Arca, Todos Santos
Hatha Yoga, 9 AM, Mini-Super Los Arcos, Pescadero
AA Meeting, Grupo Serinidad, 5 - 6 PM, Church Courtyard, Info: 145 0265 or 0364, Todos Santos
Saturdays
Plein Air Painting Workshop - Marsha Dahlquist - 108 0390
AA Meeting, Grupo Serinidad, 11 - 12 PM, Church Courtyard, Info: 145 0265 or 0364, Todos Santos


Please notify us of any Community Calendar updates here: http://www.bajawesternonion.com/submitad.asp