Saturday February 14, 2009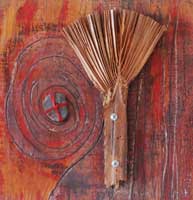 Artwork Courtesy of
Gloria Ruenitz
---
News, Events and Announcements
---
The 15th Annual Todos Santos Historic House Tour - It's that time of year again and this year it's a milestone. Sunday, February 22, 2009 from 10 AM-3 PM will be The Palapa Society of Todos Santos' 15th Annual Historic House Tour. We invite you to share in this special occasion and experience life as it was lived long ago in our quaint pueblo. There are new houses on the tour this year! See these beautifully restored and decorated homes as they are lived in now.

If you are not familiar with The Palapa Society's Historic House Tour, don't miss an extraordinary day in Todos Santos! Whether you enjoy history, architecture, decorating or art, the tour has something for everyone. Tickets are $20 U.S. or 250 pesos/person and include guided tours. Tickets are available from 10 AM - 2 PM and the houses are open from 10 AM-3 PM. Tickets and tours leave from the Cultural Center. All proceeds from the event benefit the Children's Education and Medical Programs of The Palapa Society of Todos Santos, A. C. as well as the Bomberos of Todos Santos.

On such landmark anniversary, The Palapa Society wanted a painter uniquely special to the town to create the artwork for this year's poster. And who better to capture the charm of Todos Santos' extraordinary architecture than local artist, Galeria de Todos Santos owner and restaurateur, Michael Cope. A food court, wine and refreshments will be available after the tour, where in addition, Michael's painting "Hacienda Cordobal" will be available for purchase. - Jennifer Rosen, palapasociety (-at-) yahoo.com, 145-0299, Todos Santos
---
Eco Cafe Tuesday, Feb.17th - Champion Mountain Bike racer OLIVER MEDINA will speak about the blooming mountain bike culture in Todos Santos. Oliver was the Baja California Sur state champion, placed fourth in the nationals and represented Mexico in the Barcelona Mountain Bike competition. Oliver will speak about the histoy of Mountain Bike Racing and the importance of cycling for the young people of Todos Santos.
Come hear about our local trails and information about the Second Annual Hotel California Mountain Bike Race in October. He will also give us some tips about what to look for when buying a Mountian Bike and how to become involved in cycling.
---
---
Eco Cafe Tuesday, Feb. 24th - We are honored to welcome Perry Eaton, a member of the Alutiiq tribe from Kodiak Island Alaska, a well known artist, a life long community activist, and defender of traditional native land rights. He will talk about the indigenous position in Alaska about land development and the proposed gas pipelines and the controversial opening of the ANWAR Gates of the Artic National Reserve, to oil drilling. - , www.artosan.com
---
Film Festival Save The Date March 5 to 8 - Read the full catalog and movie schedule on line at www.todossantoscinefest.com. Limited seating this year at the Cultural Center, advance tickets available by donation at the El Tecolote Book Store, available shortly.

View the 2009 original poster by local artist Gloria V. at Galeria de Todos Santos and submit your bid to purchase starting February 14th by entering the silent auction. And don't forget to buy one of the limited edition Tee Shirts that will be sold at the door before every screening (while supplies last) - Jenny Armit, jennyarmit (-at-) mac.com, www.todossantoscinefest.com, 612 145 0099, Todos Santos
Artwork courtesy of Gloria V.
---
Association De Artes "Artist Studio Tour", Los Barriles (Courtesy, Baja Pony Express) - Bienvenidos. Welcome! To the 4th annual showcase of east cape artists and friends tour, 10 am – 2pm, Sunday, February 22nd 2009. The Association De Artes is pleased to offer you the opportunity to see the work of talented members of our east cape artistic community who are joined by Antonio Viveros and the golden cactus gallery artists from Los Cabos and artist Sherry Lee Duncan from La Paz Tickets are available at baja beach company in the plaza de pueblo for $10 or 100 pesos. Ticket reservations can be requested online at tessabarriles (-at-) gmail.com.

Maps for the tour will be handed out at the new Baja Information Center between 9.30 -11.30 am. on Sunday, February 22nd. The Baja Info Center is located at Homes and Land of Baja real estate office next to Otra Vez. Proceeds go to purchase art supplies for the Buena Vista Kindergarten.
---
This Week From The Community Calendar:
Today - Saturday, Feb. 14

Valentine's Day Fiesta - Community Center and Park Benefit, 2 PM ~ 6 PM, Children's Park, Elias Calles, KM 79

Tomorrow - Sunday, Feb. 15

Gathering Of Healers, 4:00 - 6:00 PM, home of Gail and Mike McAllister. info: heronsnestbaja (-at-) earthlink.net, 044-612-152-6166, Todos Santos

Open Reading at the Todos Santos Gallery, 3:00 PM, Todos Santos

---
Submit your News, Events and Announcements articles here: http://www.bajawesternonion.com/submitad.asp
---

---
Comments, Questions and Answers
---
Looking For A Dentist In La Paz Or Cabo - Does anyone know of a good dentist they would recommend in La Paz or Cabo San Lucas? Please let me know and thank you in advance- Leslie Lambert, llambert (-at-) sonic.net, 612 135 3302 , Pescadero
---
UPS - In San Jose, Mail Box Etc, in Plaza Las Palmas across from Nissan, handles UPS; not positive if the Cabo office does also, but I assume they do. Call MBE San Jose at 142 4355 or 142 6075 and ask. - Sabrina Lear, mail (-at-) sabrinalear.com, 624) 128-1317 , San Jose Del Cabo
---
Lost Keys Found - Found two (2) keys on my morning walk to San Sebastian. Keys look like they may be a padlock and a safe. You can pick up your keys at La Esquina. -
---
ATV or Car Rental Wanted - Coming to Los Barriles March 10 to 27 need to rent any kind of wheels to get around local. Will travel from beach house to town 3 km to Supermercado and Banamex. Interested in ATV, motorcycle, car, truck any condition would even consider a donkey to rent. Have house with garage to store. Retired banker from San Diego.Ca - Ted Lemanowicz, tlemanowic (-at-) sbcglobal.net, 760-727-5063 U.S. Los Barriles
---
Bake And Donate! - The Palapa Society is looking for donations of baked goods-cookies, bars, bite sized desserts etc. to be served at the upcoming Historical House Tour, Sun Feb 22. All proceeds from the tour help fund The Palapa Society of Todos Santos and the Todos Santos Bomberos. Please call Leslie to donate your yummy baked goods. Thank You! - Leslie Lambert, lslambert (-at-) gmail.com, 612 135 3302 , Todos Santos
---
Transmission Repair Wanted - Needs Repair: 1995 Nissan Pathfinder 4x4 automatic. Has no reverse. - Lisa Maria, bajafarasha (-at-) yahoo.com
---
*** Editor's note: - If you have a helpful reply to any of the above questions that would benefit our other readers, please also send a copy of your answer to the Baja Western Onion. Submit your Comments, Questions and Answers here: http://www.bajawesternonion.com/submitad.asp
---

---
Rides Needed/Available
---
Submit your Rides Needed/Available articles here: http://www.bajawesternonion.com/submitad.asp
---
---
Restaurant and Food News
---

---
Live Music At Felipe's On Saturday Nights. Greg Kitchel From 6:30 To 8:30 - Performing songs from his CD Never Too Late To Do Nothin' At All, and a tasteful selection of covers. Live entertainment, fine food, and home by Baja midnight. - Greg Kitchel, greg (-at-) gregkitchel.com, www.gregkitchel.com, 612 119 37 05, Pescadero
---
Submit your Restaurant and Food News articles here: http://www.bajawesternonion.com/submitad.asp
---
---
Music/Entertainment News
---
Submit your Music/Entertainment News articles here: http://www.bajawesternonion.com/submitad.asp
---

---
Pet Corner
---

---
Border Collie Pups - Purebred red and white border collie pups. Available after Feb 21. 1 female and 3 males remain. Prices range from $200-300. Contact Norm. 612 130-3162 or cel 624 122-0724 - Norman Rosenblatt, cabonorm (-at-) yahoo.com, Pescadero
---
Submit your Pet Corner articles here: http://www.bajawesternonion.com/submitad.asp (and remember to Spay and Neuter your pets)
---
---
Misc. For Sale/Wanted
---
Boat Loader - I need a boat loader either crank or electric, they are usually made by Eide. Will pay cash. Carl Marsch, carlosmarsch (-at-) prodigy.net.mx, 1450028, Todos Santos
---
Beautiful Fresh Flowers For Valentine's Day Across From Lizarraga - Beautiful & original flower arrangement designs made by Heriberto Parra Hake with exotic flowers such as Heliconia,orchids, anthuriums & calla lilies as well as unusually beautiful foliage all grown locally. We have a variety of sizes & prices. Stop by across from Lizarraga. - Heriberto Parra Hake, hparra (-at-) prodigy.net.mx, 612 117 3945, Todos Santos
---
Just Looking For A Mtn Bike - I am just looking for a mountain bike, full suspension, used in good condition, GT, Trek, Cannondale, Specialized, gary fisher, etc. - Ivan Martinez, mc_sc27 (-at-) hotmail.com, 6123489664
---
Opportunity! Brand New Stove For Sale - Three week old white Mabe Stove. Bought it at department store for $3,800 pesos + $400 pesos for freight to Pescadero. Stove is too wide for the space I have in my kitchen. Recognized make (Mabe) 30" wide, 6 burners, electric start, thermostat control. Users manual. Will sell for $3,400 pesos (in Pescadero). - Rodrigo Menendez, rmenende (-at-) gmail.com, 612 1523097
---
Submit your Misc. For Sale/Wanted articles here: http://www.bajawesternonion.com/submitad.asp
---

---
Vehicles/Boats for Sale
---
Dodge Pickup Truck - Dodge 3/4 Ton pickup truck - 89,000 miles - great work-beach-transportation - $1250 contact Don at derwasser (-at-) yahoo.com / skype#631-709-5385 or call Carlos at Cell # 044-624-1295705 - Don Van De Water, derwasser (-at-) yahoo.com, 044-624-1295705, Cabo San Lucas
---
1998 Ford F150 Ext Cab - In Excellent condition with only 86,000 miles. power doors, locks and windows, CD/Cassette,AC. Imported into Mexico. $7,000 US dollars. - Terry Mcbride, tleemcbride (-at-) gmail.com, 612-149-2743, Pescadero
---
Must Sell Rosita, Born The Year Of Hair - This is hard. Rosita is more than an RV and even more than a guest house, spare bedroom or bodega, though she can elegantly serve as all of those. I would NEVER sell her, as she's a treasure, but I live on the mainland now, and she's definitely a Baja girl. She's a 1969 Ford Lazydaze, and from the outside, she fools thieves because they'd never guess how cool she is on the inside.
She sleeps four and has A/C, a solar panel, a 4-burner propane stove and OVEN, a double sink, a bathroom w/ porta potty and shower, TONS of storage, TWO tanks for gasoline. New water pump needs only to be hooked up. Her Dometic fridge stopped working last time someone stayed in her but could be fixed or replaced. Her tires are great. They truly do not make 'em like her anymore.
I bought her in '03 in Taos for $2400 and put $6850 into fixing her up before driving her to Baja, where she's been mostly a bodega. Her engine is amazing! Will sacrifice for $3600 or take closest offer, as I must sell her now. I'll be in TS 3/10--3/19 to complete the sale, so write soon for an appt to see her. But whoever buys her must promise to treat her well, as she's a love. - Feeny Lipscomb, feenylipscomb (-at-) gmail.com, 322-149-3472 San Pancho
---
Moto For Sale - Italika 150cc, 2 years old, 9500 km. very economical, good condition, runs great, new tires. $7500 pesos. La Paz 612-156-9727 - Rob Mckinstry, stoly100 (-at-) yahoo.com, 612-156-9727, La Paz
---
Submit your Vehicles for Sale articles here: http://www.bajawesternonion.com/submitad.asp
---
---
Sales and Services
---
Skymed Representative For Todos And Pescadero - Medivac Protection - What would you do if faced with a critical accident or illness while in Baja? Do you know how you could get back home? An emergency air ambulance to the U.S. or Canada can cost tens of thousands of dollars! And in these hard economic times, saving thousands of dollars in the event of an unexpected medical emergency, is more important than ever!". As a SkyMed member, you are transported free! No deductibles, no copays, no claim forms. 100% paid to the destination you designate. SkyMed takes you HOME! For less than a dollar a day, you can have peace of mind!

If you have medivac coverage, (1) does it take you home or to the nearest qualified medical facility, possibly thousands of miles from your home? (2) does it require a copay on your part to pay for the transportation? (3) is there a deductible which could cost you several thousand dollars? Current costs for medivac to the US range from $18,000 to $30,000.

If you have US or Canadian medical insurance, but do not have the coverage to get you home in the event of a serious accident or medical emergency, contact Roxanne Rosenblatt, representative for SkyMed in Todos Santos and Pescadero. Call (612) 130-3162 or cel (624) 122-0724 for assistance. - Roxanne Rosenblatt, caboroxy (-at-) yahoo.com, www.skymed/RoxanneRosenblatt, Pescadero
---
Todos Santos & Pescadero - Work Wanted: - I am a hard working, honest and responsible man from Todos Santos. I am married with 3 young daughters. I am available to do work for you. I speak and understand English. I have many American/Canadian friends and clients. I can provide these services - house security and property management, general handyman, construction of wooden wall, gardening jobs, and assistance in facilitating various bill payments with Mexican businesses and organizations. References can be provided upon request. You can reach me by email or cell phone. , 612 132-87-77 & 612 135 48 70 and in the local phone 612---1780074. - Victor Sossa, lacio31 (-at-) hotmail.com,
---
New Hair Stylist In Town! Hair By Zoë - I am a hair stylist who just moved to Baja a few months ago. I cut hair in NYC and San Francisco and am looking for new hair clients in the area. I will come to your home to give you a haircut. Currently I am not set up for blow drying or coloring. I charge $30 for a thorough consultation and hair cut in Elias Calles, Pescadero or Todos Santos. - Zoë Edmonds, dearzoe (-at-) mac.com, homepage.mac.com/dearzoe/hairbyzoe, 624-165-6085, Todos Santos
---
March Class Psychocalisthenics® - Don't let the name scare you away! Psychocalisthenics is a series of exercises developed in 1958 by the Bolivian mystic and philosopher, Oscar Ichazo, the founder of the Arica® School. Psychocalisthenics awakens our organism in a serial fashion and produces a flash of vital energy through all of the muscles, organs, glands and tissue resulting in complete revitalization. Each exercise has a precise movement and breathing pattern that promotes anti-aging, improved health, mental clarity, emotional balance, expanded happiness, and increased agility.

The series is offered once each month and will be taught over 5 consecutive days. Each class is 1 hour 15 minutes. Once learned, you will be able to practice on your own taking 15-20 minutes to complete the series. Weekly/monthly practice sessions are available. Certified instructor, Rhoda Jacobs, will be offering classes 3:30-4:45 P.M. at La Arca. Dates of workshops are March 16-20. Tuition $650 pesos. You can try the first class of the series for $130 pesos before signing up for the 5 days. Arica® and Psychocalisthenics® are registered trademarks. - Rhoda Jacobs, barakabaja (-at-) gmail.com, 612-157-6088, Todos Santos
---

Todos Santos Technologies - Are you looking for technical solutions? Todos Santos Technologies provides Sales, Repair and Installation of:
Solar Electrical Systems
Whole-house and Kitchen Water Purification
Dish Network Satellite Television
HughesNet and iDirect Satellite Internet Systems
Home Wireless Networking and Voice Over Internet Telephone Equipment
Alan Thompson, Todos Santos Technologies, http://www.TodosSantosTechnologies.com, alan (-at-) TodosSantosTechnologies.com, Mexican Office: 612 145 0364 and 530 313 5225. US Office: 530 903 4257.
---

---
Submit your Sales and Services articles here: http://www.bajawesternonion.com/submitad.asp
---

---
Rentals Available/Wanted
---
For Rent Palapa In Vagabundos R.V Park Cabo San Lucas - One Bedroom w/ air cond., 1 1/2 baths, outdoor kitchen (refrigerator, stove, washer), furnished, utilities paid, security 750.00 month + security deposit For Sale for 42,000 or best offer - Bob Snare, Cell 624-154-0676, Cabo San Lucas
---
Rent A Beautiful Casita In Pescadero In Front Of Organic Orchards & Amazing Ocean Views - This unique casita is a 2 bedroom home with ocean and outstanding organic orchard views. The architecture shows minimalist style in a unique way, providing simple but sophisticated comfort in a tasteful fashion. The house is located 6 miles south of Todos Santos, neighboring the Pescadero Huertas, in between Cerritos and San Pedrito surf breaks. The house sits less than a mile from the beach, in a peaceful and contemplative desert landscape. Great place for surfers, hikers or anyone that wants to be close to nature. Visit website for rates - Rodrigo Menendez, rmenende (-at-) gmail.com, casitaoasispescadero.blogspot.com/, 612 1523097, Baja California Sur
---
Submit your Rentals Available/Wanted articles here: http://www.bajawesternonion.com/submitad.asp
---
---
Real Estate For Sale
---

---

---
Submit your Real Estate articles here: http://www.bajawesternonion.com/submitad.asp
---

---
Quote of the Day: " Lies are like children: they're hard work, but it's worth it because the future depends on them. <!-END QUOTE OF THE DAY ABOVE--> " ~ Pam Davis, House M.D., It's A Wonderful Lie, 2008
---
Community Calendar
Denotes New or Updated Onion Item This Week
---
Events
Sunday
Feb. 15 - Gathering Of Healers, 4:00 - 6:00 PM, home of Gail and Mike McAllister. info: heronsnestbaja (-at-) earthlink.net, 044-612-152-6166, Todos Santos
Feb. 15 - 3:00 PM - Open Reading at the Todos Santos Gallery
Feb. 22 - 15th Annual Todos Santos Historic House Tour, 10 AM - 3 PM, Todos Santos palapasociety (-at-) yahoo.com
Feb. 22 - Asoc. De Artes "Artist Studio Tour", Los Barriles
March 29 - The Bootleggers' Ball comes to La Esquina.
Mar. 22 - First Annual La Paz Arts Festival 8-5, Marina Palmira, La Paz, Contact: Maureen Ryan (bi-lingual) 612-122-9277 morene4 (-at-) yahoo.com
Mar. 29 - Assoc. De Artes 16th Annual "Festival de Artes" Rancho Buena Vista
Jun. 14 - ALMA Spay & Neuter Clinic, Los Barriles
Monday
May 11-13th, 2009 - The Fourth Annual Todos Santos Poetry Workshop led by Naomi Shihab Nye
Jun. 8 - ALMA rummage Sale, Los Barriles
Tuesday
Feb.17th - Eco Cafe Series - Champion Mountain Bike racer Oliver Medina. 5:00 PM, La Esquina, Todos Santos
Feb. 24th - Eco Cafe Series - Perry Eaton, Alaskan Artist, Activist. Will talk on Native American land rights and land development, and proposed oil drilling in ANWAR. 5:00 PM, La Esquina, Todos Santos
Wednesday
Mar. 5-8 - Sexto Festival de Cine de Todos Santos
Apr. 22 - Rotary Club & UVERDE – "Earth Day" celebration
Thursday

Feb 26 - Art, Live Music And Gourmet Food - 2-5pm, Jill Logan Gallery. Contact: Jill Logan, jilllogan2001 (-at-) yahoo.com, www.jilllogan.com, 01-612-14-50151
Mar. 26-29 - Baja Shakespeare , "Comedy of Errors" Rancho Buena Vista
Friday
Feb. 27 - March 1 - Amrit Yoga Workshop - contact Irene Patch, ikp (-at-) boreal.org, 612-14-94332 (cell),
Mar. 13 - "Hairpiece" The Musical, Todos Santos, 7PM, $15. Info: bluemooninbaja (-at-) yahoo.ca
Saturday
TODAY - Feb. 14 - Rotary Club "Valentine Run", Los Barriles
TODAY - Feb. 14 - Valentine's Day Fiesta supporting the New Community Center and Park in Elias Calles 2 PM ~ 6 PM at the Children's Park in Elias Calles KM 79,
Mar. 14 - "Hairpiece" The Musical, Todos Santos, 7PM, $15. Info: bluemooninbaja (-at-) yahoo.ca

---
Every Week
Monday Thru Friday
The News in English - CaboMil Radio 96.3 FM, 5:30-6:00 PM. Los Cabos Now - Wednesdays, 5:30 to 6:30 PM
Monday Thru Saturday
Zumba Exercise and Dance Classes - 8:00 - 9:00 AM Stadium across from La Arca beginning Feb. 9th. - Doctora Oliva, 612-145-0201
Basilfields Organic Fruit And Vegetable Stand. 10:00 to 1:00, Colegio Militar across from Telcel, Todos Santos
La Coronela, Live Mexican Music - 12 - 3 PM, Hotel California, Todos Santos
Two For One Happy Hour - 3 - 6 PM, Shut Up Frank's, Todos Santos
Two For One Happy Hour - 5 - 6 PM, La Esquina, Todos Santos
Sundays

CaboMil Happy Hour - 6 :00 P.M. - 7:00 P.M. Radio 96.3 FM, In English.
Los Cerritos Beach Club - Sunset Sessions, Live music by Dalina Jones and Diego Ramirez, 3 to 6 P.M.
Tennis-- Leslie Light, leslie.light1 (-at-) gmail.com
Daniel Siqueiros - Live Music noon to 3 PM, Hotel California, Todos Santos
Mondays
Tuesdays
Eco Cafe Series - 5:00 PM La Esquina, Todos Santos
Wednesdays
Peace and Loaf Bakery - 9 AM to noon, Calle Las Brisas, El Otro Lado, gruenitz10 (-at-) yahoo.com, peaceandloaf.blogspot.com, 612-118-3683, Todos Santos
The Sand Band and Pizza Night - 7 PM, The Sandbar, Pescadero
La Jardinera Organic Produce at La Esquina - 9:30 - 1 PM, Todos Santos
Tennis - Leslie Light, leslie.light1 (-at-) gmail.com
Thursdays
Steak Night at La Canada, Todos Santos, 6:00 P.M. Reservations Req'd 612-14-00069
Fridays
Music At Felipe's - Los Almas Perditos, Dave De La Valle and Jesse Hamilton, 6:30-8:30, Pescadero
Todos Tortugos Recycling Center 11:00 A.M. to noon- at Meliton Albanez (primary school near Cruz Roja), Todos Santos
Los Cerritos Beach Club - Sunset Sessions, live music , 3 to 6 P.M.
Shawn and Cowboy - 8 to 11 PM Live Music, Hotel California, Todos Santos
Tennis - Leslie Light, leslie.light1 (-at-) gmail.com
Saturdays
Peace and Loaf - 9 AM to noon, -Calle Las Brisas, El Otro Lado, gruenitz10 (-at-) yahoo.com, peaceandloaf.blogspot.com, 612-118-3683, Todos Santos
Music by Flashback - 8 P.M., Hotel California, Todos Santos

---
Workshops and Meetings
Monday Thru Friday
Aerobics - 8 - 9 PM, La Arca, Todos Santos
March 16 - 20, Psychocalisthenics Workshop, 3:30 - 4:45 PM, La Arca, 650 Pesos. Info Rhoda Jacobs, barakabaja (-at-) gmail.com, 612 157 6088, Todos Santos
Sundays
3rd Sunday each month, Open Reading, 3 PM, Todos Santos Gallery. Info: Scotty Mclemore, scottybcs (-at-) hotmail.com, 612-10-05872, Todos Santos
Dharma Talks and Guided Meditation with Robert K. Hall M.D. 10:00 A.M.--11:30 A.M. - La Arca, Todos Santos. (Translated into Spanish on the 1st Sunday each month)
Palapa Society Double Dutch Jump Rope Workshops, 4-5 PM, Central Plaza, Todos Santos, palapasociety (-at-) yahoo.com, 1450-299
Mondays
Todos Tortugeros, 2nd Monday each Month, 6 PM, Cultural Center, Todos Santos
Hatha Yoga, 8 AM, La Arca, Todos Santos
Hatha Yoga, 9 AM, Mini-Super Los Arcos, Pescadero
AA Meeting, Grupo Serinidad, 5 - 6 PM, Church Courtyard, Info: 145 0265 or 0364, Todos Santos
Tuesdays
Manos Magicas - 10 A.M.-12 P.M. at DIF on Topete across from La Copa, Todos Santos
AA Meeting, Grupo Serinidad, 5 - 6 PM, Church Courtyard, Info: 145 0265 or 0364, Todos Santos
T'ai Chi Classes - 4:15-5:30, La Arca, beginning December 2nd for 12 weeks - Rhoda Jacobs, barakabaja (-at-) gmail.com, 612 157 6088, Todos Santos
Yoga Ashtanga at La Arca 9:00 A.M., Todos Santos
Wednesdays
Hatha Yoga, 8 AM, La Arca, Todos Santos
Hatha Yoga, 9 AM, Mini-Super Los Arcos, Pescadero
AA Meeting, Grupo Serinidad, 11 - 12 PM, Church Courtyard, Info: 145 0265 or 0364, Todos Santos
Thursdays
Drawing Classes - 9:00 to 10:30 AM, Todos Santos, E mail or call for info and directions - Tori Sepulveda, oscarntori (-at-) yahoo.com, 612-136-6738
AA Meeting, Grupo Serinidad, 5 - 6 PM, Church Courtyard, Info: 145 0265 or 0364, Todos Santos
Fridays
Hatha Yoga, 8 AM, La Arca, Todos Santos
Hatha Yoga, 9 AM, Mini-Super Los Arcos, Pescadero
AA Meeting, Grupo Serinidad, 5 - 6 PM, Church Courtyard, Info: 145 0265 or 0364, Todos Santos
Saturdays
Plein Air Painting Workshop - Marsha Dahlquist - 108 0390
AA Meeting, Grupo Serinidad, 11 - 12 PM, Church Courtyard, Info: 145 0265 or 0364, Todos Santos


Please notify us of any Community Calendar updates here: http://www.bajawesternonion.com/submitad.asp