Wednesday February 11, 2009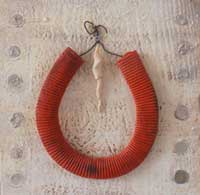 Artwork Courtesy of
Gloria Ruenitz
---
News, Events and Announcements
---
Local Hotel Makes Headlines - Our own Jenny Armit of Hotelito was recently written up in The Weekly Telegraph in the UK. A very nice and well-deserved article. - BWO http://www.telegraph.co.uk/property/interiorsandshopping/4448267/Interiors-Down-Mexico-way.html
---
Fire In Santiago - There was a devastating fire in Santiago on Wed. Feb. 4th. It began at 11:30 a.m., with firefighters arriving at 12:30 as Santiago has no firetruck, etc. The fire started almost in front of the new DIF office, which is down at the end of town near the church, then it spread into the oasis and to houses near the lagoon. Flames were 20 meters high at one point. The fire in the oasis was still smoldering on Thursday. Over 70 hectareas of land burned, 5 houses, 1 truck, one injury to someone trying to put the fire out in their house, and another injury due to hypertension. 350 people evacuated, and 200 men from the army, Bomberos and Civil Protection contained the fire. Kim Clapham's house was one of the casualties, animals at the zoo not harmed (not sure about smoke inhalation?). Pres. Calderon is due to visit later this month to inaugurate the new Santiago bridge. - Roxanne Rosenblatt, caboroxy (-at-) yahoo.com, 612 130 3162, Pescadero
---
6th Todos Santos Film Festival " Lotería " Silent Auction & Reception - The 6th Todos Santos Film Festival invites you to the Pre-Festival Reception & Silent Auction featuring the art work "Lotería" generously donated by local artist Gloria Marie V. The proceeds of this beautiful painting will go to the award winning YOUTH IN VIDEO, a program of the TSFF that teaches local students the art of filmmaking.
Where: Todos Santos Gallery
When: Sunday, February 15th, 5 PM ( following the Open Reading)
What: Enjoy Refreshments, friends and the latest news of the upcoming Festival on March 5-8 - Leonardo Perel, leonardoperel (-at-) yahoo.com, www.todossantoscinefest.com, 624-1615762, Todos Santos
---
News From La Canada Del Diablo - Once again, Special Guests, ALEX DEPUE and MIGUEL DE HOYOS, thrilled a full house with their amazing talents. Thank you Alex and Miguel and to all who attended. It was a wonderful Sunday afternoon. We are planning yet another concert of these two very talented musicians for a Sunday afternoon in March. More later on the date and time.

The construction project at "La Canada" is coming along well. In the next couple of weeks, we will begin to remove the original palapa roof. The windows and doors are being offered for sale at very reasonable prices. Come by and take a look. They just might be something you can use in a project. It is your chance to own a bit of Todos Santos history.

And don't forget about Cook Your Own T-Bone Steak Night. Every Thursday. Yummy T-Bone Steak, direct from Sonora, baked potato, sour cream and butter, fresh green salad, and hot garlic bread, all for 180.00 pesos. Remember, RESERVATIONS REQUIRED. Give us a call at 612-14-00069 or drop us an e-mail to make reservations. - Barbara Perkins, barbara_perkins (-at-) hotmail.com, 612-14-00069
---
---
Reminder - A reminder to start writing your piece for the next Open Reading, Sunday, Feb. 15, 3PM. Remember - Original and UNDER five minutes. At the Todos Santos Gallery. - Scotty Mclemore, scottybcs (-at-) hotmail.com, 612-10-05872
---
Artist's Bazaar In Lapaz - Every Saturday starting FEB. 14 ALL ARTISTS are invited to participate in Loto's Bazaar. Loto Cafebreria , Independencia 415 between Serdan and Revolucion. Hours 10 AM to 3 PM. Artist's Signup fee $30 pesos.. Public admission FREE.. CALL 612 1576794 (cel) or for Info. - Luz Maria Loto, zorba1360 (-at-) yahoo.com, 122 5054
---
Submit your News, Events and Announcements articles here: http://www.bajawesternonion.com/submitad.asp
---

---
Comments, Questions and Answers
---
Over Development In Las Tunas Update - Does anybody care that there is a HUGE development being planned under the guise of being environmentally conscious? It is called [Name Deleted - Editor] in Todos Santos, BCS. In spite of the hype about the project being "ecological" it is not ecologically sound at all. We think this planned over development of condominiums in such an ecological fragile area is damaging for many reasons:

I. The high density condominium project is more than triple the amount that the Todos Santos Master Plan zoning stipulates for 5.5 acres in the dunes area. The plan call for thirty-two condominium units along with conference rooms, restaurant and bar, clubhouse, pools, carports, etc. They expect to host additional seminars as well which will bring more traffic to the area. When originally presented to the community several years ago, it was different and proposed a smaller number of units. The new plans are high density - Cabo resort style, thanks to a new partner with the old owner.

II. The barrier dunes in Las Tunas near where the development is planned is a fragile ecological coastal area where several endangered species of sea turtles lay their eggs. The environmental impact of so many people (traffic, noise, lights etc) nearby would put additional stress on the already endangered sea turtle nesting population, as well as other species and habitat in the area.

III. There are no large resorts or condominiums in Todos Santos currently - that is the desire of the community at large. We do not want to set a precedent that will lead to continued overdevelopment. We will end up much like Cabo San Lucas. Todos Santos has unique natural resources and is an environment that needs to be protected for future generations.

IV. The infra-structure of a small town like Todos Santos's does not match the population growth of our area already. Sewage treatment and water usage in the desert needs to be thought out better before allowing projects like this to proceed. The proposed desalination plant is not a good idea. Desalination plants have been used to water-challenged areas, like Cabo, because of the demand for golf courses they require the developer to supply their own water. Most people are not aware of the by-product, and the need to do something with all the salt, which is not healthy as a soil nutrient. There are serious questions about the potential environmental, geopolitical, and social impacts of desalination.

V. This developer is putting profit over sensible development. One could preserve the integrity of the land and still make profit from the investment by either lowering the number of units built or building several single residence homes on larger lots. In spite of the hype about "building green", what is ecologically sound about building high density structures next to a fragile habitat for so many creatures and native plants? Please join our efforts to voice the community's concern at such a project being allowed to move forward without the consent of the community. Perhaps we can raise this important issue in our community to others contacting some of the following: Todos Santos Master Plan Committee, La Paz Building Permits, Environmental Protection Agencies, Newspapers, Newletters and Magazines, etc? If you have ideas, contacts, resources that would be helpful concerning this issue please contact me. Thank you, Laurie - tortuga1957 (-at-) yahoo.com
---------------------------------
This is a reminder that, in our goal to maintain fairness and neutrality for all, the Baja Western Onion will not normally reprint articles that accuse any person or business by name of committing any wrongdoing, malfeasance, deception, or that might damage or besmirch a named individual's or company's personal or professional character or reputation.

The Publishers, Editors and readers of the Onion cannot be expected to sit as judge or jury to assess the guilt or innocence of any individual or company. If a law has been broken, then the incident should be reported to the appropriate Mexican authorities. - Alan
---
Burglary In Las Brisas - We feel we should report a break-in at our (rental) house in Las Brisas in order to remind everyone stay vigilant with their belongings. Last Monday night while we were sleeping, someone entered our kitchen by cutting neatly through the window screen. Although we are in the habit of bringing all valuables into our bedroom for the night (separate building) -- we had accidentally left our iPod Touch in on the kitchen counter. It was taken along with a big Swiss Army knife and a Sierra Designs tent. A report was filed on our behalf but no investigation was done by police. Please let us know if, by some chance, any of these items are found. Thank you! - Ann Pibal, apibal (-at-) bennington.edu, 6121325274, Todos Santos
---
Fishing In Mag Bay - Looking for someone interested in a fishing trip to Mag Bay. I have 15 foot tin boat with motor. You will need some fishing gear, some gas money, ability to help launch boat, cash to stay in motel in San Carlos. Itinerary might be, leave Todos Santos in the AM for 3.5 hour drive to San Carlos, 2 days fishing. 2 nights there. My wife, a non fisher will be along for the trip, yours is welcome also. - Don Tutko, dtutko1 (-at-) hotmail.com, 052-612-1483478, Pescadero
---
United Parcel Service In BCS - Does anyone know any info about UPS in Baja? Like where they are located in Cabo, or any contact info? In the last BWO, Patricia said she saw them at Costco. Does anyone know where the office is? - Kelly Cline-sniechowski, kelbil2002 (-at-) yahoo.com, Pescadero
---
3G Telcel Internet Works Great! - For all those who have resisted investing thousands of dollars in satellite internet systems I am happy to say that the Telcel 3G service I just got works great in Las Tunas. The modem is free if you sign an 18 month contract but you can also buy the modem for around $130 US. Monthly cost is about $32 US and as long as you get two or three bars of Telcel reception then the system should work for you. Their modems work better with Windows XP than Vista. Now we just have to convince the people at www.hula.com to allow free US television downloads in Mexico and not just the US! - Jim Elfers
---
Airport Robbery! - Just wanted to warn everyone that our car was broken into while parked in the SJD airport. It was parked for less than 22 hours as I left on the 17th of January and my husband returned on the 18th. At first he didn't realize that anything had happened until he ran out of gas about 15 miles from the airport. I had left the tank full. When he got home he realized that the garage door opener was missing, along with the car key fob and the security system key fob! YIKES! Fortunately, there was no sort of ID to tell them where our house is. Upon further inspection, we realized that they had taken everything out our of our top carrier, back, and inside of the truck. We filed a report with the Security office at the airport but they claim that parking lot security is done by a private company and said they couldn't do anything. I have now filed a denuncia with the San Jose police but don't really expect anything to happen. Just be warned. - , nancyserfas (-at-) aol.com
---
*** Editor's note: - If you have a helpful reply to any of the above questions that would benefit our other readers, please also send a copy of your answer to the Baja Western Onion. Submit your Comments, Questions and Answers here: http://www.bajawesternonion.com/submitad.asp
---

---
Rides Needed/Available
---
A Ride To SJD Airport Early On February 19 - Looking for someone from Todos Santos/ Pescadero area who might have room for one person, no luggage, to the airport in San Jose to catch a flight out at 12.20 PM. (be there aprox. 10.30)Willing to pay for GAS!! - Marianne Buijs, mabuijs (-at-) yahoo.ca, 612-103-2440, Todos Santos
---
Submit your Rides Needed/Available articles here: http://www.bajawesternonion.com/submitad.asp
---
---
Restaurant and Food News
---
"The Wrestler" This Friday At Buena Vida - This Friday we will be showing The Wrestler starring Mickey Rourke and Marissa Tomei. This movie has been nominated for two Oscars and has won over 18 awards in the film industry including a Golden Globe for Best Performance by an Actor in a Motion Picture - Drama. A drama centered on retired professional wrestler Randy "The Ram" Robinson as he makes his way through the independent circuit, trying to get back in the game for one final showdown with his former rival. We will be offering our full menu and the bar will be open for purchase through out the movie. You must be having dinner or a two drink minimum per person. We will have a slight intermission. Seating is limited and we are not taking reservations so please come early to get a good seat. If there is a high demand to see this movie we could show it again! Hope to see you there! It is a lot of fun! - Jessie Rutowski, Jessierutowski (-at-) hotmail.com, 6121450215
---
Save A Day To Celebrate Some Lucky Moments - The Famous Sandbar will be celebrating our first St. Patrick's Day Party -- hosted by the new owner and true true Irish Lass--Helen. We will be featuring Helen's great-grandmother secret STEAK AND GUINNESS PIE served with chips (fries) or salad. We will also have lively music to "DAMSHA" to ...and free a GREEN BEER for the first lucky 50 lads and lasses that show up to the bar. Also, Helen will be be giving out lucky treats and offerings from her home-land to her new country amigos'. So save some time on March 17th to drop by the Sandbar and walk away with a bit of the LUCK O' THE IRISH and a smile! - Helen Bay, helenweatherell (-at-) aol.com, El_Borracho (-at-) SandbarPescadero.com, 310 780-6644, Pescadero
---
Galerias Pax & Arte Cafe - We invite you this 14 of Febuary to come visit inside the Galerias Pax our Arte & Café. We have various promotions, like sweetheart's package "coffee & cake" for 30 pesos, 2x1 on Frappuccinos, cappuccinos, italian sodas, cake, frappes and coffee and saturday for 150 pesos, lover's package "Baguette, salad, italian soda or cappuccino and cake" a great deal!!!! Also Galerias has a 20% discount on all of the artesania. Guillermo Prieto 1250, Col. Centro, La Paz BCS. See you soon, Hugs to everyone! Co-owner Naschtinka DIaz Alexander - naschtinka (-at-) hotmail.com, 612-1216853
---
New At Peace And Loaf On Saturdays - Dominique, our very own TS Organic Gardener is setting up shop at Peace and Loaf on Saturday mornings 9-12. She will have just picked healthy veggies, carrots, beets, lettuce greens, dill, cilantro and flowers. Come on by and get your fresh bread and veggies for the week! - Gloria Ruenitz, gruenitz10 (-at-) yahoo.com, peaceandloaf.blogspot.com, 612-118-3683, Todos Santos
---

---
Basilfields In La Ventana On Sundays - Basil Fields made their first appearance at the La Ventana campground this last Sunday. They will be providing local organic produce to our community every Sunday during the high season.Stopping first at Yo-Yo's, Baja Joes then the campground.The local residents are very pleased as well as the snowbirds. We welcome them to our community. Hours/Sundays 9:30 AM to about 2 PM - Steve Nichols, stevenichols119 (-at-) yahoo.com, 612 114-0261, Baja California Sur
---
Save A Day To Celebrate Some Lucky Moments - The Famous Sandbar will be celebrating our first St. Patrick's Day Party -- hosted by the new owner and true true Irish Lass--Helen. We will be featuring Helen's great-grandmother secret STEAK AND GUINNESS PIE served with chips (fries) or salad. We will also have lively music to "DAMSHA" and a free aGREEN BEER for the first lucky 50 lads and lasses that show up to the bar. Also, Helen will be be giving out lucky treats and offerings from her home-land to her new country amigos'. So save some time on March 17th to drop by the Sandbar and walk away with a bit of the LUCK O' THE IRISH and a smile! - Helen Bay, helenweatherell (-at-) aol.com, El_Borracho (-at-) SandbarPescadero.com, 310 780-6644, Pescadero
---
Submit your Restaurant and Food News articles here: http://www.bajawesternonion.com/submitad.asp
---
---
Music/Entertainment News
---
Live Music at Cafélix - Hello everybody! Next Friday February 20th LIVE music at cafélix, Greg, his guitar and his fantastic voice! Come and join us with a capuccino, a cold beer or a glass of wine in a fantastic night in the fancy place in Todos, the place for you, cafélix = from 7 to 9 PM - Felix Vazquez, salesboy_vagu (-at-) hotmail.com, 6121312081, Todos Santos
Daniel Siqueiros at Las Tres Virgenes in La Paz For Valentine's Day - Las Tres Virgenes presents Daniel Siqueiros from 8 til 11 PM this Saturday, February 14th. Rated the top restaurant in La Paz on TripAdvisor, this is a fabulous restaurant to dine with your sweetheart. Daniel performs there every Friday and Saturday night from 9 til 11. Please call for reservations. 612-123-2226 Also, hear Daniel every Sunday from Noon til 3 at the Hotel California in Todos Santos. Another beautiful venue and great place to enjoy Sunday brunch. - Ellen Siqueiros, ellen (-at-) ellensiqueiros.com, www.danielsiqueiros.com, 612-145-0141, Todos Santos
---
Flashback At The Hotel California On Valentine's Day - Come on out and enjoy Valentine's Day with a band that is all about "THE LOVE". We'd enjoy sharing this holiday with you all. So come out and enjoy a wonderful dinner, great music, and have fun, fun, fun while you dance the night away with your sweetheart. Happy Valentine's Day to ALL from Flashback! - Bonnie O'neill, sunburntgringos (-at-) hotmail.com, 612-134-0141, Todos Santos
---
Live Music With Clacson!! - Hi Everybody! After a wonderful gig at Las Varitas in la Paz, Clacson will be back at SandBar, in Pescadero next saturday (february 14th)...Join us and have a wonderful St.Valentine night!! See you there!! - Alberto Poli, alberto (-at-) solecaliente.com, 6121368361
---
Submit your Music/Entertainment News articles here: http://www.bajawesternonion.com/submitad.asp
---

---
Pet Corner
---

---
Border Collie Pups - Purebred red and white border collie pups. Available after Feb 21. 1 female and 3 males remain. Prices range from $200-300. Contact Norm. 612 130-3162 or cel 624 122-0724 - Norman Rosenblatt, cabonorm (-at-) yahoo.com, Pescadero
---
Submit your Pet Corner articles here: http://www.bajawesternonion.com/submitad.asp (and remember to Spay and Neuter your pets)
---
---
Misc. For Sale/Wanted
---
Garage Sale - Save the Date for Garage Sale, February 21 -- 9 AM to 3 PM.Power tools and many other misc tools, bedding, linens, home decor items -- generally speaking lots of good stuff. Rancho Nuevo, modern yellow house w/ red tower on the beach. - Carmen Gutierrez, ave2cg (-at-) gmail.com , 612-111-7362
---
Jewelry Trunk Show At Cafelix For Valentine's Day - Cafelix presents a Sweetheart Valentine Jewelry Show. I am putting together a few new treasures and will at Cafelix this Friday, Saturday and Sunday. Friday from 12 - 4, Saturday from 11:00 til 4 and Sunday from 11:30 til 4. Trinkets for your Sweetheart, designed and handmade in sterling silver and semiprecious stones by Ellen Siqueiros. ellen (-at-) ellensiqueiros.com, www.ellensiqueiros.com, 612-145-0141, Todos Santos
---
Kayak Paddles - Looking for 2 kayak paddles to beg, borrow or buy. Also need 2 life jackets. If you can help, please contact - Jan Sharp, bigsky5624 (-at-) gmail.com, Todos Santos
---
Dining Set W/4 Chairs - Wood dining set with 4 chairs, 4 drawers for storage in excellent condition. $375.00 - Tammy, powell264 (-at-) yahoo.com, 612-136-2932/125-4588, La Paz
---
Submit your Misc. For Sale/Wanted articles here: http://www.bajawesternonion.com/submitad.asp
---

---
Vehicles/Boats for Sale
---
GMC 1994 Pick-up For Sale, Excellent Cond - GMC Sierra Z-71. Both body and engine are in excellent condition. Power windows, locks, auto seat, 4-wheel drive, bed liner and rear seat. Has been impeccably maintained. Not imported. $4,750. Rancho Nuevo - Rod Bradley, go2rcb (-at-) gmail.com , 612-111-7362
---
Subaru Legacy - 1992 Legacy AWD wagon for sale. Good condition. Always been reliable! Excellent Baja car. Moving OS so must sell. Negotiable. - , wildponyplaying (-at-) hotmail.com, Todos Santos
---
Motor Cycle For Sale - Blue,2001 Suzuki DR 650 dual sport. new tires, under 3k miles, runs great in Xlnt. cond. 2900 Clams US. - Peter, 624-168-6791, San Jose Del Cabo
---
2006 Cougar Bunk Model Trailer - 33 foot travel trailer with 4 bunks, seperate queen bedroom, 12 foot slide, many upgrades including 3 inch lift, airbags and large custom counter. Full bathroom with tub. Self contained with solar power and batteries. Beautiful unit perfect for full time living or guest house. 18 x 8, California room included in price. Owner is downsizing for adventuring. Asking $30,000.00 Canadian or $25,000,00 American. email for photos Sandra Bundy, driftwoodcovebc (-at-) aol.com, 044-646-142-6278, Pescadero
---
Honda Xr650r - 2001 Low hours, perfect condition, lots of extras. $3500 Greg Buser, monolocogb99 (-at-) vahoo.com, 612-161-4734
---
20' Trophy Bayliner - Boat for sale: 2005, model 1952 Trophy walkaround, (20 foot). Under 50 hours use. like new. cuddy cabin, bimini,boat cover, live bait well, some electronics, 50 gal fuel tank. 190 HP Mercury marine, 6 cylinder in/outboard. $18,500. includes '05 galvanized trailer. Fishing gear sold separately. All papers, including original invoice.Oregon registration. - Jeff, bajapowell (-at-) yahoo.com, 612-136-2933, La Paz
---
Kawasaki Mule - 2000 620 Mule 4x4 hydraulic dump bed $5000. Greg Buser, monolocogb99 (-at-) yahoo.com, 161-612-4734, Todos Santos
---
Submit your Vehicles for Sale articles here: http://www.bajawesternonion.com/submitad.asp
---
---
Sales and Services
---
Skymed Representative For Todos And Pescadero - Medivac Protection - What would you do if faced with a critical accident or illness while in Baja? Do you know how you could get back home? An emergency air ambulance to the U.S. or Canada can cost tens of thousands of dollars! And in these hard economic times, saving thousands of dollars in the event of an unexpected medical emergency, is more important than ever!". As a SkyMed member, you are transported free! No deductibles, no copays, no claim forms. 100% paid to the destination you designate. SkyMed takes you HOME! For less than a dollar a day, you can have peace of mind!

If you have medivac coverage, (1) does it take you home or to the nearest qualified medical facility, possibly thousands of miles from your home? (2) does it require a copay on your part to pay for the transportation? (3) is there a deductible which could cost you several thousand dollars? Current costs for medivac to the US range from $18,000 to $30,000.

If you have US or Canadian medical insurance, but do not have the coverage to get you home in the event of a serious accident or medical emergency, contact Roxanne Rosenblatt, representative for SkyMed in Todos Santos and Pescadero. Call (612) 130-3162 or cel (624) 122-0724 for assistance. - Roxanne Rosenblatt, caboroxy (-at-) yahoo.com, www.skymed/RoxanneRosenblatt, Pescadero
---
Pilates Classes In Todos Santos!!! - - Book your class now with our certified instructor and founder. Come and see how Pilates can make a difference in your life! We have also a private classes. Classes in Todos Santos are every friday at 6:30 pm. Saturday and Sunday at 9.30am /11.00 am Mara Adame +624-1009601 mara (-at-) pilatesincabo.com or contact - Roberta Borghini, rborghin (-at-) gmail,com, 612+1339002, Todos Santos
---

Todos Santos Technologies - Are you looking for technical solutions? Todos Santos Technologies provides Sales, Repair and Installation of:
Solar Electrical Systems
Whole-house and Kitchen Water Purification
Dish Network Satellite Television
HughesNet and iDirect Satellite Internet Systems
Home Wireless Networking and Voice Over Internet Telephone Equipment
Alan Thompson, Todos Santos Technologies, http://www.TodosSantosTechnologies.com, alan (-at-) TodosSantosTechnologies.com, Mexican Office: 612 145 0364 and 530 313 5225. US Office: 530 903 4257.
---
Experienced Babysitter - I'm available 7 days a week, for day and evening appointments. References available. Thanks, Roberta - Roberta Borghini, rborghin (-at-) gmail.com, 612+1339002, Todos Santos
---

---
Hotel Angra Loreto - Special Rate Feb 14th Weekend - If you are planning to come to Loreto to celebrate this weekend (Feb 13,14 & 15th) we offer a special rate of $50 U.S. per room per night, double occupancy (minimun stay 2 nights), visit our website and reserve your room. - Ana Carranza, atencionalhuesped (-at-) hotelangra.com, www.hotelangra.com, 6131351172, Baja California Sur
---
Need Landscape Work - We do landscape, clearing land, palms, plants, agaves and palo de arco plants. - Happy Garden, 0446121474239, Todos Santos
---
Submit your Sales and Services articles here: http://www.bajawesternonion.com/submitad.asp
---

---
Rentals Available/Wanted
---
Pescadero Beach House For Rent - Two bedroom beach house near San Pedrito Hotel in Pescadero. Super quick walk to beach. Kitchenette, furnished porch, fire ring, ocean view. Very clean, very nice. $65 per night. Email me for fotos. - Christine Folgmann, cfolgmann (-at-) hotmail.com, 612 142 5644, Pescadero
---
Looking For Space To Use As Painting Studio - I am in TS for a few months and am looking for a simple, raw, affordable space to use as a painting studio. Good light and clean would be a bonus, size doesn't matter. In or near town would be best, or in Las Brisas near La Esquina. If anyone knows of anything I would appreciate the help. Thanks. - Peter Zangrillo, petezangrillo (-at-) gmail.com, 6121328039
---
Submit your Rentals Available/Wanted articles here: http://www.bajawesternonion.com/submitad.asp
---
---
Real Estate For Sale
---

---
Property - Lot for sale, 1743M2. Has large mango, mature guava, both produce fruit in season. Water on site, elec. ready, 5 large palms, small established palms with drip irrigation. e mail for photos, ocean and mountain views are breath taking. $100,000USD dtutko1 (-at-) hotmail.com or - , stevetutko (-at-) yahoo.com
---

---
Submit your Real Estate articles here: http://www.bajawesternonion.com/submitad.asp
---

---
Quote of the Day: " I have enough money to last me the rest of my life, unless I buy something. <!-END QUOTE OF THE DAY ABOVE--> " ~ Jackie Mason (1934 - )
---
Community Calendar
Denotes New or Updated Onion Item This Week
---
Events
Sunday
Feb. 15 - Gathering Of Healers, 4:00 - 6:00 PM, home of Gail and Mike McAllister. info: heronsnestbaja (-at-) earthlink.net, 044-612-152-6166, Todos Santos
Feb. 15 - 3:00 PM - Open Reading at the Todos Santos Gallery
Feb. 22 - 15th Annual Todos Santos Historic House Tour, 10 AM - 3 PM, Todos Santos palapasociety (-at-) yahoo.com
Feb. 22 - Asoc. De Artes "Artist Studio Tour", Los Barriles March 29 - The Bootleggers' Ball comes to La Esquina.
Mar. 22 - First Annual La Paz Arts Festival 8-5, Marina Palmira, La Paz, Contact: Maureen Ryan (bi-lingual) 612-122-9277 morene4 (-at-) yahoo.com
Mar. 29 - Assoc. De Artes 16th Annual "Festival de Artes" Rancho Buena Vista
Jun. 14 - ALMA Spay & Neuter Clinic, Los Barriles
Monday
May 11-13th, 2009 - The Fourth Annual Todos Santos Poetry Workshop led by Naomi Shihab Nye
Jun. 8 - ALMA rummage Sale, Los Barriles
Tuesday
Wednesday
Mar. 5-8 - Sexto Festival de Cine de Todos Santos
Apr. 22 - Rotary Club & UVERDE – "Earth Day" celebration
Thursday
Feb. 12th - "Meet The Artist" Gloria Santoyo Ruenitz, 5:30PM, CAFELIX,
Feb 26 - Art, Live Music And Gourmet Food - 2-5pm, Jill Logan Gallery. Contact: Jill Logan, jilllogan2001 (-at-) yahoo.com, www.jilllogan.com, 01-612-14-50151
Mar. 26-29 - Baja Shakespeare , "Comedy of Errors" Rancho Buena Vista
Friday
Feb. 27 - March 1 - Amrit Yoga Workshop - contact Irene Patch, ikp (-at-) boreal.org, 612-14-94332 (cell),
Mar. 13 - "Hairpiece" The Musical, Todos Santos, 7PM, $15. Info: bluemooninbaja (-at-) yahoo.ca
Saturday
Feb. 14 - Rotary Club "Valentine Run", Los Barriles
Feb. 14 - Valentine's Day Fiesta supporting the New Community Center and Park in Elias Calles 2 PM ~ 6 PM at the Children's Park in Elias Calles KM 79,
Mar. 14 - "Hairpiece" The Musical, Todos Santos, 7PM, $15. Info: bluemooninbaja (-at-) yahoo.ca

---
Every Week
Monday Thru Friday
The News in English - CaboMil Radio 96.3 FM, 5:30-6:00 PM. Los Cabos Now - Wednesdays, 5:30 to 6:30 PM
Monday Thru Saturday
Zumba Exercise and Dance Classes - 8:00 - 9:00 AM Stadium across from La Arca beginning Feb. 9th. - Doctora Oliva, 612-145-0201
Basilfields Organic Fruit And Vegetable Stand. 10:00 to 1:00, Colegio Militar across from Telcel, Todos Santos
La Coronela, Live Mexican Music - 12 - 3 PM, Hotel California, Todos Santos
Two For One Happy Hour - 3 - 6 PM, Shut Up Frank's, Todos Santos
Two For One Happy Hour - 5 - 6 PM, La Esquina, Todos Santos
Sundays

CaboMil Happy Hour - 6 :00 P.M. - 7:00 P.M. Radio 96.3 FM, In English.
Los Cerritos Beach Club - Sunset Sessions, Live music by Dalina Jones and Diego Ramirez, 3 to 6 P.M.
Tennis-- Leslie Light, leslie.light1 (-at-) gmail.com
Daniel Siqueiros - Live Music noon to 3 PM, Hotel California, Todos Santos
Mondays
Tuesdays
Eco Cafe Series 5:00 PM La Esquina
Wednesdays
Peace and Loaf Bakery - 9 AM to noon, Calle Las Brisas, El Otro Lado, gruenitz10 (-at-) yahoo.com, peaceandloaf.blogspot.com, 612-118-3683, Todos Santos
The Sand Band and Pizza Night - 7 PM, The Sandbar, Pescadero
La Jardinera Organic Produce at La Esquina - 9:30 - 1 PM, Todos Santos
Tennis - Leslie Light, leslie.light1 (-at-) gmail.com
Thursdays
Steak Night at La Canada, Todos Santos, 6:00 P.M. Reservations Req'd 612-14-00069
Fridays
Music At Felipe's - Los Almas Perditos, Dave De La Valle and Jesse Hamilton, 6:30-8:30, Pescadero
Todos Tortugos Recycling Center 11:00 A.M. to noon- at Meliton Albanez (primary school near Cruz Roja), Todos Santos
Los Cerritos Beach Club - Sunset Sessions, live music , 3 to 6 P.M.
Shawn and Cowboy - 8 to 11 PM Live Music, Hotel California, Todos Santos
Tennis - Leslie Light, leslie.light1 (-at-) gmail.com
Saturdays
Peace and Loaf - 9 AM to noon, -Calle Las Brisas, El Otro Lado, gruenitz10 (-at-) yahoo.com, peaceandloaf.blogspot.com, 612-118-3683, Todos Santos
Music by Flashback - 8 P.M., Hotel California, Todos Santos

---
Workshops and Meetings
Monday Thru Friday
Aerobics - 8 - 9 PM, La Arca, Todos Santos
Dec 15 - 19, Jan 5 - 9, Feb 9 - 13, Psychocalisthenics Workshop, 3:30 - 4:45 PM, La Arca, 550 Pesos. Info Rhoda Jacobs, barakabaja (-at-) gmail.com, 612 157 6088, Todos Santos
Sundays
3rd Sunday each month, Open Reading, 3 PM, Todos Santos Gallery. Info: Scotty Mclemore, scottybcs (-at-) hotmail.com, 612-10-05872, Todos Santos
Dharma Talks and Guided Meditation with Robert K. Hall M.D. 10:00 A.M.--11:30 A.M. - La Arca, Todos Santos. (Translated into Spanish on the 1st Sunday each month)
Palapa Society Double Dutch Jump Rope Workshops, 4-5 PM, Central Plaza, Todos Santos, palapasociety (-at-) yahoo.com, 1450-299
Mondays
Todos Tortugeros, 2nd Monday each Month, 6 PM, Cultural Center, Todos Santos
Hatha Yoga, 8 AM, La Arca, Todos Santos
Hatha Yoga, 9 AM, Mini-Super Los Arcos, Pescadero
AA Meeting, Grupo Serinidad, 5 - 6 PM, Church Courtyard, Info: 145 0265 or 0364, Todos Santos
Tuesdays
Manos Magicas - 10 A.M.-12 P.M. at DIF on Topete across from La Copa, Todos Santos
AA Meeting, Grupo Serinidad, 5 - 6 PM, Church Courtyard, Info: 145 0265 or 0364, Todos Santos
T'ai Chi Classes - 4:15-5:30, La Arca, beginning December 2nd for 12 weeks - Rhoda Jacobs, barakabaja (-at-) gmail.com, 612 157 6088, Todos Santos
Yoga Ashtanga at La Arca 9:00 A.M., Todos Santos
Wednesdays
Hatha Yoga, 8 AM, La Arca, Todos Santos
Hatha Yoga, 9 AM, Mini-Super Los Arcos, Pescadero
AA Meeting, Grupo Serinidad, 11 - 12 PM, Church Courtyard, Info: 145 0265 or 0364, Todos Santos
Thursdays
Drawing Classes - 9:00 to 10:30 AM, Todos Santos, E mail or call for info and directions - Tori Sepulveda, oscarntori (-at-) yahoo.com, 612-136-6738
AA Meeting, Grupo Serinidad, 5 - 6 PM, Church Courtyard, Info: 145 0265 or 0364, Todos Santos
Fridays
Hatha Yoga, 8 AM, La Arca, Todos Santos
Hatha Yoga, 9 AM, Mini-Super Los Arcos, Pescadero
AA Meeting, Grupo Serinidad, 5 - 6 PM, Church Courtyard, Info: 145 0265 or 0364, Todos Santos
Saturdays
Plein Air Painting Workshop - Marsha Dahlquist - 108 0390
AA Meeting, Grupo Serinidad, 11 - 12 PM, Church Courtyard, Info: 145 0265 or 0364, Todos Santos



Please notify us of any Community Calendar updates here: http://www.bajawesternonion.com/submitad.asp