January 07, 2009
---
News, Events and Announcements
---
5K -1K Walk-Run Update - A huge thank you to our great community for the amazing turnout for the 1st annual Romex 5K/1K Walk/Run for health. The more than 50 volunteers and the more than 350 participants all came together with smiles and laughter and positive energies to make Saturday morning, January 3rd a most memorable date! Many thanks to the Cruz Roja and the Bomberos who provided ambulances to follow the runners, the police who directed traffic and drove the pace car, our Delegado, Jose Luis Castillo for the key note address, to Alvaro Colindres for his memorable photographs, Marimar for her warm ups, Amir for providing chiropractic adjustments, Nancy Serfas and her team for recording the finish, and to Romex, Encanto Real Estate and Pintu Sayer paints for sponsoring the run. Thanks to to the dozens of local businesses who supported us with donations for the raffle, and to the many residents who lined the streets cheering on the runners. Several thousand dollars was raised for the Palapa Society who contribute so much to our town in terms of education and medical support for our children. We hope you all enjoyed the event and are training for next year. Tori, Oscar, Mike and Mir - Tori Sepulveda, oscarntori (-at-) yahoo.com, 612-136-6738, Todos Santos
---
The Holiday Spirit Of Giving - We wish to commend the altruistic effort of Encanto Real Estate of Todos Santos. In the true holiday spirit of giving, Encanto set aside a percentage of its year end profits for donation to non-profit organizations doing good works in our community. We each received a donation of $669 U.S. in financial aid. We are grateful to Encanto Real Estate for both their monetary support and acknowledgment of our endeavors.

Sincerely:
Bomberos of Todos Santos
CAM, Special Needs School
Cruz Roja
Fortalecer, A.C.
The Palapa Society of Todos Santos, A.C.
- Donna Viglione, palapasociety (-at-) yahoo.com, 1450-299
---
Festival Des Artes La Paz - Mark your calendar for March 22 in La Paz. Free to Public Art Festival, featuring painters, jewelers, photographers, pottery, and so much more. Raffle, dancers, food court. All day 9-5 at Marina Palmilla off the Malecon down at the end. Artists booths 200 pesos but going fast. There are 75 spaces. Contact Sherryleeduncan (-at-) aol.com for more info or sign up at Papelleria Agruel 189 Guillermo Prieto, La Paz. - Sherry Lee, sherryleeduncan (-at-) aol.com, cell 612 1025366, La Paz
---
Attention: All Non-profits Organizations! - I won't publish your number or email in the BWO, so look at the current Todos Santos Phone Book Pages 21-23. If you are a not-for-profit with designation A.C. (Asociacion Civil) Please GET YOUR CHANGES or updates to me A.S.A.P. for the coming Phone Book. Do it now, please. Otherwise I will reprint the 2-yr old information. Thanks!
Animal Rescue & Care New Contact?
Artosan A.C. Elena Moreno 145
Asupmatoma Contact Pat Baum 145
Bomberos Support/Contact: Linda S. 145
Dif Family Services Call 145
El Grupo Tortugero Pescadero - Contact Francesca At 145
Fortalecer Elena Ascencio 612 140
Iglesia Nuestra Senora Del Pilar - Contact:Padre Sergio Renteria 145
Medical Donations Arlene Eige: Message At 145
Palapa Society-Donna Viglione, Sharon Morris Or Marylou Stewart At 145- Or 145
Para Los Ninos- Email: Loriandted (-at-)
Red Cross (Cruz Roja) 145
School For Special Education Prof. Martin Mendez 145
The Wilderness Conservancy- Bob (-at-)
- Jan, jans (-at-) janimagine.com, 145-0685, Todos Santos
---
New Boutique Art Gallery to Open in Todos Santos - Cafelix proudly announces the opening of Todos Santos' newest art gallery, Visions. A formal cheese and wine opening reception, to which the public is invited, will be held on January 28, 2009 from 5:30PM to 7:30PM. The gallery, located within the Cafelix Coffee Shop and Restaurant building, on Calle Benito Juarez, will initially feature the work of Tori Sepulveda, Gloria Reunitz, John Holmes and Michael McAllister. Envisioned as a community gallery, VISIONS strives to make art easily accessible to both residents and tourists who can enjoy the ambiance of a contemporary coffee shop while browsing works, in a variety of media, created by some of Todos Santos' leading artists. For more information contact: - Michael Mcallister, heronsnestbaja (-at-) earthlink.net, 044-612-152-6166, Todos Santos
---
Open Reading - Due to schedule conflicts there will be no open reading in January. The next open reading will be held on February 15th. New readers WELCOME - under five minutes please or just come and enjoy the reading with a glass of wine. - Scotty Mclemore, scottybcs (-at-) hotmail.com, 612-10-05872
---
Submit your News, Events and Announcements articles here: http://www.bajawesternonion.com/submitad.asp
---
---
Comments, Questions and Answers
---
Consular Agent In Cabo San Lucas - Consular Agent in Cabo San Lucas (An extension of the Consulate in Tijuana): Blvd. Marina Local C-4, Plaza Nautica, Centro, Cabo San Lucas, B.C.S. 23410. Monday-Friday: 9:00 AM.-2:00 PM. Phone: [52] (624) 143-3566, Fax: [52] (624) 143-6750. E-Mail: usconsulcabo (-at-) yahoo.com

Consular Agent: Position is vacant. Please note: Consular Agent is a U.S. notary public as well as his other functions. - Robert Streimikes, http://www.usembassy-mexico.gov/eng/edirectory.html#Cabo
---
5 K / or Amazing Things Happen - As a crossing guard last Saturday at the 5 K event, I was fortunate to witness something amazing. Mexicans and Gringos coming together for a common good. A big Thanks to Tori, Oscar, Mike and Mir. You guys are my heroes. Con mucho carino - Marsha Dahlquist
---
Mail Looking to Hitch A Ride North - if anyone is heading to the US in the next week or so, I'd appreciate being able to send a couple of envelopes to be posted in the US mail system. Thanks! - Jane Sipe, jasi57 (-at-) juno.com, 145-0110, Todos Santos
---
Looking For Cardboard - I work with children and can always use large cartons like refrigerator or washing machine boxes. Large flat mattress boxes or something along those lines are also desirable. I am best reached by phone. - Tracy Monk Durland, mazytronk (-at-) hotmail.com, 612 154 4729, Todos Santos
---
Mail Boxes Etc. Question (Courtesy Baja Pony Express) - I was wondering if anybody else is having their mail opened by MBE? We have mail forwarded once per week, placed in a large envelope, and sent to MBE in San Ysidro, Ca. Sometime before we pick the mail up in Los Barriles, the pouch is opened. We have had individual envelopes within the pouch opened as well. Does this happen to anyone else?

Additionaly, when we picked up our forwarded mail from MBE in the past in San Jose del Cabo, the weekly mail arrived more or less in the same time span. Since we have started picking up our mail in Los Barriles, the delivery dates vary greatly. We have twice had no mail on a Friday, and then on Monday we have 2 pouches in Los Barriles! We would appreciate hearing the experiences of others. Thanks, mamablackbear (-at-) gmail.com
---
Applying For U.S. Social Security - I am applying for Social Security benefits for the first time. Does anyone have experience in this complicated (what else?) process. Can it be done from here or MUST one travel to Mexico, D.F., or Guadalajara? Any help appreciated. - Jeep Hardingne, jeepsurfs2000 (-at-) yahoo.com, 612-100-7672, Todos Santos
---
Bosch Stoves - If you have had the Experience of purchasing a Bosch stove you probably were baffled by the fancy tube for the propane connection. Well we're baffled and wonder if you found the adapter that should have been included but wasn´t. If you have can you please e-mail us and share the good news thank you. Anxious to cook a meal. Rosa y Lorenzo - Larry Eardley, aurorabeacon at yahoo.com, 612-147-1424, Todos Santos
---
Car Body Work - I went to a very good shop last year in LaPaz: Transforma. Phone 125-40-40. #640 E/ Torre Iglesias & Republica. - Pamela Vantress, pavantress (-at-) yahoo.com, 14 50254
---
*** Editor's note: - If you have a helpful reply to any of the above questions that would benefit our other readers, please also send a copy of your answer to the Baja Western Onion. Submit your Comments, Questions and Answers here: http://www.bajawesternonion.com/submitad.asp
---

---
Rides Needed/Available
---
Need Dirtbike and Surfboard Moved to Pescadero - I have a 200cc dirtbike and a 6'10 surfboard that I need driven down to the Pescadero area from San Diego. If you have space, I would love to come down too! Please leave me dates you would be available and price. Thank you - Ernesto Guerrero, egphoto (-at-) hotmail.com, 925.595.6657 usa
---
Submit your Rides Needed/Available articles here: http://www.bajawesternonion.com/submitad.asp
---

---
Restaurant and Food News
---
Movie Night At Buena Vida Returns to Wednesday Nights - So we are bringing back movie night for a special treat on Wednesdays, beginning at 6 to 7 PM depending on the length of the movie. You may order food from our menu and drinks at the bar. Please bring a cushion for your back so that you will be more comfortable. We'll announce the current week's movie here in the Baja Western Onion. We look forward to seeing you there! If you have any questions please call our new land line 1450215 or my cell phone! - Jessie Rutowski, jessierutowski (-at-) hotmail.com, 6121343100, Todos Santos
---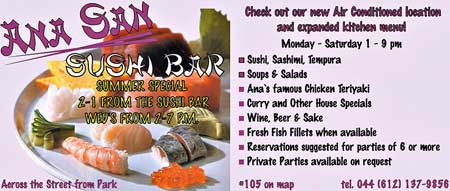 ---
Submit your Restaurant and Food News articles here: http://www.bajawesternonion.com/submitad.asp
---

---
Music/Entertainment News
---
"Jammin' For The Animals" Needs Your Help - We could use help with the following:
- Getting a Sound System and Someone to Run It
- Help with Stage Lighting.
- Someone to Take Pictures of The Event.
- Someone to Video Tape the Performances.
To volunteer, or for more information, please Email Alan Thompson as soon as possible: alan (-at-) baja1.com.
"Jammin' For The Animals"
is a non-profit benefit effort to raise funds to support animal rescue efforts in Todos Santos and Pescadero. Area musicians and volunteers will be donating their time and energy to come together to treat you to a full afternoon of food, fun and entertainment. http://www.bajawesternonion.com/jammin.asp.
---
All That Jazz - Want to "Jazz Up" your party or sponsor a "Jazzy" house concert. How about having a live(ly) jazz singer to entertain you and your guests. I sing classic jazz standards in the style of Ella Fitzgerald, Peggy Lee, Dianna Krall and other wonderful favorites. Give me a call if you are interested and we can arrange the program to suit you. - Tracy Durland, mazytronk (-at-) hotmail.com, 612 154 4729, Todos Santos
---
Submit your Music/Entertainment News articles here: http://www.bajawesternonion.com/submitad.asp
---

---
Pet Corner
---
Hazel Found! - Hazel was found on January 3rd and will be going back to her owner, who is in Montana, soon. Thanks to everyone who looked for her! - Angelique
---
Millie is Back on Bug Patrol!! - I was incredibly moved to receive many supportive phone calls and emails from so many people( some of whom I have yet to meet) regarding my lost pup. Well she's back in my arms once again, fleas and all. Many thanks to Rhoda, and the two "Ikers" (a good name for a band, no?? ) at Cafe Brown, who were instrumental in Millie's return. Muchas, muchas gracias mis amigos. Your kindness and concern is what makes Cafe Brown feel like home!! - Irene Orrom, iorrom (-at-) shaw.ca, 612-168-9910, Todos Santos
---
Lost And Found Pets Page - Baja Dogs is offering a new community service for residents in and around La Paz: a Lost and Found pet page on their website! Guidelines for submitting ads are provided at the bottom of the webpage. - Sheryl Hamilton, news (-at-) bajadogshelplineoflapaz.org, www.bajadogshelplineoflapaz.org/lostandfound.html, 612-149-6084, La Paz
---
Submit your Pet Corner articles here: http://www.bajawesternonion.com/submitad.asp
---
---
Misc. For Sale/Wanted
---
Teacher Wanted - Twice a week to teach eighth grade english grammer/writing/spelling/social studies to an english speaking student who attends mexican public school also. - Laura, ldaniels2 (-at-) hotmail.com
---
Guitar Lessons Wanted - For a 13 year old boy to learn how to read music and further jamming skills. Has own electric and acoustic guitars. - Laura, ldaniels2 (-at-) hotmail.com
---
Wanted Quad or ATV - Looking to rent or buy a 4x4 quad, ATV, golf cart or similar 2nd vehicle that could accommodate a surfboard (or 3). - Jim Pickell, jim.pickell (-at-) gmail.com, Todos Santos
---
Beach Cat Wanted - Will pay, and/or trade Tall Ship Sailing tickets (whale-watching in Cabo) and/or professional massage(s) for a beach catamaran. Looking for any cheap cat, around 14, 16, or 18 feet-ish. Can do some repairs within reason. - Lianne Bryan, Liannearmitage (-at-) yahoo.com, 624-156-37-60, San Jose Del Cabo
---
Selling Semi-new PSP Game System With Other - I'm selling all of this in a package *9 games, *PSP transporting hard cover case and soft cover bag, *2 double UMD containers, *Set of 3 singuler UMD cases that can click together, *Rechargeable Battery Pack with Comfortable Handle, *A 2Gb memorycard, *2 car DC chargers, 1 home wall AC charger, *Data transfer charging power cable, *2 UMD travel case black with gray and another black with blue, *2 hard cover cases for PSP console. All this for 280$ - Sebastiaan Lamote, sebastiaanlamote (-at-) yahoo.com, 044-612-118-4764, Todos Santos
---
Huge Jewelry Sale - Saturday, January 10, 9-1 at Regalos del Mar, a segundo/consignment shop located at Canada del Diablo. Several local jewelry makers are displaying their whimsical, colorful, one of a kind jewelry at low low prices - just one day. We're talking beautiful and affordable. - Pam Cobb, senoracobb (-at-) yahoo.com, 612-155-0622, Todos Santos
---
Weight Set-$275 - New weight set for sale. Declining bench, bar bell, 90#s of weights, 2 sets of dumbbells, floor pads, bent bar, pull up bar. To see photos go to craigslist/baja/sporting goods - Tammy, powell264 (-at-) yahoo.com, 612-136-2932, La Paz
---
4 Runner Wanted - looking for a Toyota 4Runner in good shape, 1996 or newer - Anne Popperwell, annepopperwell (-at-) yahoo.co, San Jose Del Cabo
---
Submit your Misc. For Sale/Wanted articles here: http://www.bajawesternonion.com/submitad.asp
---

---
Vehicles/Boats for Sale
---
´96 Trooper - Buy it this week for $2,300 U.S. It´s a bucket, but runs well, AC, radio, good brakes and tires, good battery, stick shift, tinted windows and about 90,000 miles. Mexican licensed. No springs left to speak of, but is still okay. Email me. - Jolyn Wells-moran, reasonablewriter (-at-) yahoo.com, Pescadero
---
Submit your Vehicles for Sale articles here: http://www.bajawesternonion.com/submitad.asp
---
---
Sales and Services

---
Simplemente Conversación - Announcing Simplemente Conversación at Se Haba La Paz, Spanish Language School - our new conversation class to be held every Monday and Thursday from 4-5:30 PM. Antonio Reynoso, Director of Education, will be the instructor. Anyone who has studied with him will tell you of his talents, extraordinary teaching and so much fun! He will organize the topics of discussion around important and timely themes, cultural and local issues of interest. Classes start on the 12th of January. There will be a minimum of 3 per class and maximum of 8. The classes will be held in the big classroom, the Biblioteca, at the school. Each student must be at least an advanced beginner, i.e. having studied in the present and past tenses and the familiar form of the future tense, 'Ir a'.

The price per class is $15.00 US.. or in pesos at the current rate exchange. If you buy a month of classes (8), the price drops to $13.50 per class or $108 U.S.. You may use these classes within a 2 month time period. (We understand the need for a little flexibility in scheduling.) We accept pesos, dollars, credit cards or PayPal (add $4.00 for service charge) Sign-up is now and ongoing here in the school office, 8AM-2PM, Monday-Friday, by email or phone at 122-7763. Reservations are preferred but walk-ins are welcome if space is available. ¡Bienvenidos todos! - Juli Goff, info (-at-) sehablalapaz.com, www.sehablalapaz.com, 612-122-7763
---

---
Private Spanish Leassons - if u want to improve ur spanish with a certifyed teacher gramar,vocabulary,verbs tenses,call me i will go to ur place. - Carlos Mancilla, caramanort33 (-at-) hotmail.com, 6241781790, San Jose Del Cabo
---

---
Psychocalisthenics® Classes - Don't let the name scare you away! Psychocalisthenics is a series of exercises developed in 1958 by the Bolivian mystic and philosopher, Oscar Ichazo, the founder of the Arica® School. Psychocalisthenics awakens our orga nism in a serial fashion and produces a flash of vital energy through all of the muscles, organs, glands and tissue resulting in complete revitalization. Each exercise has a precise movement and breathing pattern that promotes anti aging, improved health, mental clarity, emotional balance, expanded happiness, and increased agility.

The series is offered once each month and will be taught over 5 consecutive days. Each class is 1 hour 15 minutes. Once learned, you will be able to practice on your own taking 15-20 minutes to complete the series. Weekly practice classes are available. Certified instructor, Rhoda Jacobs, will be offering classes 3:30-4:45 P.M. at La Arca. Dates of workshops are Feb 9-13. Tuition $550 pesos. You can try the first class of the series for $120 pesos before signing up for the 5 days. Arica® and Psychocalisthenics® are registered trademarks. - Rhoda Jacobs, barakabaja (-at-) gmail.com, 612-157-6088
---
Submit your Sales and Services articles here: http://www.bajawesternonion.com/submitad.asp
---

---
Rentals Available/Wanted
---
2br/2bath Villa For Rent La Paz - Vacation rental available at Villas La Posada located in La Paz Mexico. This new complex can best be described as a boutique villa/condominium residence. The Bay of La Paz is only a half block from the Villas La Posada complex. My Villa is located on the ground floor of the complex providing direct access to the pool and Jacuzzi area. This Villa has two large bedrooms, each with a queen size bed and two bathrooms each with a large walk-in shower. The kitchen is new and fully equipped with all modern amenities. For more information please see our web site - Lea Vlacos, lvlacos (-at-) comcast.net, www.lapazvilla4rent.com , 510-337-0581, La Paz
---
Affordable Beach House For Rent Todos Santos - Sweet one bedroom 2nd floor Casita only 300 yards from the beach. Full kitchen, king sized bed, Amazing ocean and mountain views from every window, best neighborhood around. Maritas Casitas in Las Tunas has openings Feb 1-20, and March-July. Watch the whales from your 3rd floor viewing/yoga deck. Internet special, save 10% off regular prices, mention BWO. Please see our website at www.maritascasitas.com - Aldo Cooper, todossantoshouse (-at-) gmail.com, www.maritascasitas.com, Todos Santos
---
Condo Rental In Cabo - Local Rates Offered - A night in Cabo - late shopping, a night of elegant dining, entertainment, someone arriving on a late flight or just a chance to hang by the pool or at the Medano Beach? A 1400 sq ft very nicely furnished, spacious two bedroom/two bath, fully furnished condo is available. Centrally located, one block from the beach, marina and the Puerto Paraiso Mall. Restaurant/swim-up bar, hair salon, small deli, WIFI are some of the amenities on property. Featured on VRBO.com listing #211690 for more information. Special local rates offered our Todos Santos friends, worth checking. - Jan Turner, jant (-at-) aol.com, 145-0684, Cabo San Lucas
---
Long Term Rental Available - 4 bedroom, 2 bath oceanfront home for rent overlooking the San Pedrito surf break. 5000 sq ft living space with custom wall to wall carpet in each bedroom, beautifully decorated and full furnished Photos on my website at www.tropicalcasitas.com - Wendy, tropicalcasitas (-at-) hotmail.com, 044 612 13 33880
---
Rentals Available In Todos Santos - Come visit our website at www.raremex.com or call our office -612-145-0551 US Line- 619-270-2241 for the finest rentals in Todos Santos! - Bill Friend, smitbillyb (-at-) yahoo.com, 612-145-0551
---
House Sit Wanted - Quiet responsible artist con un poco de espanol looking for a house sit in el otro lado starting Feb 1 until late April. I've been in Todos Santos for 3 months so I can provide excellent local references. - Sarah, seretourner (-at-) gmail.com, Todos Santos
---
Looking for Apartment or Room For Rent - I am looking to rent a room, or apartment for myself for January, Feb, March and some of April. All I really need is access to a bathroom shower, stove, refrigerator. Can be a property, trailer or apartment. Looking for most economical situation possible. If it is shared with some else that is great. Please send price per month and as many details as possible - Ernesto Guerrero, egphoto (-at-) hotmail.com, 925.595.6657 usa
---
Housesitters Available - Need reliable, experienced house-sitters? Mature couple looking for house sitting opportunity in Todos Santos or Pescaderos from mid-January through the end of February. Our current proprietors are returning for the winter, so we are available/ready to find another venue for the entire period or on a weekly basis. If you need professional, dependable, well-seasoned caretakers very familiar with the area (can provide resumes, great local references), please contact us. - Deborah and Jesse, moreydeb (-at-) hotmail.com, Todos Santos
---
Submit your Rentals Available/Wanted articles here: http://www.bajawesternonion.com/submitad.asp
---
---
Real Estate For Sale
---

---
Submit your Real Estate articles here: http://www.bajawesternonion.com/submitad.asp
---

---
Quote of the Day: " The nice part about being a pessimist is that you are constantly being either proven right or pleasantly surprised. <!-END QUOTE OF THE DAY ABOVE--> " ~ George F. Will (1941 - )
---
Community Calendar
Denotes New or Updated Onion Item This Week
---
Events
Sunday
Jan. 18 - Asoc. De Artes "Casas de Artes" Tour, Los Barriles
Jan 25 - 2nd Annual "Jammin For The Animals" Benefit Concert, 1 PM, La Cañada Del Diablo, Todos Santos. Musicians, contact: alan (-at-) baja1.com.
Feb. 22 - 15th Annual Todos Santos Historic House Tour, 10 AM - 3 PM, Todos Santos palapasociety (-at-) yahoo.com
Feb. 22 - Asoc. De Artes "Artist Studio Tour", Los Barriles
Mar. 22 - First Annual La Paz Arts Festival 8-5, Marina Palmira, La Paz
Mar. 29 - Assoc. De Artes 16th Annual "Festival de Artes" Rancho Buena Vista
Jun. 14 - ALMA Spay & Neuter Clinic, Los Barriles
Monday
Jun. 8 - ALMA rummage Sale, Los Barriles
Tuesday
Wednesday

Jan. 28 - Reception at Visions Art Gallery at Cafelix 5:30 - 7:30 P.M.
Mar. 5-8 - Sexto Festival de Cine de Todos Santos
Apr. 22 - Rotary Club & UVERDE – "Earth Day" celebration
Thursday
Mar. 26-29 - Baja Shakespeare , "Comedy of Errors" Rancho Buena Vista
Friday
Mar. 13 - "Hairpiece" The Musical, Todos Santos, 7PM, $15. Info: bluemooninbaja (-at-) yahoo.ca
Saturday
Jan.31 to Feb.7 - XII Festival Del Arte Todos Santos, hparra (-at-) prodigy.net.mx, 612 117 3945 - 145 0225
Feb. 14 - Rotary Club "Valentine Run", Los Barriles
Mar. 14 - "Hairpiece" The Musical, Todos Santos, 7PM, $15. Info: bluemooninbaja (-at-) yahoo.ca

---
Every Week
Monday Thru Friday
La Coronela, Live Mexican Music - 12 - 3 PM, Hotel California, Todos Santos
Two For One Happy Hour - 3 - 6 PM, Shut Up Frank's, Todos Santos
Two For One Happy Hour - 5 - 6 PM, La Esquina, Todos Santos
Sundays
Pro Football on The Big Screen - La Buena Vida, 11:00 A.M. - 4:30 P.M. Todos Santos
Greys Anatomy and Desperate Housewives - La Buena Vida, 7 PM, Todos Santos
Cabo Mil Happy Hour - 6 :00 P.M. - 7:00 P.M. 96.3 FM, In English.
Los Cerritos Beach Club - Sunset Sessions, Live music by Dalina Jones and Diego Ramirez, 3 to 6 P.M.
NFL Football at the Sandbar in Pescadero
Tennis-- Leslie Light, leslie.light1 (-at-) gmail.com
Mondays
Monday Night Football/2 x 1 beers from 5:00 till 7:30 - La Buena Vida, Todos Santos
NFL Football at The Sandbar in Pescadero
Basilfields Organic Fruit And Vegetable Stand. 10:00 to 1:00, Colegio Militar across from Telcel, Todos Santos
Tuesdays
Eco Cafe Series 5:00 PM La Esquina (no event Jan. 20)
Basilfields Organic Fruit And Vegetable Stand. 10:00 to 1:00, Colegio Militar across from Telcel, Todos Santos
Wednesdays

Movie Night At La Buena Vida - 7 PM 145 0215, Jessie Rutowski, jessierutowski (-at-) hotmail.com, 6121343100, Todos Santos
Peace and Loaf Bakery - 9 AM to noon, Calle Las Brisas, El Otro Lado, gruenitz10 (-at-) yahoo.com, peaceandloaf.blogspot.com, 612-118-3683, Todos Santos
The Sand Band and Pizza Night - 7 PM, The Sandbar, Terry Mcbride, tleemcbride (-at-) gmail.com, 612-130-3209, Pescadero
Basilfields Organic Fruit And Vegetable Stand. 10:00 to 1:00, Colegio Militar across from Telcel, Todos Santos
La Jardinera Organic Produce at La Esquina - 9:30 - 1 PM, Todos Santos
Tennis - Leslie Light, leslie.light1 (-at-) gmail.com
Thursdays
Daniel Siqueiros Live Music 7 to 10 PM, Hotel California, Todos Santos
Steak Night at La Canada, Todos Santos, 6:00 P.M. Reservations Req'd 612-14-00069
Fridays
Music Fridays At Felipe's - Los Almas Perditos, 6:30-8:30, Pescadero
Todos Tortugos Recycling Center 11:00 A.M. to noon- at Meliton Albanez (primary school near Cruz Roja), Todos Santos
Basilfields Organic Fruit And Vegetable Stand. 10:00 to 1:00, Colegio Militar across from Telcel, Todos Santos
Los Cerritos Beach Club - Sunset Sessions, live music by Dave Hutcheson and Dave de la Valle, 3 to 6 P.M.
Shawn and Cowboy - 8 to 11 PM Live Music, Hotel California, Todos Santos
Tennis - Leslie Light, leslie.light1 (-at-) gmail.com
Saturdays
Peace and Loaf - 9 AM to noon, Calle Las Brisas, El Otro Lado, gruenitz10 (-at-) yahoo.com, peaceandloaf.blogspot.com, 612-118-3683, Todos Santos
Regalos Del Mar - Secundo/Consignment., 9:00-1:00, Canada del Diablo, Pam Cobb, senoracobb (-at-) yahoo.com, 612-155-0622, Todos Santos
Music by Flashback - 8 P.M., Hotel California, Todos Santos

---
Workshops and Meetings
Monday Thru Friday
Aerobics - 8 - 9 PM, La Arca, Todos Santos
Dec 15 - 19, Jan 5 - 9, Feb 9 - 13, Psychocalisthenics Workshop, 3:30 - 4:45 PM, La Arca, 550 Pesos. Info Rhoda Jacobs, barakabaja (-at-) gmail.com, 612 157 6088, Todos Santos
Sundays
3rd Sunday each month, Open Reading, 3 PM, Todos Santos Gallery. Info: Scotty Mclemore, scottybcs (-at-) hotmail.com, 612-10-05872, Todos Santos
Dharma Talks and Guided Meditation with Robert K. Hall M.D. 10:00 A.M.--11:30 A.M. - La Arca, Todos Santos. (Translated into Spanish on the 1st Sunday each month)
Palapa Society Double Dutch Jump Rope Workshops, 4-5 PM, Central Plaza, Todos Santos, palapasociety (-at-) yahoo.com, 1450-299
Mondays
Todos Tortugeros, 2nd Monday each Month, 6 PM, Cultural Center, Todos Santos
Hatha Yoga, 8 AM, La Arca, Todos Santos
Hatha Yoga, 9 AM, Mini-Super Los Arcos, Pescadero
AA Meeting, Grupo Serinidad, 5 - 6 PM, Church Courtyard, Info: 145 0265 or 0364, Todos Santos
Tuesdays
Manos Magicas - 10 A.M.-12 P.M. at DIF on Topete across from La Copa, Todos Santos
AA Meeting, Grupo Serinidad, 5 - 6 PM, Church Courtyard, Info: 145 0265 or 0364, Todos Santos
T'ai Chi Classes - 4:15-5:30, La Arca, beginning December 2nd for 12 weeks - Rhoda Jacobs, barakabaja (-at-) gmail.com, 612 157 6088, Todos Santos
Yoga Ashtanga at La Arca 9:00 A.M., Todos Santos
Wednesdays
Hatha Yoga, 8 AM, La Arca, Todos Santos
Hatha Yoga, 9 AM, Mini-Super Los Arcos, Pescadero
AA Meeting, Grupo Serinidad, 11 - 12 PM, Church Courtyard, Info: 145 0265 or 0364, Todos Santos
Thursdays
Drawing Classes - 9:00 to 10:30 AM, Todos Santos, E mail or call for info and directions - Tori Sepulveda, oscarntori (-at-) yahoo.com, 612-136-6738
AA Meeting, Grupo Serinidad, 5 - 6 PM, Church Courtyard, Info: 145 0265 or 0364, Todos Santos
Fridays
Hatha Yoga, 8 AM, La Arca, Todos Santos
Hatha Yoga, 9 AM, Mini-Super Los Arcos, Pescadero
AA Meeting, Grupo Serinidad, 5 - 6 PM, Church Courtyard, Info: 145 0265 or 0364, Todos Santos
Saturdays
Plein Air Painting Workshop - Marsha Dahlquist - 108 0390
AA Meeting, Grupo Serinidad, 11 - 12 PM, Church Courtyard, Info: 145 0265 or 0364, Todos Santos


Please notify us of any Community Calendar updates here: http://www.bajawesternonion.com/submitad.asp