Saturday, October 11, 2008
---
News and Events
---
Hurricane Norbert Report From Todos Santos - 11:40 AM - The hurricane has moved onshore about 100 miles north of us as a Category 2 with 100 mph winds. So far, the effects in our area have been no more than a medium blow, with gusts from 35 to 50 mph, and rain squalls moving through.
www.ssd.noaa.gov/goes/flt/t6/loop-avn.html
Power is off in Todos Santos since about 45 minutes ago. A large tree next to La Arca on Topete fell down blocking the road but was quickly removed. No evidence of any major flooding. The river is at normal level. From the looks of the radar tracking, the bulk of the rainfall in our area is probably yet to arrive later today and this evening. - Alan Thompson, alan [-at-] baja1.com, www.ssd.noaa.gov/goes/flt/t6/loop-avn.html, Todos Santos
---
Mail Your Absentee Ballot - I am going to the USA on Wednesday, and will mail your absentee ballot. Please drop off at Casa Dracula on Monday or Tuesday morning, or call me at 612.105.2857. - Linda Hamilton, linda [-at-] lindahamiltondesigns.com, www.lindahamitondesigns.com, Todos Santos
---
San Antonio Artisanos (courtesy, Baja Pony Express) - In the Pueblo of San Antonio live a group of enthusiastic potters, who are hoping to make a living from selling their wares. They hand dig the beautiful red clay, and haul it to a studio to prepare it for use. This requires soaking the clay, sieving the slurry, and pouring it into molds to harden. Once this is done, the artist wedges the clay, to mix it well and remove air bubbles. After each piece of pottery is made, it is air dried and placed in various types of kilns for firing. Please support these artists who will have a large selection of their work for sale at their exhibition and sale, on October 19, 9 A.M. to 1 P.M. at the East Cape RV Park, poolside. This Park is behind Otra Vez in Los Barriles. For more information call Annette 624-154-3592 or email. - , iikaiser [-at-] frii.com
---
CFE Weather Watch (courtesy, Baja Pony Express) - The CFE weather watch is very accurate and informative for all of Mexico, it is in Spanish but the pictures do provide the necessary info for anyone.Once the page appears look toward the center left bottom of the page and you can click on the different blue colored words:
Boletín Matutino más reciente most recent morning bulletin
Boletín Vespertino más reciente most recent evening bulletin
Boletín para 3 días más reciente bulletin for the most recent 3 days
Sección de Huracanes HURRICANES SECTION
Avisos del huracán "Norbert" ADVISE FOR HURRICANE "NORBERT"
Avisos de la tormenta tropical "Odile" ADVISE FOR TROPICAL STORM "ODILE"
- Lic. Jacques-edouard Beaulne, www.cfe.gob.mx/es/LaEmpresa/meteorologico/pronosticociudades/
---
Gabriel Howearth (courtesy, Baja Pony Express) - I want to let everyone know that Gabriel Howearth of Buena Fortuna Gardens of La Ribera is in intensive care in a private hospital in Puerta Vallarta being treated for an ear infection that became meningitis and has now moved to his brain. He is currently unconscious and is receiving continuous but costly medical care. The hospital intends to cease treatment unless they receive an immediate payment of $10,000.00.

My husband and I have arranged for $5,000.00 to be wired to the hospital and are now trying desperately to raise the other $5,000.00. Many of you know Gabriel and know that his work to save endangered plant species benefits all of us by helping secure the world's food supply. He and his lovely wife Kitzia have 2 small sons, ages 4 and 2 . The family was in Puerta Vallarta consulting with a group of organic farmers who wanted to learn everything that Gabriel could teach them about organic farming. Gabiel is considered one of the world's experts in organic farming and has an international reputation. To make a contribution to his medical treatment fund, please contact Bill Galt at williamgalt [-at-] aol.com or call 624-1136357 (Mexican Cell) or 858-3454167 (Vonage). Thank You. - Gail Weaver, www.google.com/goog411
---
Google 411 (courtesy, Baja Pony Express) - A friendly tech tip from Baja Beach Investments: Talking about high tech, here is a number worth programming into your cell phone: 1-800-goog411. This is an awesome service from Google, and it's free -- great when you are on the road. I am driving along in my car and I need to call the golf course and I don't know the number. I hit the speed dial for information that I have programmed. The voice at the other end says, "City & State." I say, "Garland , Texas ." He says, "Business, Name or Type of Service." I say, Firewheel Golf Course." He says, "Connecting" and Firewheel answers the phone. How great is that? This is nationwide and it is absolutely free! Click on the link below and watch the short clip for a quick demonstration. http://www.google.com/goog411/ - Jeff Niemi, www.google.com/goog411
---
Basket Weaving - As official representative for Manos Magicas I would like to invite you to join me in the rehabilitation of one of the local and fast-disappearing arts of this region. Wednesday mornings from 9-2 ish in the community of El Carrizal , a 40 min carpool drive, we begin making beautiful palm leaf objects of desire to adorn our holiday season. This is the first of a series of field trips to outlying communities where local crafts are a family tradition. Your contribution of $100 pesos per class will assist these inspiring women in forming a sister cooperative and sharing their talents with us. It will give those of you who are recent arrivals to the community a glimpse of what Todos Santos was like not so long ago. Please contact me for further information. Euva 624 14 16881 - Euva Anderson, 624 14 16881, Todos Santos
---
November 16th Art Festival - San Antonio - All artists are invited to register for the upcoming art festival to be held for the first time in historic San Antonio - the oldest continuously occupied pueblo in all of the Californias - details of the festival will be published at a later date.
Registration deadline: November 13th
Registration fee: $200 pesos for a 3m x 3m space around the plaza in the town center. Payment to be paid at the artist entrance. Each booth will be provided with tent shade.
Arrival and set-up time: 6.00 to 8.00 am
Offloading: Vehicles can be driven into the plaza one-way to offload at their booth, and continue out one-way to park.
For additional information and registration: Email contact: Brian - bcummings21 [-at-] yahoo.com Phone contact: Yolanda or Tessa at Baja Beach Investments office - 624 124 8078 - Tessa Nisbet, tessabarriles [-at-] gmail.com, 1410427, Baja California Sur
---
Submit your News and Events articles here: http://www.bajawesternonion.com/submitad.asp
---

---
Comments, Questions and Answers
---
Road Conditions Post Norbert - I am driving south this weekend, and entering BCS right on the heels of Norbert. Expecting to be making the final day's drive on Tues 10/14, so not too concerned about the actual storm, but if anyone has any info on Sunday or Monday about the road between Santa Rosalia and Loreto, THAT would be most useful. I'll be in internet range til Sunday, then cell phone. Many thanks to the BWO for keeping us all informed. - Jane Sipe, jasi57 [-at-] juno.com, 044-612-151-7026
---
Hurricane Norbert - Hi, this is Christina in the United States...about ready to come back home to Todos. I would like to ask you folks to vibe that hurricane the other way - out to the ocean. Don't know if you will get this message before it hits, but if you don't, please send out your feelings of compassion and care to those in need. Hopefully, there won't be any! Check out this great web site: globalcoherenceproject.org. - Christine Douglas, cdoug1946 [-at-] yahoo.com, 510-658-6414, Todos Santos
---
Driving Baja This Week - We're planning to hit the road from San Diego on Monday morning, 10/13, and may have to delay our start to wait out Norbert and the storm behind it. We would greatly appreciate anyone who is driving the Baja (either way)this week to report in to the BWO about the road and weather conditions, so that we can make a safe plan for our trip. Thank you, in advance. - Lisa Green, Lisagreenco [-at-] hotmail.com, 970-389-3490, Baja California Sur
---
Secure Accommodations In Ensenada - Try the Estero Beach Resort. Located on the beach, at the South edge of Ensenada. Completely safe, with 24 hour guarded gate and patrolled parking lot. Clean, well maintained rooms, with Internet access, pool, bar, good restaurant and gift shop, and even a museum on the grounds. We stay there every time we stop in Ensenada. The last time was 10 days ago and there was NO ONE there. Incredible. I came in late and the very friendly, English-speaking staff offered me an ocean-view room for only $75. Located at the end of Lazaro Cardenas Street. Coming from the South, watch for the large billboard on the left as you come up a little hill just south of Ensenada. It's a little more difficult to locate when coming from the North, and not well marked. Watch for the traffic light with an AM PM Pemex gas station on the corner. Here is a link to their web site and a map:
www.hotelesterobeach.com/map.html
- Alan Thompson, alan [-at-] baja1.com, , Todos Santos
---
Rental Car - I am looking for a cheap car rental at the Cabo airport. One company offered $22.00 a day then they said the insurance was $19.00 a day. I want just transportation! rRnting for 3 weeks in November. Do I need to buy the added insurance or does all the rental agency come with basic mandatory Mexican liability insurance? If you know of a reliable company and a good price please e-mail - , tlemanowic [-at-] sbcglobal.net, 760-727-5063, Cabo San Lucas
---
Need Mail Delivery To Todas - I need someone flying down within the next 2-3 weeks to deliver my Fideicomiso paper work to Nina Sundquist our local Nortario or James Black. I live in Bend, Oregon and will be happy to Fed-Ex to you to take with you. - Larry Crowson, larry2 [-at-] exquisitecoatings.com, 971-404-6009, United States
---
Cancelling FM3 - Following the recent articles regarding expired FM3's. Has anyone come up with a definitive answer as to how one turns in/cancels an FM3 So that in the future one can return on a tourist visa without penalty? - Ken Macfarlane, ken [-at-] todossantosbaja.com, United States
---
A Quick Education - Free Films - For those of you Americans about to go and vote, you must see this film from HBO. Hacking Democracy can be seen free online at:
http://video.google.com/videosearch?q=hacking+democracy&hl=en&emb=0#

This is a very informative look at the way the votes are handled and you might be very surprised. If you want to educate yourself more, watch the Zeitgeist Addendum free online as well. 123 minutes but well worth the watch. We can all take action in our world to effect change. http://video.google.com/videoplay?docid=7065205277695921912&ei=ptDwSKDICJSM-QHKjczYDg&q=the+zeit geist+addendum&hl=en - Ellen Musch, educateyourself [-at-] ultimatefreedom.info, Todos Santos
---
*** Editor's note: - If you have a helpful reply to any of the above questions that would benefit our other readers, please also send a copy of your answer to the Baja Western Onion. Submit your Comments, Questions and Answers here: http://www.bajawesternonion.com/submitad.asp
---
---
Rides Needed/Available
---
Driving Down From Bend - Looking for a ride? Share costs, can pick up on the way, not a lot of room left but some stuff ok. Leaving in a couple of weeks - Gary Gasper, gasperconstruction [-at-] msn.com, 541-350-6629, Todos Santos
---
Ride Needed - Flying into Cabo Nov. 23rd at 8:30 P.M. and need a ride to Pescadero. Willing to pay and/or share gas if anyone else is flying in or dropping off. Thanks Denise - Denise Duble, Dubled56 [-at-] aol.com, 206-588-2369, Pescadero
---
Submit your Rides Needed/Available articles here: http://www.bajawesternonion.com/submitad.asp
---

---
Restaurant and Food News
---
Cook Your Own T-bone Steak Night Returns - This Thursday, October 16th, at 6PM, we will be beginning our regular season of cook your own T-Bone Steak Night. YUMMY tender T bone steak, cooked the way you like it, baked potato with sour cream and butter, hot garlic bread, and a garden fresh green salad, with your choice of dressings. All this for the low price of 180.00 pesos.

The bar will be open as always to serve you your favorite beverage, and there will be live acounstic folk and country music provided by Alan for your listening pleasure. Just a reminder, reservations are REQUIRED. So get your name on the list, and come join us for opening night. It's easy, just call 612-14-00069, or drop by a day or two before to get signed up. It will be fun! - Barbara Perkins, barbara_perkins [-at-] hotmail.com, 612-14-00069
---
Closed For Renovation "il Giardino Pizzeria" - We inform our customers that IL GIARDINO Pizzeria will be closed from Monday October 13th to Monday October 20th for renovation.We appreciate your understanding Thank You, -Iris Facchin, ilgiardinopizzeria [-at-] hotmail.com, 612+1450199, Todos Santos
---
Café D'licia Reopening Delayed - Due to hurricane Norbert, Cafe D'licia will not reopen until this coming Wednesday, October 15. We will be open with our regular schedule five days a week, Wednesday thru Sunday from 9AM till 3PM for breakfast and lunch. Looking foward to seeing you! - Alicia Dufaux, cafe.dlicia [-at-] gmail.com, 1450862
---
Submit your Restaurant and Food News articles here: http://www.bajawesternonion.com/submitad.asp
---
---
Music/Entertainment News
---
Submit your Music/Entertainment News articles here: http://www.bajawesternonion.com/submitad.asp
---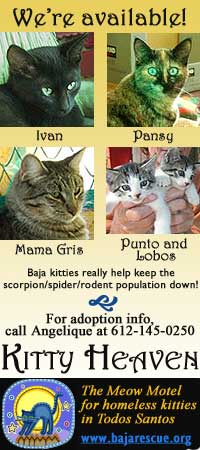 ---
Pet Corner
---
Submit your Pet Corner articles here: http://www.bajawesternonion.com/submitad.asp
---
---
Misc. For Sale/Wanted
---
High Quality Amp Available In La Paz - Like new - Marshall AVT150 with 2000 Foot pedal. Asking $800 clams. Used price in US: $699.
http://www.billsmusiconline.com/bgamar067-17541.html
http://www.elderly.com/items/AVT150SW.htm
http://guitars.musiciansfriend.com/product/Marshall-AVT150X-150-Watt-1x12-Combo-Amplifier?sku=48 2631
For more info: - Maureen Ryan, morene4 [-at-] yahoo.com, 612-1229277 , La Paz
---
Submit your Misc. For Sale/Wanted articles here: http://www.bajawesternonion.com/submitad.asp
---
---
Vehicles/Boats for Sale
---
2005 Ford Explorer 4 X 4, $12,000 (Photo at Right>>>) - Less than 45,000 miles, the third row seats seven, roof rack, power everything, runs perfectly. Only the CD player doesn't work, otherwise the car is perfect. Transferrable extended factory warranty to 100k miles. Already down in Baja, although not imported (it is registered in Nevada). If you're coming down for the season, need a car and don't want to make the drive, why not consider buying this great, reliable SUV. Contact me by phone in the U.S. at 970-389-3490 or Lisagreenco [-at-] hotmail.com - Lisa Green
---
97 Chev Pickup - in great shape, lots of new parts, water pump, fuel pump, tires. extra cab with 3 doors, canopy, runs great, automatic, truck is in Todos Santos. I will be there in a couple of weeks - Gary Gasper, ggasper5 [-at-] msn.com, states-541-350-6629 , Todos Santos
---
Submit your Vehicles for Sale articles here: http://www.bajawesternonion.com/submitad.asp
---
---
Rentals Available/Wanted
---
Thanksgiving Week Available - Maritas Casitas are still available for Thanksgiving - call soon!
---
Great Office Space - Located in historical building. Shared courtyard. Great location. $550/month. Call Rich for further info - Ricardo Amigo, richiefriend [-at-] yahoo.com, www.raremex.com, 145-0551, Todos Santos
---
Submit your Rentals Available/Wanted articles here: http://www.bajawesternonion.com/submitad.asp
---
---
Real Estate For Sale
---
Submit your Real Estate articles here: http://www.bajawesternonion.com/submitad.asp
---

---
Sales and Services
---
Linda Hamilton Designs At Casa Dracula - Opening Monday, October 13!!! Shop hours this season will be Monday thru Saturday from approximately 9:30 A.M. to 1 P.M. OR by appointment. - Linda Hamilton, linda [-at-] lindahamiltondesigns.com, www.lindahamiltondesigns.com, 612.105.2857/612.136.1355, Todos Santos
---
Audio And Video Consulting - We've expanded our services to include custom audio and video consulting and installation services for home entertainment and communications systems.

Home Theater Design and Installation - Large Screen Plasma and LCD Displays
Surround-Sound Equipment and Background Speaker Installation
Intercom and Video Systems
Wired and Wireless Internet Distribution Systems
Whether you're at the design stage or have finished construction, we can help you plan and realize your media and entertainment needs. - Todos Santos Technologies, alan [-at-] todossantostechnologies.com, www.todossantostechnologies.com, 530 417 1451, Baja California Sur
---
Submit your Sales and Services articles here: http://www.bajawesternonion.com/submitad.asp
---

---
Quote of the Day: " There are 10^11 stars in the galaxy. That used to be a huge number. But it's only a hundred billion. It's less than the national deficit! We used to call them astronomical numbers. Now we should call them economical numbers. <!-END QUOTE OF THE DAY ABOVE--> " - Richard Feynman
---
Community Calendar
Denotes New or Updated Onion Item This Week
Sundays
October 12 - Resume. Dharma Talks and Guided Meditation with Robert K. Hall M.D. resume, 10:00 A.M.--11:30 A.M. - La Arca, Todos Santos
Pro Football on The Big Screen - La Buena Vida, 11:00 A.M. - 4:30 P.M. Todos Santos
Greys Anatomy and Desperate Housewives - La Buena Vida, 7 PM, Todos Santos
Cabo Mil Happy Hour - 6 :00 P.M. - 7:00 P.M. 96.3 FM, In English.
Los Cerritos Beach Club - Sunset Sessions, Live music by Dalina Jones and Diego Ramirez, 3 to 6 P.M.
NFL Football at the Sandbar in Pescadero
Mondays
Monday Night Football/2 x 1 beers from 5:00 till 7:30 - La Buena Vida, Todos Santos
NFL Football at The Sandbar in Pescadero
Tuesdays
Wednesdays
Pizza night at the Sandbar in Pescadero
Basilfields 10 A.M. to 1 P.M. Colegio Militar near Marquez de Leon
Thursdays
Oct. 16 - Steak Night at La Canada 6:00 P.M. call for reservations 612-14-00069
Fridays
Recycling Center 11:00 A.M. to noon- at Meliton Albanez (primary school near Cruz Roja)
Basilfields 10 A.M. to 1 P.M. Colegio Militar, near Marquez de Leon
Friday Night Blues And Rock And Roll with Clacson - 9:30 P.M. -The Sandbar, Pescadero
Music by Shawn & Cowboy, Hotel California, Todos Santos
Los Cerritos Beach Club - Sunset Sessions, live music by Dave Hutcheson and Dave de la Valle, 3 to 6 P.M.
Saturdays
Dominique and Friends - Music at La Buena Vida, 8:00 P.M.
Music by Flashback - 8 P.M., Hotel California, Todos Santos
Los Cerritos Beach Club - Sunset Sessions, Music by Daniel Siqueiros, 3 to 6 P.M.

2008
October
Sunday, Oct. 12 -Dharma Talks with Robert Hall, M.D. resume
Sunday, Oct. 12 - Día de la Raza (Mex.)
Monday, Oct. 13 - Columbus Day (U.S.)
Friday, Oct. 17-19 - ALMA Fishing tournament, Buena Vista
Friday, Oct 31- 8:30 P.M. Masquerade Ball fundraiser for non profit Palapa Society
November
Saturday, Nov. 1 and Sunday, Nov. 2 - Día de los Muertos (Mex.)
Sunday, Nov. 2 - Daylight Savings Time Ends (U.S.)
Tuesday, Nov. 4 - Election Day U.S.
Saturday Nov. 8 - Groovy Dinner Party with excerpts from 'Hairpiece'. Tickets 612 104-7082
Tuesday, Nov 11 - Veteran's Day (U.S.)
Saturday, Nov. 15 - East Cape Guild "Gala" Fund Raising Event, Los Barriles
Sunday, Nov. 16 - Asoc. De Artes, (co-sponsor) 1st Art Festival, San Antonio
Thursday, Nov. 20: Mexican Revolution Day (Mex.)
Thursday, Nov. 27 - Thanksgiving Day (U.S.)
Saturday, Nov. 29 - 11:00 - 3:00 Palapa Society's Annual Tiangus
Saturday, Nov. 29 - East Cape Guild "Baja Ha Ha" Golf Tournament
December
Friday, Dec. 12 - Día de Nuestra Señora de Guadalupe (Mex.)
Saturday, Dec. 13 - ALMA Rummage Sale, Los Barriles
Sunday, Dec. 14 - 2nd Annual Special Needs School (CAM) Fundraiser
- Asoc. De Artes – Mural Tour, Los Barriles
Tuesday, Dec. 16 - Las Posadas (Mex.)
Thursday, Dec. 25 - Christmas Day

2009
Thursday, Jan. 1 - New Year's Day
Saturday Jan. 3 - Todos Santos 5k Run/walk For Health
Sunday, Jan. 18 - Asoc. De Artes "Casas de Artes" Tour, Los Barriles
Friday January 23 - "Hairpiece", Dinner Theater in Todos Santos at Leo's Salon
Saturday January 24 - "Hairpiece", Dinner Theater in Todos Santos at Leo's Salon
Saturday, Feb. 14 - Rotary Club "Valentine Run", Los Barriles
Sunday, Feb. 22 - 15th Annual Todos Santos Historic House Tour
Sunday, Feb. 22 - Asoc. De Artes "Artist Studio Tour", Los Barriles
March 5-8 - Sexto Festival de Cine de Todos Santos - Leonardo
Sunday, March 22 - First Annual La Paz Arts Festival 8-5, Marina Palmira.
Thursday, Mar. 26-29 - Baja Shakespeare , "Comedy of Errors" Rancho Buena Vista
Sunday, Mar. 29 - Asoc. De Artes 16th Annual "Festival de Artes" Rancho B.V.
Wednesday, Apr. 22 - Rotary Club & UVERDE – "Earth Day" celebration
Monday, Jun. 8 - ALMA rummage Sale, Los Barriles
Sunday, Jun. 14 - ALMA Spay & Neuter Clinic, Los Barriles



Please notify us of any Community Calendar updates here: http://www.bajawesternonion.com/submitad.asp