---
News, Info, Events, Entertainment Things To Do: Todos Santos, El Pescadero and La Paz to Cabo San Lucas and San Jose Del Cabo, Baja California Sur, Mexico
Covering the Entire Los Cabos Area From Todos Santos, El Pescadero and La Paz to Cabo San Lucas and San Jose Del Cabo, Baja California Sur, Mexico
Welcome to the Baja Western Onion! Twice a week by Email, we provide fresh community news, info, events, entertainment listings and things to do in Todos Santos, and the Los Cabos Area of Pescadero, La Paz, Cabo San Lucas and San Jose Del Cabo, Baja California Sur Mexico.
---
The Baja Western Onion Email Newsletter - November 09, 2019
NOTE: The issue below is an Example Only. To receive the most current issue, FREE by Email, please Subscribe.
---
Pop Up Sushi and Music Night Benefit -

Save The Date: December 20, 2019, from 6 to 9 PM, at the Sierra School in Todos Santos. Join Sushi Chef Patrick from Pacifica Fish Market. Appetizers, Sushi and Desserts included. Live Music with Award-winning Mike Torres, Jr.

Benefits the Sierra School of Todos Santos. Tickets to go on sale November 5. Buy yours at: Pacifica Fish Market, La Esquina, El Tecolote Bookstore, and Taller 17 in Todos Santos. ☞ Erika, sierraschool.org, Todos Santos
---
---

Festival Of Trees Friday December 13, 5-8 p.m. At La Casita - Featuring traditional hand-decorated Mexican trees at Silent Auction and beautiful handmade gifts by the ladies of Manos Magicas. Come do some holiday shopping. Hopefully you will fall in love with one of the beautiful trees and make a bid. Manos Magicas is a cooperative of women from diverse cultures. ☞ Cat Chambaret, chambaretcat [- at -] mac.om


---
---
Benefit For Michael Fisher - Please join us Sunday, Nov 24, 12 PM ~ 6 PM, at The Arlene Francis Center 99 6th St, Santa Rosa, California in celebrating and supporting one of our own. Michael Fisher has been a pillar of the West Sonoma County community for over 40 years (And a regular visitor to Todos Santos, along with his wife, Gail. - Editor).

Teacher, mentor, artist, musician, friend, father, grandfather, husband, bringer of fun, goofiness and entertainment and all around good guy. Michael needs our help in his battle against cancer. All proceeds will go directly to the medical fund and support. With special musical guests... St Peterbilt (reunion show), Jinx Jones & The Kingtones, The Hunka Hunka Hula Revue and The Del-Novas.
Courtesy: Michael Fisher
Editor's Note - For over two years, Michael's art work has been a regular feature in the Baja Western Onion. He's been a valued part of the Onion and a valued Member of our Todos Santos and Pescadero Communities.

Please Help! Even if you can't attend Michael's Fundraiser in Sonoma County, you can still help him and his family by donating through Michael's GoFundMe page set up by his daughter, Rhiannon Jenkins : gofundme.com/f/we-love-michael-fisher.
☞ Michael Fisher Benefit, Michael's Facebook Page, Michael's GoFundMe Page

Happy Thanksgiving 🦃 Hotel California - We all have much to be thankful for so please come and join us for our traditional "All You Can Eat" Thanksgiving Dinner on November 28th. $25 usd per person. Dinner starts at 4 pm. Reservations required. For more information please call or email us 612.145.0525 // info [- at -] hotelcaliforniabaja.com ☞ Debbie Stewart, info [- at -] hotelcaliforniabaja.com, hotelcaliforniabaja.com, 612.145.0525, Todos Santos


---
---

Tesoro Escondido Garage Sale - Sunday 10th of November. Lots of stuff. Clothes, Shoes, Books, Furniture. 9:00 am to 3:00pm. ☞ Nancy Lipford, nancys.53 [- at -] hotmail.com, 6122880736, Todos Santos


Women Awakening/despertar De Las Mujeres - We're bringing back the Love. Come join us: December 7-9, 2018 to Cuatro Vientos. This year's theme: Radiant Love: The Full Spectrum. Local's online discount code: TODOSLOCAL2019. Tickets available online or at La Esquina and Casa Sur: Locals' price $1700 pesos.

Estamos trayendo de vuelta el Amor. Ven y ├║nete a nosotros: 7 al 9 de diciembre de 2018 a Cuatro Vientos. El tema de este a├▒o: Amor Radiante: El Espectro Completo. El c├│digo de descuento en l├şnea de Local es: TODOSLOCAL2019. Boletos disponibles en l├şnea o en La Esquina Casa Sur: precio de los locales $ 1700 pesos. ☞ Robinson Angelica, womenawakeningtodossantos [- at -] gmail.com, womenawakeningtodossantos.mx/, +1-303-913-4334, Todos Santos
Lost Long-haired Black Cat - Noireau, a long-haired black cat is missing in the La Cachora Norte / Rio la Machina part of Todos Santos. He has been missing for over a week and his cat and human family are very sad. Please call if you see him. ☞ Brock Taylor, bajabrock [- at -] gmail.com, 6121770760, Todos Santos. ☞ Brock Taylor, bajabrock [- at -] gmail.com, 6121770760, Todos Santos

Mezze Tuesday - Middle Eastern Family Style Dinner. At La Jardiner Deli. Vegan, Vegetarian and Meat plates. $500 pesos per person. Limited seating. First come First Serve. Tuesday, Nov. 12. 6PM-9PM ☞ Dominique Sawyer, doniniquesawyer [- at -] hotmail.com, jardineralifestyle.com/, 612-157-7040, Todos Santos



Salsa Brava At La Morena Tonight! - Saturday, November 09, 9:30 PM ~ 11:59 PM, La Morena, Juarez Street, Downtown, Todos Santos. Live Music with Salsa Brava from La Paz. Cover $50 Pesos, 9:30 PM Reservations recommended, kitchen open until 10 PM. ☞ Erik Y Zara Castellanos lamorenats [- at -] gmail.com, 612-1450789, facebook.com/events/2454428547939586/

Submit a FREE Ad To The Baja Western Onion - Reach Over 6,600 Baja Western Onion Subscribers! Submit your FREE text-based ad or article of up to 50 words HERE: bajawesternonion.com/submitad.asp. ☞
Robert K. Hall - Memorial Mediatation And Celebration - We invite you to a Memorial Meditation and Celebration of Life for Robert K Hall.

Sunday, November 17, 2019, 10 a.m. at Cuatro Vientos in Todos Santos. Robert's art will also be on display, there will be reading of his poetry and sharing of good times and memories. Light refreshments afterwards.

Te invitamos a la Meditaci├│n Conmemorativa y Celebraci├│n de la Vida para Robert K Hall el domingo 17, 2019 de noviembre en Cuatro Vientos en Todos Santos a las 10 a.m. con Mett─ü.
Contacto Espa├▒ol: Kate Hart Waters, WhatsApp 967 107 2448
Contact English: Connie & Andy Mical, connieandymical [- at -] yahoo.com
☞ Connie Mical, connieandymical [- at -] yahoo.com, Todos Santos


Primal Breath Class, Sunday November 17, 3-6 Cuatro Vientos - Please join us for a 3 hour journey of Breath, Theta Healing, Visualization and Sound Healing to the sound of evocative music. Relieve stress and open to a natural state of peace, calm, clarity and gratitude. No experience necessary. Please contact Diana prior to attending. 500P/25US ☞ Diana Pandell, dianapandell [- at -] sbcglobal.net, 612-133-3468


**New Hours And Specials [- at -] Shut Up Frank's** - Hours: 11:30 a.m. to 10 p.m. Everyday except Tuesdays.
Monday Night Football Special: All You Can Eat spaghetti (with Italian sausage and meatballs), garlic bread and dinner salad 175P.
Wednesday Nights: Meatloaf, mashed potatoes and green beans with bacon 175P.
Friday Nights: Fried chicken, mashed potatoes and green beans with bacon 175P.
Saturday Nights: Choice 2" cut NY steak with fried potatoes/bell pepper onion/mushrooms & dinner salad 275P (Regular 325P).

Happy Hour: (weekdays) - 2x1 well drinks & bottled beer**
We have all baseball playoff games, World Series, NFL and college football! See you there! ☞ Shut-up Frank's, facebook.com/ShutUpFranks/


Pescadero Pet-sitting Opportunity November 21- Jan 3 - Looking for experienced petsitter for small house, on 2 acres, with 3 eccentric dogs. Internet, 10 minute walk to beach, private. Prospective housesitters should be dog lovers, non-smokers, and handy around the house. Should have local references and own transportation. Nov. 21st-Jan 3rd. ☞ petsitterpescadero [- at -] gmail.com, Pescadero


Home Rental Dec 1 to May 1 - Looking for 1-2 bedroom home for 5 month rental Dec 1- May 1. I'm a considerate, quiet, and creative counselor who wants to settle in Todos area. 2 mini aussie shepards are also in this pack. Budget is flexible based on situation. Gracias! ☞ Lila Espinoza, yalila [- at -] yalila.com, yalila.com, 8089902244, Baja California Sur



Enlightenment Stupa Fundraiser - Help us bring our Stupa, a Tibetan Buddhist monument for compassion and world peace, to El Pescadero. Join us for drinks, heavy appetizers, and live music to raise needed funds. Friday, November 29, 5-9 pm, The Modern Elder Academy, El Pescadero. !Silent Auction!

Minimum donation $30 or $570 pesos per person. Reservations: Hierbabuena-El Pescadero, Libreria El Tecolate-Todos Santos, Cuatro Vientos-Contact Marimar-El Otro Lado, Print clearly your name and number coming. enlightenmentstupa.org/ ☞ Lee Purser, leewpurser [- at -] hotmail.com, enlightenmentstupa.org/


Here They Come Again! - The Thursday Artists Holiday Art Show at the new Mangos Gallery, located next to Bleu Restaurant at the top of Topete. Join us for wine, cookies and all new art on December 19, 6:00 to 7:30. Presented by Ruth, Janna, Penny, Roxanne, Marsha and Susan . It's always fun! ☞ Susan Doyle, timsudoyle [- at -] hotmail.com


Ready For A Solution To Break-Ins, Hurricanes, and Sun? - Consider Solargard Armorcoat Films...the leading manufacturer of glass and window films:
*Hurricane and Break-In Protection
*Withstands Water Penetration & High Winds
*Withstands Direct Hits from Large Objects
*Exceeds Miami-Dade Building Code Standards
*Reduces Heat, Glare and UV Radiation
*Protects Fabrics from Sun Damage
*Professionally Installed
Contact: Sandy Pogue, 612-154-2806 alexander.g.pogue [- at -] gmail.com


Submit Your FREE Calendar Events to our Community Calendar section here: bajawesternonion.com/submit-event.asp. (Please, one-time events only - No recurring daily or weekly "Happy Hours," Specials, Music Nights, etc.) ☞ Alan and Debra, The Baja Western Onion
Computers For Sale - Refurbished laptops in English or Spanish with Windows 10, and/or Ubuntu or Mint Linux. Mostly Lenovo/IBM Thinkpads from touchscreen ultraportables to desktop replacements. Various configurations with different screen sizes, processor speed, memory, disk drives or SSDs. These are highly reliable inexpensive systems tailored to your specific needs and built to survive Baja. Best to email or text me at 612 134 0684...sorry no voicemail, please. ☞ Scott Cole, scott [- at -] pescadise.com, Pescadero
Baja Rescue's Annual Tiangias Needs Your Help!** - December 8th, 10:00 a.m., Baja Rescue's 24th Annual Tianguis. Support us in our work; spaying and neutering dogs and cats.

Accepting donations of household goods, gently used clothing and shoes, working appliances, tools and sporting goods. Please, no books! Angelique, bajarescue.org/make.a.donation/, 612 145-0250, Todos ☞ Angelique Schornstein, bajakitties [- at -] yahoo.com, bajarescue.org/make.a.donation/, 612 145 0250


2020/21 Artists Of Todos Santos Calendar Kick Off Party - It's time to kick off our sales for the 2020/21 Artists of Todos Santos Bilingual Calendar. Join us on Sat., Nov 16, 2020 6 PM at Todos Santos Brewing. Come meet and mingle with the artists of this beautiful 18 Month Calendar. Live music, raffle, and special pricing. If you pre ordered you can also pick up your copies that evening. Joining us for dinner? Please R.S.V.P with Liz Mitchell .
All proceeds from this calendar will benefit the programs of The Palapa Society of Todos Santos, A.C. ☞ tickets [- at -] palapasociety.org, todossantosopenstudio.org/2020-calendar/, Todos Santos


Art Classes - Start the new season enjoying learning and creating art with Tori at a drop in class on Thursdays. We have enjoyed the evolution of teaching and making art for the last ten seasons and are ready to start up again on Thursday November 14th. Contact Tori for details. ☞ Tori Sepulveda, oscarntori [- at -] yahoo.com, 612 136-6738, Todos Santos


Colectivo Zenda November Calendar ⇑ (from the Baja Western Onion Facebook Group) - Este mes el colectivo tendr├í muchas actividades de muy buen nivel, ay├║dennos a difundir y asistan, Todos Santos recibe a m├ís de 80 artistas nacionales e internacionales.

This month the collective will have many very high level activities. Help us spread the word and attend. Todos Santos receives more than 80 National and International artists. - Colectivo Zenda ☞ Join The Conversation Online via Facebook: facebook.com/groups/TheBajaWesternOnion/

2019 Nissan Nv200 Cargo Van With Roof Rack For Sale - White with 3,890 miles. Purchased for $25,000 (move to Todos Santos). Perfect for painters (house and canvas). Can text photos upon request. $17,500 U.S. or MX$334,880 ☞ Karen Mackenzie, 707-328-2405, Todos Santos


Massage Home Service Now Available

Enjoy our White Sand Spa relaxing and deep tissue massages at special discount prices in the comfort of your home or business.

Serving the Todos Santos, El Pescadero, and Los Cerritos areas.

Call or email for more info: Tel: (612) 145-0571 (White Sand Spa landline)

☞ Alondra and Fabiola, Massage Therapists, info [- at -] whitesandmassage.com
Ruta Del Arte De Todos Santos / Gallery Map Of Todos Santos ⇓
Courtesy: Ruta del Arte Todos Santos / Art Route
Ricardo Amigo Property & Rental Management - Along with real estate sales, Ricardo Amigo's property management and home rental team are committed to protecting your investment in Baja Sur.

We are celebrating our 14th year managing properties and home rentals. Our services include, but are not limited to, paying all utility bills, phone, internet, cable, annual fideicomiso and property taxes.

Supervising and paying all workers and insuring that the property is well mantained. Through the years we have developed and nurtured strong relationships with the correct people so that we can provide the necessary services our clients deserve.

We are happy to help you arrange construction bids, hurricane protection, check in and check out clients, coordinate catering, food stocking and any request within reason that our clients might have.

Please contact: Claudia Montiel Claudia [- at -] ricardoamigo.com, or Cabo Rockwell Cabo [- at -] ricardoamigo.com. You can also call Mex. cell (612) 200 5464 US line (619) 270 2241


Buena Fortuna Gardens Tour And Brunch Season Is Starting! - Every friday and saturday from November to May at 10 am with Kitzia Kokopelmana come taste the botanical diversity from around the world. Located at the entrance of La Ribera. Reservations required ☞ Kitzia Kokopelmana, kitziakokopelmana [- at -] gmail.com, buenafortunagardens.com/, 6241471086, La Ribera


Saint Judes Clinic in Todos Santos - Become a VIP Member for just 1,500 pesos a year. Includes 1 Yearly Check Up, labwork and 1st Medical Consultation with a Doctor.

Enjoy your retirement life or partial stay in Todos Santos knowing your current state of health. Your VIP Membership benefits include 24/7 non-emergency consultations, and blood pressure and weight checks. Also get a 10% discount on Pharmacy, Laboratory and X-ray Services.

Saint Judes Medical Specialists Include:
**Orthopedic
**Neumologist
**OBGYN
**Cardiologist
**Internal Medicine
**Ultrasound
*Ambulance Certified by the Dept. of Health. *International Medical Insurance Accepted. *Itemized Bill Provided For Reimbursement.

For details or questions, Call: 612-159-1030 or 612-145-0600, or Email: info [- at -] saintjudesclinic.com ☞ Saint Judes Clinic, info [- at -] saintjudesclinic.com, saintjudesclinic.com, Todos Santos

Lot For Sale, + 3 Studios & 2 Apartments Close To The Marina - With 3 studios and 2 one bedroom apartments in needs of TLC's. 1/4 acre lot (10,250 ft2), five minutes from downtown Cabo's Marina, very quiet neighborhood, with all services, including fiber optic. Zoned for 12 units and 18,439 ft2 of construction ☞ Roger, cabomarius [- at -] yahoo.com, bajasur.craigslist.org/reb/7008511194.html?lang=en&cc=us, Cabo San Lucas


ExPat 911 LifeLine Emergency Service - Imagine you're in an urgent situation, trying to report a crime, a fire, a medical issue or other emergency to First Responders in Spanish? Would you be able to explain your symptoms, details of a crime or accident, or even your location? ExPat 911 helps you report emergencies without worrying about the language barrier.


Whenever you access this easy-to-use phone app to report a crime or emergency, 24/7, you'll always reach a native, English-speaking operator. While you're reporting your emergency in English, a Spanish-speaking operator is relaying your emergency to the authorities in Spanish. This ensures vital details are covered in seconds. ExPat 911 can even use GPS location mapping to pinpoint your location (GPS Mapping requires a GPS-enabled phone).

Live Safe and Secure in Mexico using the ExPat 911 LifeLine Emergency Service.
NEW! Get a second account for your spouse for 50% off!
To learn more and get started today, go here: ExPat 911 ☞ ExPat911.mx, Baja California Norte and Sur, and Throughout Mexico
Baja Weather Watch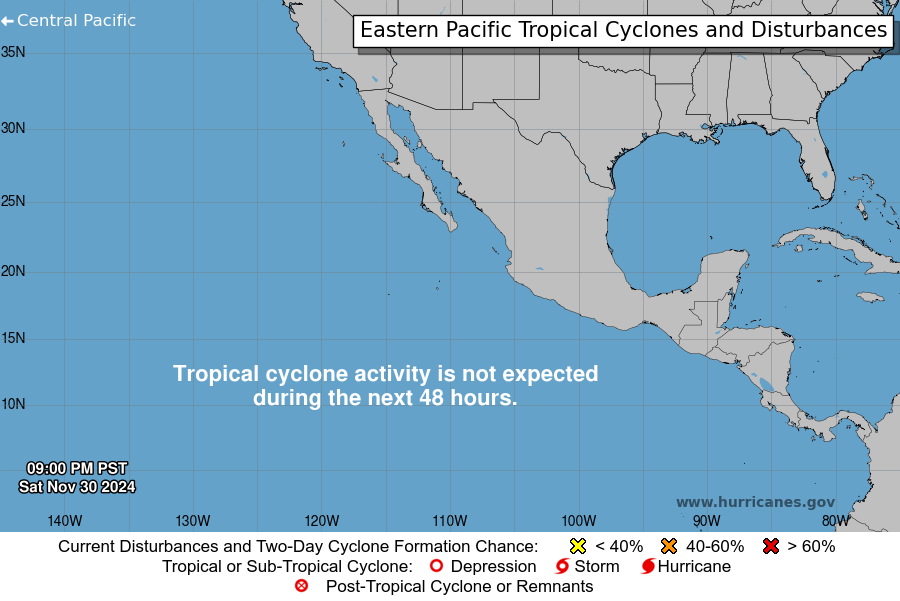 Todos Santos Area Map. Click on the Map for More Detail: google.com/maps/place/Todos+Santos,+Baja+California+Sur,+Mexico
High-speed Satellite Internet Service Now Available in BCS - High-speed Internet is finally here, and available just about everywhere in the Los Cabos Region. High Speeds up to 20 Mbps. Various plans available to suit your budget, and you can change plans at any time. Vacation holds are available:


| | | | |
| --- | --- | --- | --- |
| Plan | Max. Speed | Mo. Data Allowance | Cost Per Month |
| 10 GB | 3 Mbps | 10 GB | $ 799 pesos |
| 35 GB | 3 Mbps | 35 GB | $1,399 pesos |
| 50 GB | 5 Mbps | 50 GB | $1,999 pesos |
| 100 GB | 10 Mbps | 100 GB | $2,999 pesos |
| 160 GB | 20 Mbps | 160 GB | $4,999 pesos |

Equipment is $5,600 pesos. Installation available - Contact me for details and estimates. Shop Local, Buy Local. Todos Santos TV And Internet, locally owned and operated, and serving the Los Cabos Region since 2007. For more information, contact: ☞ Ernesto Pardo, Todos Santos TV And Internet, todossantostv1 [- at -] gmail.com, Baja California Sur
---

Energy Healing Sessions - Spirit-guided private and group Energy Healing. Sessions. I have 20 yrs experience working with children, teens, adults, and animals of all ages and abilities, internationally. ☞ Tameer Barnslee, tameer [- at -] tameer.ca, tameer.ca, Todos Santos

Los Cabos Computer Repairs - Parts, service, cleaning, anti-virus, home and office wired and wireless networking, satellite TV and Internet. ☞ Josue Castillo, 612 143 1508, jocama85 [- at -] hotmail.com, Pescadero/Todos Santos

Into The Solution A.A. Meetings - Closed Meet: 5PM Mon/Thur. Closed Womens' Meet: 9 AM Fri. Calle Rafael Pedrajo, last road on right going to Cabo, El Mirador sign, Bldg. on left. ☞ Kenny 612 152 2995, Jenny 612 137 3123, Don 612157 1256, Catherine 612 149 5194, Todos Santos

Bilingual Mass - Sundays, 12:00 ~ 1:00, Local Catholic Church, On the Plaza, Todos Santos. ☞ Dario Salgado ntrasradelpilarbcs [- at -] gmail.com, 612-145-0043, facebook.com/misiondelpilarbcs

Todos Santos Bridge Club - ACBL Duplicate Bridge games Monday and Friday afternoons, 1:00pm, at La Generala. Instruction available. For information contact Donna at donnaretired [- at -] gmail.com or Lorna ☞ Lorna Logan, bridge.ts.bcs [- at -] gmail.com, Todos Santos


Loreto-Mulege Internet/TV Service - Install / repair services for Dish Network, Shaw Direct, HughesNet and commercial V-Sat Internet systems, home networks, VoIP telephone, home theater. ☞ Jose Davila. Cell: 613 111 9779. US: 619 534 6401, josedavilav [- at -] gmail.com, Loreto

Los Cabos Internet/TV Service - Dish TV, Shaw Direct, HughesNet systems and service for the Los Cabos region at reasonable rates. ☞ Ernesto Pardo, todossantostv1 [- at -] gmail.com, 612 104 2000, Todos Santos

House Cleaning - Two Women Who Work Wonders - Honest and Reliable Housekeepers with years of experience between them. Call us at 612 137 3568 or send Email to lucydory_ [- at -] hotmail.com - Todos Santos

Otro Lado Trash - The town truck parks near Cleo's Restaurant on Playitas Saturday mornings from 7:30 to 9:30, every week. Bring your household garbage and give the guys a propina. ☞ cliffnjamies [- at -] hotmail.com, Todos Santos

Todos Santos A.A. Meetings - Open Meetings, 11:00AM Mon/Wed/Sat. and 5:00PM Tue/Thur/Fri. This group has a new location. Where we used to meet at the church, we now meet in the building On Calle Melchor Ocampo between Rangel and Cuauhtémoc. Across from Super Mercado Hermanos Martinez. Eric, 612-156-9980, Todos Santos

---

Your Service Ad Here - Only $5 US Per Week! Do you have a Service to offer but customers don't know how to contact you? Put your Service ad of up to 25 words Here in front of Over 6,600 Baja Western Onion Readers for only $5.00 US Per Week. Click For More Info ⇒

Don't Forget To Add Your Events! to our Community Calendar section here: bajawesternonion.com/submit-event.asp. (Please, non-recurring events only - No daily or weekly "Happy Hours," Specials, Music Nights, etc.) ☞ Alan and Debra, The Baja Western Onion


Submit a FREE Ad To The Baja Western Onion - Reach Over 6,600 Baja Western Onion Subscribers! Submit your FREE text-based ad or article of up to 50 words HERE: bajawesternonion.com/submitad.asp. ☞
---
Featured Events/Community Calendar
---
Submit your Featured Events/Community Calendar Items Here: bajawesternonion.com/submit-event.asp

Non-recurring Events Only, Please. Recurring events for weekly Yoga Classes, Happy Hours, Open Mics, etc. may be rejected. Events spanning multiple days may be limited up to the start date.
---
Saturday, November 9
Salsa Brava At La Morena Saturday Night! - 9:30 PM ~ 11:59 PM, La Morena, Juarez Street, Downtown, Todos Santos. Live Music with Salsa Brava from La Paz. Cover $50 Pesos, 9:30 PM Reservations recommended, kitchen open until 10 PM. ☞ Erik Y Zara Castellanos lamorenats [- at -] gmail.com, 612-1450789, facebook.com/events/2454428547939586/
Tuesday, November 12
Mezze Tuesday - Middle Eastern Family Style Dinner. At La Jardiner Deli. Vegan, Vegetarian and Meat plates. $500 pesos per person. Limited seating. First come First Serve. 6PM-9PM ☞ Dominique Sawyer, doniniquesawyer [- at -] hotmail.com, jardineralifestyle.com/, 612-157-7040, Todos Santos
Wednesday, November 13
Healthy Apple Essential Oil Lunch Social - 11am ~ 12:30pm, Pura Vida, Todos Santos. Class, sampling, lunch & social - Essential Oils. Special guest speakers and delicious healthy food. ☞ HealthyAppleClub [- at -] gmail.com, facebook.com/events/2450384638385718/
Thursday, November 14
Art Classes With Tori - 9:00 am. contact Tori for details of art classes - learning and creating at the artist's studio every Thursday. ☞ Tori Sepulveda oscarntori [- at -] yahoo.com, 612 136 - 6738


Saturday, November 16
Tim Lang & Co. At La Morante In La Paz - 7pm, La Morante Art and Music Venue, Revolucion de 1910 #635, La Paz. Tim Lang and special guests perform in the beautiful historic La Morante near the Malecon. Fun acoustic music and a classy atmosphere!. ☞ Lang tim [- at -] timlang.net

4th El Triunfo Gastronomic Festival - 2:00 pm ~ 6:00 pm, El Triunfo historical restauration, Bar El Minero de El Triunfo, El Triunfo. $ 950.00 Pesos, Limited availability. Tickets: kpasapp.com/en/event/5535/baja-california-sur/la-paz/el-triunfo/4th-eltriunfo-gastronomic-fest. ☞ Marcel Lavabre ml [- at -] kpasapp.com, +526241416060

2020/21 Artists Of Todos Santos Calendar - 6:00 PM ~ 9:00 PM, The Palapa Society of Todos Santos, A.C., Todos Santos Brewing, Todos Santos. Join us for our Calendar Kick Off Party! Live music, special offers and prizes. Please R.S.V.P. dinner with Liz Mitchell. ☞ events [- at -] palapasociety.org, todossantosopenstudio.org/2020-calendar/
Sunday, November 17
Robert K Hall Memorial Gathering - 10:00 A.M., Cuatro Vientos, Todos Santos. We invite you to Robert Hall's memorial meditation and celebration of life. Contacto Espa├▒ol: Kate Hart Waters, WhatsApp 967 107 2448. Contact English: Connie & Andy Mical, connieandymical [- at -] yahoo.com. ☞ connieandymical [- at -] yahoo.com

Primal Breathwork Class - 3:00 ~ 6:00, Cuatro Vientos, Todos Santos. Breathwork, Theta Healing, with Guided Visualization to the sound of evocative music. No experience necessary. Please contact Diana prior to attending. 500P/25US.. ☞ Diana Pandell dianapandell [- at -] sbcglobal.net, 612-133-3468
Wednesday, November 20
Free Talk On Health And Hemp Extracts - 2pm ~ 4pm, The Balm of Pescadero, 300 Meters down the road to Hierbabuena, El Pescadero. Join us for this FREE informative talk on the health benefits of hemp extracts, different hemp products, market trends and opportunities with Dr. Erin Pollinger.. ☞ Sandra Wohlers thebalmofpescadero [- at -] gmail.com, +526122331287, http://www.thebalmofpescadero.com


Thursday, November 21
Calming The Mind Through Meditation - 2pm ~ 4pm, Cuatro Vientos, Donation/Donaci├│n, Todos Santos. Mariano Gill, Teacher from the International Dzogchen Community will give a presentation on Tibetan Buddhist Dzogchen tradition. Everyone Welcome! Mariano Gill, Maestro de la Internacional Comunidad de Dzogchen dar├í una presentaci├│n acerca la tradici├│n de Buddhismo Tibetano Dzogchen. ┬íTodos Bienvenidos! ☞ Jan Young ajnayogini [- at -] gmail.com, 612 120 9723

Frock Live Music Show - 6pm ~ 10pm, La Esquina Cafe, Todos Santos. FROCK Show with all female musicians. The evening includes tributes and originals from Nikky Avatara, Jenelle Aubade, Divier Guive, Zoe Dearborn, Kerri Gable and special guests. La Esquina Todos Santos. ☞ MusicEventsBaja [- at -] gmail.com, facebook.com/events/410510249647841/
Friday, November 22
Tim Lang At La Morena - 7 PM ~ 10 PM, La Morena, Juarez Street, Downtown, Todos Santos. Tim Lang & Co will be performing at La Morena November 8 and 22. Come and Listen to Great Acoustic Music and Enjoy Delicious Cuban and Mexican Music in our Patio Setting. NO COVER. 7 to 10 PM. Reservations (suggested): ☞ Erik Y Zara Castellanos lamorenats [- at -] gmail.com, 612-1450789, facebook.com/events/397510400869249/
Saturday, November 23
Live Salsa With Algarab├şa At La Morena - 9:30 PM ~ 11:59 PM, La Morena, Juarez Street, Downtown, Todos Santos. Algarab├şa from La Paz will be playing Salsa, Bachata and Merengue from 9:30 PM. Cuban Musicians. $80 Pesos Cover. Reservations suggested. ☞ Zara Molina lamorenats [- at -] gmail.com, 612-1450789, facebook.com/events/785079875254070/
Sunday, November 24
Working With Emotions: Mindfulness - 2pm ~ 4:30pm, Cuatro Vientos, 300-500 pesos sliding scale, Todos Santos. Mariano Gill, Teacher from the International Dzogchen Community will give a workshop on working with our emotions through the practice of Mindfulness from the Tibetan Buddhist tradition. Mariano Gill, Maestro de la Internacional Comunidad de Dzogchen dar├í un taller experienci├íl que trata de trabajando con las emoci├│nes a trav├ęs de la practica de la conciencia plena desde la tradici├│n de Buddhismo Tibetano. ☞ Jan Young ajnayogini [- at -] gmail.com, 612 120 9723
Thursday, November 28
Happy Thanksgiving🦃 Hotel California - 4 pm ~ 10 pm, Hotel California, Calle Juarez, Todos Santos. Traditional "All You Can Eat" Thanksgiving Dinner.. ☞ Debbie Stewart info [- at -] hotelcaliforniabaja.com, 612.145.0525, http://www.hotelcaliforniabaja.com


Friday, November 29
Jenelle Aubade, Kerrie Gable and Mark Attalla Music - 6pm ~ 8:30pm, Todos Santos Brewing, Todos Santos. Friday Night Show at Todos Santos Brewing Live Music in the Beer Garden, Jenelle Aubade + Kerrie Gable + Mark Attalla. ☞ MusicEventsBaja [- at -] gmail.com, JenelleAubade.com/Shows

Enlightenment Stupa Fundraiser - 5:00pm ~ 9:00pm, Englightenment Stupa, Modern Elder Academy, El Pescadero. Help us bring our Stupa, a Tibetan Buddhist monument for compassion and world peace, to El Pescadero. Join us for drinks, heavy appetizers, and live music to raise needed funds. !Silent Auction! Minimum donation $30 US or $570 pesos per person. Reservations: Hierbabuena-El Pescadero, Libreria El Tecolate-Todos Santos, Cuatro Vientos-Contact Marimar, El Otro Lado. Print clearly your name and number attending. ☞ Lee Purser leewpurser [- at -] hotmail.com, enlightenmentstupa.org/
Friday, November 29 thru Saturday, November 30
Todos Santos Cumbia Band/ Fiesta Latina - 6PM ~ 1AM, La Esquina, Todos Santos. Latin Dance Event with LIVE MUSIC from Todos Santos hometown favorite! Ritmos Latinos Dance Class 6pm-7pm with Adri├ín Meza of SERbailando, followed by a great night of Dancing! Cover 50p. Dance Class 100p (includes event cover) . ☞ Jan Young SERbailando [- at -] gmail.com, 612 120 9723
Wednesday, December 4
Taller Herbolaria Level I With Nahoa - 9am ~ 3pm, The Balm of Pescadero, Camino al Rancho Pescadero, El Pescadero. Get to know the local plants of the Baja desert landscape, their history and traditional medicinal qualities. Let Omar lead you on this experiential journey of traditional Mexican medicine and how to stay connected to the healing qualities of different local plants. Learn the basics of how to make your own natural plant healing kit at home and get started with Nahoa's custom medicine kit that you will prepare in class. This workshop is truly a magical and informative experience!. ☞ Sandra Wohlers thebalmofpescadero [- at -] gmail.com, 6122331287, thebalmofpescadero.com/events/wellness-workshop/
Friday, December 6
Third Annual Holiday Benefit - 4 pm ~ 8 pm, Pescadero Food Bank/Banco de Alimentos, Shaka's Cantina , Cerritos Beach. Join us for a festive evening featuring live music by Jon Nicholson! Enjoy food, a silent auction, raffles. Help provide food, medical supplies and clothing for Pescadero families in need. ☞ Marla Edwards, facebook.com/foodbankofpescadero/, facebook.com/events/2413049195622865/
Sunday, December 8
Baja Rescue's Annual Tiangias - 10:00 a.m. ~ 2:00 p.m., Baja Rescue, Calle Las Brisas & first road (right), Todos Santos. December 8th, 10:00 a.m., Baja Rescue's 24th Annual Tianguis. Support us in our work; spaying and neutering dogs and cats. Accepting donations of household goods, gently used clothing and shoes, working appliances, tools and sporting goods. Please, no books. Drop off items at Kitty Heaven or contact Angelique. Your donation is greatly appreciated! . ☞ Angelique Schornstein bajakitties [- at -] yahoo.com, bajarescue.org/make.a.donation/

Women Awakening/despertar De Las Mujeres - , at Cuatro Vientos, Horizonte/next to La Esquina, Todos Santos. Radiant Love: The Full Spectrum. Bilingual Summit with Interactive Experiences, Movement Practices and Ceremonies. Amor Radiante: El Espectro Completo. Un cumbre biling├╝e de Experiencias Interactivas, Prácticas de Movimiento, y Ceremonias. ☞ Angelica Robinson womenawakeningtodossantos [- at -] gmail.com, +1-303-913-4334, womenawakeningtodossantos.mx/
Tuesday, December 10
Explore Sabor Padrino Fundraiser Gala - 5:30 PM ~ 10:00 PM, el Mirador by Guaycura, Todos Santos. A memorable culinary evening with guest chef Luis Armando Mukul, cocktails, fine wines, dinner, and entertainment. Advance ticket purchase required. All proceeds benefit Padrino Children's Foundation.. ☞ Nancy And Nancy info [- at -] padrinocf.org, 612-178-0040, padrinocf.org/
Thursday, December 12
Healthy Apple Tai Chi And Pot Luck - 5pm ~ 7pm, Todos Artes, Todos Santos. Tai Chi/Qi Gong introduction by Rhoda Joy Jacobs. Pot Luck Dinner social, bring something to share. [- at -] Donna Billick's Studio/Center for the Arts, Todos Artes. ☞ beadsbot [- at -] gmail.com, facebook.com/events/459843317938588/
Friday, December 13
Manos Magicas Festival Of Trees - La Casita Restaurant, Todos Santos. Featuring traditional hand-decorated Mexican trees at Silent Auction and beautiful handmade gifts by the ladies of Manos Magicas. Come do some holiday shopping. Hopefully you will fall in love with one of the beautiful trees and make a bid. Manos Magicas is a cooperative of women from diverse cultures.. ☞ Cat Chambaret chambaretcat [- at -] mac.om
Saturday, December 14
Mala Making & Meditation Workshop - 12 ~ 3, Baja Malas w/ Cabo Yoga & Fitness, Plaza Novva, Cabo San Lucas. During this fun and interactive, meditative-art workshop, we will: Learn about the history and significance of Japa Malas, set our personal intention & prayer into each bead, create our own 108 gemstone knotted mala & tassel & Practice meditating with it. $700mxn. Pre-reg required. ☞ Suzi Maldonado bajamalas108 [- at -] gmail.com, +52 (624) 157-9289, caboyogaandfitness.com/mala/
Thursday, December 19
Thursday Artists Holiday Art Show - 6:00 pm ~ 7:30 pm, , Mangos Gallery, . Art wine cookies! Yes! Just in time for the Holidays. Always a fun time.. ☞ Susan Doyle timsudoyle [- at -] hotmail.com


Saturday, December 21
Mala Making & Meditation Workshop - 11am ~ 2pm, Baja Malas , Cuatro Vientos on Calle Horizonte , Todos Santos. A fun & interactive, meditative-art workshop to learn about the history & significance of malas, set a personal intention, create a 108-gemstone bead, knotted mala necklace and take time to practice meditating with it. $700mxn. Pre-Reg required. Makes a great holiday gift!. ☞ Suzi Maldonado bajamalas108 [- at -] gmail.com, +1-951-723-7583
Saturday, December 28
Worldwide Premiere 'Colette The Pig' - 6 ~ 11, Pantheon 19, Todos Santos. Worldwide Premier of 'Colette the Pig' by the Colettivo, to benefit the Padrino Foundation. Live Music, DJ, Food & Drink, Art Auction, Dancing and Red Carpet Action! Special Guest Appearances, not to be missed this holiday season. ☞ Jenny Armit jennyarmit [- at -] mac.com, +52 (612) 137-3123
---
Submit your Featured Events/Community Calendar Items Here (Non-recurring Events Only, Please): bajawesternonion.com/submit-event.asp
---
Lost, Found, and Stolen Items Return to Top
---
Pescadero Burglary (from the Baja Western Onion Facebook Group) Beware that is the robber that broke in to my house in Pescadero he took it all solar batteries propane tanks pool pump tools and so much more i hope someone can reconize him - Marc Hugger ☞ Join The Conversation Online via Facebook: facebook.com/groups/TheBajaWesternOnion/


How To Remove Your Lost And Found Items Notice - If your Lost or Found item is reunited with its owner, let us know and we'll remove your notice. Send us a note through the Baja Western Onion online ad submit form. We'll be sure to get it. You can find the ad submit form here: bajawesternonion.com/submitad.asp -
---
Submit your Lost And Found Notices here: bajawesternonion.com/submitad.asp


---
Rides or Caravans Available/Wanted Return to Top
---
Want To Caravan? - Will be crossing at Tecate late November -sometime around the 21st, can be flexible. Usually take 3 days to do the peninsula to Todos. Let me know if interested in caravanning. Thanks! ☞ bethk2007 [- at -] gmail.com

Submit your Rides or Caravans Needed/Available Notices HERE: bajawesternonion.com/submitad.asp

How To Remove Your Ride Share Ad - If you hook up with someone for a ride, let us know and we'll remove your notice. Send us a note through the Baja Western Onion ad submit form. We'll be sure to get it. You can find the web submit form here: bajawesternonion.com/submitad.asp -
---
Submit your Rides or Caravans Needed/Available Notices here: bajawesternonion.com/submitad.asp


---
Pet Corner (Lost and Found pet notices will run for two weeks) Return to Top
---
How To Remove Your Lost or Found Pet Notice - If you reunite a pet with its owner, let us know and we'll remove your notice. Send us a note through the Baja Western Onion ad submit form. We'll be sure to get it. You can find the web submit form here: bajawesternonion.com/submitad.asp -
Lost Long-haired Black Cat-->> - Noireau, a long-haired black cat is missing in the La Cachora Norte / Rio la Machina part of Todos Santos. He has been missing for over a week and his cat and human family are very sad. Please call if you see him. ☞ Brock Taylor, bajabrock [- at -] gmail.com, 6121770760, Todos Santos. ☞ Brock Taylor, bajabrock [- at -] gmail.com, 6121770760, Todos Santos

Lost Doberman In Cerritos - Very playful answers to the name Obama ☞ Kevin Nelson, freepowerman [- at -] yahoo.com, 6121178368, Pescadero

Escorts Needed - ALMA does all the work - it's super simple and so rewarding! Please email for more information. ☞ Juli Collier, escort [- at -] almahumanitaria.org, almahumanitaria.org, Los Barriles


Notice: Animal Abuse In BCS is Punishable By Law - Animal abuse in BCS is punishable by fines of up to 100 days and 2 years in prison: "In order to offer protection to the animals of Baja Southern California, article 386 of the penal code stipulates that any person who commits acts of animal abuse may pass from 6 months to 2 years in prison, besides being fined between 50 and 100 days of minimum wage," Executive Secretary of the Commission for Consolidation, Evaluation and Monitoring of the System of Criminal Justice in the state, Jesús Fernando Vázquez Savín. ☞ Alan And Debra, bajawesternonion [- at -] gmail.com, bcsnoticias.mx/maltrato-animal-bcs-se-sanciona-multas-100-dias-2-anos-prision/, The Baja Western Onion

Good Info On What To Do If You Lose Your Dog In Baja (or Anywhere) - This excellent article courtesy of Baja Insider: bajainsider.com/baja-life/pet-care/findinglostdogs.htm

---
Submit your Pet Corner articles here: bajawesternonion.com/submitad.asp (and remember to Spay or Neuter your pets)
Let us know if you find or place your pet so we can remove your ad -
---
Quote Of The Day:
" It is not enough to have a good mind; the main thing is to use it well. " ~ Rene Descartes
---
---
Return to Top
---
---
Frequently Asked Questions

---

How Do I Submit an Article, Ad or Question? Visit Our Web Site at submitad.asp
How Do I Submit a Graphic or Photo to The Baja Western Onion? Visit Our Web Site at advertising.asp
How Do I Advertise in The Baja Western Onion? Visit Our Web Site at advertising.asp
How Can I Donate to The Baja Western Onion? Visit Our Web Site at donate.asp
What Can I Submit and How Often? Find Information Here: faq.asp
Where Can I Find The Best of The Baja Western Onion? Visit Our Web Site at best-of-the-bwo.asp
Where Can I Find Back Issues? Recent Back Issues of the Baja Western Onion are Here: back-issues.asp (NOTE: Not all Back Issues Posted)
How Do I Subscribe? Visit Our Web Site at subscribe.asp
How Do I Unsubscribe? Our link is at the bottom of every issue of the Baja Western Onion, or visit Our Web Site at subscribe.asp.
How Do I Contact the Human Owner of The Baja Western Onion? Please send an e mail to .
More FAQs Here: faq.asp

---

Home

|

Submit a Free Ad

|

Submit a PAID Ad

|

Submit a Community Calendar Event Paid Advertising

|

FAQs Back Issues

|

Subscribe

|

About the BWO

|

Privacy Policy
JOIN US ON FACEBOOK!

---






Todos Santos News Info Events Entertainment Things To Do Pescadero La Paz San Jose Del Cabo San Lucas Baja California Sur Mexico-Baja Western Onion. The Baja Western Onion e mail newsletter information community calendar want ads for sale for trade swap meet