---
News, Info, Events, Entertainment Things To Do: Todos Santos, El Pescadero and La Paz to Cabo San Lucas and San Jose Del Cabo, Baja California Sur, Mexico
Covering the Entire Los Cabos Area From Todos Santos, El Pescadero and La Paz to Cabo San Lucas and San Jose Del Cabo, Baja California Sur, Mexico
Welcome to the Baja Western Onion! Twice a week by Email, we provide fresh community news, info, events, entertainment listings and things to do in Todos Santos, and the Los Cabos Area of Pescadero, La Paz, Cabo San Lucas and San Jose Del Cabo, Baja California Sur Mexico.
---
The Baja Western Onion - July 03, 2018 (Over 6,500 current subscribers)
NOTE: The issue below is an Example Only. To receive the most current issue, FREE by Email, please Subscribe.
Saint Judes Clinic in Todos Santos - Become a VIP Member for just 1,500 pesos a year. Includes 1 Yearly Check Up, labwork and 1st Medical Consultation with a Doctor.

Enjoy your retirement life or partial stay in Todos Santos knowing your current state of health. Your VIP Membership benefits include 24/7 non-emergency consultations, and blood pressure and weight checks. Also get a 10% discount on Pharmacy, Laboratory and X-ray Services.

Saint Judes Medical Specialists Include:
**Orthopedic
**Neumologist
**OBGYN
**Cardiologist
**Internal Medicine
**Ultrasound
*Ambulance Certified by the Dept. of Health. *International Medical Insurance Accepted. *Itemized Bill Provided For Reimbursement.

For details or questions, Call: 612-159-1030 or 612-145-0600, or Email: info [-at-] saintjudesclinic.com ☞ Saint Judes Clinic, info [-at-] saintjudesclinic.com, saintjudesclinic.com, Todos Santos
Original Play - Don't Miss It! - If you missed the first performance of the original play Tamazhé El Secreto de Las Calafias Parte 1, here's another chance to see it! Starring Children with Special Needs participants and many more.

Teatro Gral. M√°rquez de Le√≥n, July 12, 6:30 PM. Minimum donation at the door of 50 P and 70 P for children and adults. It's a wonderful production! Proceeds benefit Padrino Children's Foundation. ☞ Nancy Naigle, info [-at-] padrinocf.org, padrinocf.org, 612-178-0040, United States
Singer/Songwriter, 'The Old Coyote' - Denes McIntosh (The Old Coyote), a new resident of Todos Santos, will be bringing his intimate originals and iconic covers to La Esquina this next Thursday evening, July 4th, from 6 to 9 pm.

Drop in for some good music, some good company, good food, and cold beer. ☞ Denes Mcintosh, denes.mcintosh [-at-] gmail.com, denesmcintosh.com, 1 530-906-8172, Baja California Sur


Spanish Lessons With Guillermo Bueron July 8, 2019 - Certified Berlitz Instructor Guillermo Bueron 15 years teaching in Todos Santos conducts small intimate classes of up to 4 participants( as well as one one sessions) who will enjoy personalizad hands-on guidance throught the program.All levels welcome. Classes will be held at the Cultural Center, home to the cultural life and history of our town, it features a museum, two libraries and community rooms 20 Intensive classes Monday/Friday, 12 Conversation classes M/W/F, classes will start on July 8, 2019. ☞ Guillermo Bueron Prieto., g_bueron [-at-] yahoo.com, 612 173 1331, Todos Santos


Mailbox Share - Share mailbox with me at Papeleria, Todos Santos for six months. $60 starting this week. Suzanne ☞ Suzanne Rodriguez, kangokennel [-at-] gmail.com, 626 484 3204, Todos Santos



Do You Need A Responsible, Long-term House-sitter? - My services are available from 1 October 2019 in Elias Calles, Cerritos, El Pescadero, or Todos Santos. Referrals will confirm I am reliable, responsible, honest, neat, practical, hardworking. Familiar with living "off the grid". Speak espa√Īol to liaise with builders and service providers. Plenty references. Single. Own transport. ☞ Lana, lorene3388 [-at-] gmail.com, +52-612-204-4154, Todos Santos


2002 Land Cruiser For Sale - 2002 Black Land Cruiser 140,000 miles

Tan interior, Outback Armour off-road suspension, bull bar, new battery, SD plates

Engine Meticulously Maintained. $10,000 USD ☞ Chris Miller, namaste1948 [-at-] gmail.com, 562-805-4104, Rancho Nuevo


Live Music At Jardín Alquimia - Every Wednesday, Pepe, Jonathan and Mario will delight us with the best latin beats in Todos Santos, from 8 to 11 pm; come join us! Free entrance. ☞ Jorge Ochoa, Jardinalquimia.ts [-at-] gmail.com, 6122333320, Todos Santos


Massage Home Service Now Available

Enjoy our White Sand Spa relaxing and deep tissue massages at special discount prices in the comfort of your home or business.

Serving the Todos Santos, El Pescadero, and Los Cerritos areas.

Call or email for more info: Tel: (612) 145-0571 (White Sand Spa landline)

☞ Alondra and Fabiola, Massage Therapists, info [-at-] whitesandmassage.com


Escuela De Cine Leonardo Perel - Photography Workshop - July 8-12, M-F 11:00-1:00, Casa de la Cultura, Todos Santos, For youth ages 13-21, learn the technical and creative aspects of digital photography with professional, Mark Borderud. Bring your DSLR camera, phone, tablet or ipad. Presented by the Escuela De Cine Leonardo Perel, Class is free, registration required ☞ Patricia Baum, teampaty [-at-] gmail.com, facebook.com/EscuelaDeCineLeonardoPerel/, 612 100-6906, Todos Santos



Hiring English Speaking Bridal Hairstylist & Make-up Artist - We are hiring girls who are interested in learning how to do hair & makeup for brides and bridal parties. Must speak fluent English, have a good presentation, be responsible and have the desire or natural ability to learn how to do makeup, blowouts and hairstyling. Training & equipment provided. ☞ Neysa Quintana, neysa [-at-] blancbridalsalon.com, blancbridalsalon.com, 6241475708, Cabo San Lucas



Escuela De Cine L. Perel -taller De Fotograf√≠a 8-12 De Julio - 8-12 de julio, 11:00-1:00, Casa de la Cultura, Todos Santos, Para jovenes de 13-21 a√Īos. Aprenda todos los aspectos tecnicos y creativos sobre la fotograf√≠a, con el fot√≥grafo profesional, Mark Borderud. Traer sus cameras digitales, telefonos, o tablets. Registrarse, gratuito, con Patricia Baum, Coordinadora Educativa, Escuela de Cine Leonardo Perel ☞ Patricia Baum, teampaty [-at-] gmail.com, facebook.com/EscuelaDeCineLeonardoPerel/, 612 100-6906


Ricardo Amigo Property & Rental Management - Along with real estate sales, Ricardo Amigo's property management and home rental team are committed to protecting your investment in Baja Sur.

We are celebrating our 14th year managing properties and home rentals. Our services include, but are not limited to, paying all utility bills, phone, internet, cable, annual fideicomiso and property taxes.

Supervising and paying all workers and insuring that the property is well mantained. Through the years we have developed and nurtured strong relationships with the correct people so that we can provide the necessary services our clients deserve.

We are happy to help you arrange construction bids, hurricane protection, check in and check out clients, coordinate catering, food stocking and any request within reason that our clients might have.

Please contact: Claudia Montiel Claudia [-at-] ricardoamigo.com, or Cabo Rockwell Cabo [-at-] ricardoamigo.com. You can also call Mex. cell (612) 200 5464 US line (619) 270 2241
Trade Skills For Short-term Rental? (from the Baja Western Onion Facebook Group) - Hola Baja Sur, I will see you in a week! I am a mural and sign artist looking to trade my skills for a place to stay July 10-14... anyone? - Glenn Case ☞ Join The Conversation Online via Facebook: facebook.com/groups/TheBajaWesternOnion/
Beautiful Palms For Sale - Come visit a working palm plantation! We have thousands of palms, and over 30 different varieties.

We have small potted palms that you can drive away in your pick-up/car, and we have large specimens that will dramatically change your landscape that we can crane into place.

Check out our website for clear instruction on how to find us, just click on the 'Contact & Finding Us' button.

We also offer crane services for spiral staircases, jacuzzis, installing engines in boats ... whatever you might use a crane for. See you soon. ☞ Dean Mcquillen, film [-at-] telus.net, palms.mx, 612.133.0311


Mi Pueblito Closed For Maintenance - Restaurant mi pueblito will be closed from Thursday July 4 - 11 due to maintenance. We will reopen our doors and be ready to serve you delicious food and killer drinks with our regular hours starting friday July 12 sorry for any inconvenience for special requests please reach us at ☞ Sharon Vacio, mipueblito.bcs [-at-] gmail.com, 612-139-8189, Todos Santos



Young Family Looking For Todos Santos Rental - We are a young family of 4 looking for a 2-3 bedroom rental in Todos Santos that is fenced in or gated. We greatly look forward to hearing from you and thank you in advanced for reaching out! ☞ Alex Gamboa, renoag20 [-at-] gmail.com, US Cell (203)645-7371, Todos Santos


Baja Beach Oasis Vacation Rentals - Seeking serenity? Located in the tranquil community of Elias Calles (30 minutes North of Cabo San Lucas), Baja Beach Oasis offers the peace and serenity you have been seeking.

Escape the worries of the "real world" and leave behind the "hustle and bustle" of overcrowded resorts and beaches.

Relax in your private casita or in the intimate copper soaking tub for two, located steps from 7 miles of nearly deserted beach and a short 10-minute drive to local shops and restaurants.
~Discounted rates for long term renters
~Group/family rates available
~Pets welcome
~Rates Starting at $80 USD per night
☞ Reservations [-at-] BajaBeachOasis.com, bajabeachoasis.com, +12085716600, Elias Calles


Fins- Mike Stewart Vipers - Best bodyboarding fins! Black, size Medium. Unused, bought the wrong size. $50 ☞ Susan Sheffield, susanksheffield [-at-] yahoo.com, Todos Santos



Campervan - Hi we are looking to buy or rent a campervan and will be in the Baja early 2020 if anyone has one for sale or rent we would love to here from you thanks Hilary and Michael ☞ Michael, Michaelgeorgelambert [-at-] hotmail.com, Baja California Sur


Are You Ready For Hurricane Season? - Consider Solargard Armorcoat Films...the leading manufacturer of glass and window films:
• Hurricane and break-in protection
• Withstands water penetration
• Withstands high winds
• Withstands direct hits from large objects
• Professionally installed
Added Benefits: Reduces Heat, Glare And UV Radiation, and Exceeds Miami-Dade Building Code Standards. Contact: ☞ Sandy Pogue, alexander.g.pogue [-at-] gmail.com, 612-154-2806, Baja California Sur


Don't Forget To Add Your Events! to our Community Calendar section here: bajawesternonion.com/submit-event.asp. (Please, non-recurring events only - No daily or weekly "Happy Hours," Specials, Music Nights, etc.) ☞ Alan and Debra, The Baja Western Onion
Baja Weather Watch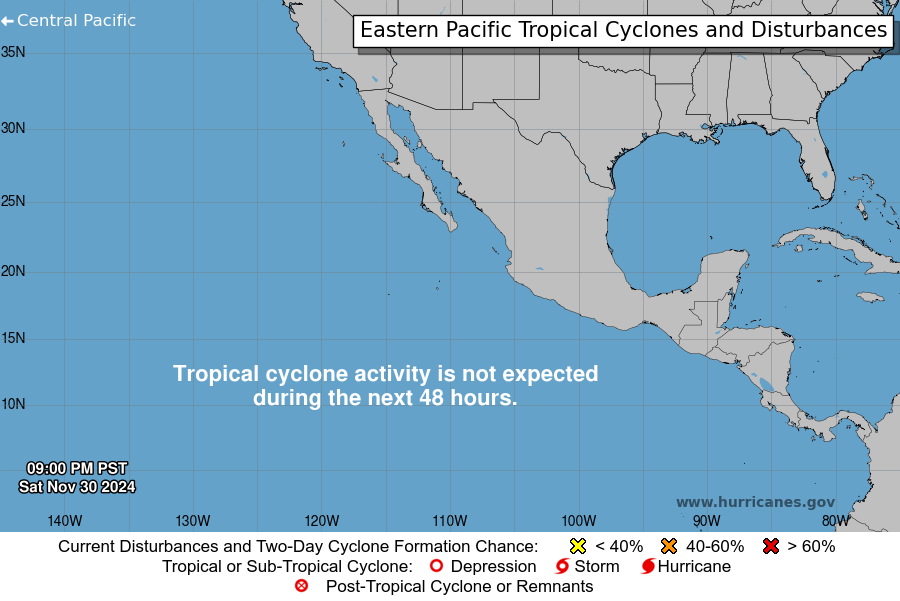 For Sale: Large Ocean Kayak - Sit on top kayak for two. Ocean Kayak, "Zuma Two". Large, green, designed by Tim Niemier with storage compartments. $75 USD, you pick up. Good condition, email for photos ☞ Susan Sheffield, susanksheffield [-at-] yahoo.com, Todos Santos



Todos Santos Area Map. Click on the Map for More Detail: google.com/maps/place/Todos+Santos,+Baja+California+Sur,+Mexico


Visit Todos Santos From Intercam La Paz - I will be working every Wednesday in Todos Santos, in la esquina, any interesting to open account contac me ☞ Aldo Romero, aromeroa [-at-] intercam.com.mx, 6121516240, Baja California Sur


Casa Caoba: 3 Bdr Condo, 1 Bdr Apartment, & Studio Apartment - Looking for a place to stay this summer? We've got you covered! Check out our website to see photos and amenities. Enter your dates to see an instant quote. Staying longer than 3 weeks? Email for discounts! We are located in Las Tunas, 1 mile from the beach! ☞ Caroline Benzel, caroline.benzel [-at-] gmail.com, mycasacaoba.com/, 8156237019, Todos Santos


High-speed Satellite Internet Service Now Available in BCS - High-speed Internet is finally here, and available just about everywhere in the Los Cabos Region. High Speeds up to 20 Mbps. Various plans available to suit your budget, and you can change plans at any time. Vacation holds are available:


| | | | |
| --- | --- | --- | --- |
| Plan | Max. Speed | Mo. Data Allowance | Cost Per Month |
| 10 GB | 3 Mbps | 10 GB | $ 799 pesos |
| 35 GB | 3 Mbps | 35 GB | $1,399 pesos |
| 50 GB | 5 Mbps | 50 GB | $1,999 pesos |
| 100 GB | 10 Mbps | 100 GB | $2,999 pesos |
| 160 GB | 20 Mbps | 160 GB | $4,999 pesos |

Equipment is $5,600 pesos. Installation available - Contact me for details and estimates. Shop Local, Buy Local. Todos Santos TV And Internet, locally owned and operated, and serving the Los Cabos Region since 2007. For more information, contact: ☞ Ernesto Pardo, Todos Santos TV And Internet, todossantostv1 [-at-] gmail.com, Baja California Sur


House/pet Sitter - Retired Banker living in San Diego is willing to House/Pet-Sit for you. Free Service! You pick me up I learn your needs take you back to the airport pick you up when you return. Can Rent a car if needed. Many references in Mexico. Doing this 15+ Years. Ted 760-216-2982 ☞ Ted Lemanowicz, tlemanowic [-at-] sbcglobal.net, 760-216-2982, Todos Santos


---

Todos Insurance - Global Medical / Expat / Travel / Auto / Home / Marine 'Äď Providing the highest quality international healthcare plans. Comprehensive, affordable protection worldwide. ☞ Jack Schaub, jack [-at-] shoreline.com.mx, Todos Santos

Los Cabos Computer Repairs - Parts, service, cleaning, anti-virus, home and office wired and wireless networking, satellite TV and Internet. ☞ Josue Castillo, 612 143 1508, jocama85 [-at-] hotmail.com, Pescadero/Todos Santos

Into The Solution A.A. Meetings - Closed Meet: 5PM Mon/Thur. Closed Womens' Meet: 9 AM Fri. Calle Rafael Pedrajo, last road on right going to Cabo, El Mirador sign, Bldg. on left. ☞ Kenny 612 152 2995, Jenny 612 137 3123, Don 612157 1256, Catherine 612 149 5194, Todos Santos

Todos Santos A.A. Meetings - Open Meetings, 11:00AM Mon/Wed/Sat. and 5:00PM Tue/Thur/Fri. This group has a new location. Where we used to meet at the church, we now meet in the building On Calle Melchor Ocampo between Rangel and Cuauhtémoc. Across from Super Mercado Hermanos Martinez. Eric, 612-156-9980, Todos Santos

Todos Santos Bridge Club - ACBL Duplicate Bridge games Monday and Friday afternoons, 1:00pm, at Las Fuentes Restaurante. Instruction available. For information contact Donna at donnaretired [-at-] gmail.com or Lorna ☞ Lorna Logan, bridge.ts.bcs [-at-] gmail.com, Todos Santos



Water Ways Baja - Water specialists. We purify all local water sources for drinking, total home and restaurants. Softer hair, whiter whites. Anti-scale. Numerous testimonials. Superior systems and service. ☞ Barbara Manfrediz, barbara [-at-] waterwaysbaja.com, waterwaysbaja.com/, +52 612 142 2290, Todos Santos

Loreto-Mulege Internet/TV Service - Install / repair services for Dish Network, Shaw Direct, HughesNet and commercial V-Sat Internet systems, home networks, VoIP telephone, home theater. ☞ Jose Davila. Cell: 613 111 9779. US: 619 534 6401, josedavilav [-at-] gmail.com, Loreto

Los Cabos Internet/TV Service - Dish TV, Shaw Direct, HughesNet systems and service for the Los Cabos region at reasonable rates. ☞ Ernesto Pardo, todossantostv1 [-at-] gmail.com, 612 104 2000, Todos Santos

Bilingual Mass - Sundays, 12:00 ~ 1:00, Local Catholic Church, On the Plaza, Todos Santos. ☞ Dario Salgado ntrasradelpilarbcs [-at-] gmail.com, 612-145-0043, facebook.com/misiondelpilarbcs

House Cleaning - Two Women Who Work Wonders - Honest and Reliable Housekeepers with years of experience between them. Call us at 612 137 3568 or send Email to lucydory_ [-at-] hotmail.com - Todos Santos

Otro Lado Trash - The town truck parks near Cleo's Restaurant on Playitas Saturday mornings from 7:30 to 9:30, every week. Bring your household garbage and give the guys a propina. ☞ cliffnjamies [-at-] hotmail.com, Todos Santos

---

Your Service Ad Here - Only $5 US Per Week! Do you have a Service to offer but customers don't know how to contact you? Put your Service ad of up to 25 words Here in front of Over 6,500 Baja Western Onion Readers for only $5.00 US Per Week. Click For More Info ⇒

Submit a FREE Ad - Reach 6,500 Baja Western Onion Subscribers! Submit your FREE text-based ad or article of up to 50 words HERE: bajawesternonion.com/submitad.asp, once every 14 days. Paid Ads can appear in each issue. To submit a Paid Ad, GO HERE: bajawesternonion.com/submitad-paid.asp ☞
Courtesy: Michael Fisher [-at-] The Baja Western Onion Facebook Group: facebook.com/groups/TheBajaWesternOnion/
---
Featured Events/Community Calendar
---
Submit your Featured Events/Community Calendar Items Here: bajawesternonion.com/submit-event.asp

Non-recurring Events Only, Please. Recurring events for weekly Yoga Classes, Happy Hours, Open Mics, etc. may be rejected. Events spanning multiple days may be limited up to the start date.
---
Wednesday, July 3
Live Music At Jard√≠n Alquimia - 8 pm ~ 11 pm, Jard√≠n Alquimia, √Ālvaro Obreg√≥n S/N (next to Casa Tota), Todos Santos. Every Wednesday, Pepe, Jonathan and Mario will delight us with the best latin beats in Todos Santos; come join us! Free entrance. ☞ Jorge Ochoa Jardinalquimia.ts [-at-] gmail.com, 6122333320
Thursday, July 4
Singer/songwriter 'the Old Coyote' - 6:00 ~ 9:00, La Esquina, Todos Santos, Todos Santos. Denes McIntosh (The Old Coyote) will be bringing his intimate originals and iconic covers for a night of acoustic music. Not to be missed.. ☞ Denes Mcintosh denes.mcintosh [-at-] gmail.com, 1 530-906-8172, denesmcintosh.com
Friday, July 12
Free Concert 'ÄĒ Noche Pegajosa 2019 - 8pm, Parque Cuauht√©moc del Malec√≥n, Paseo √Ālvan Obreg√≥n y Rosales, La Paz. Join us for this free grand community concert. Dance on the Malec√≥n to Latin, Jazz, American Funk, Soul and an international DJ. See you there! ☞ info [-at-] tenajaholdings.com, tenajaholdings.com/noche-pegajosa-2019

Original Play - Don't Miss It! - 6:30 PM ~ 8:00 PM, Teatro Gral. M√°rquez de Le√≥n, Todos Santos, McKinney. Original play Tamazh√© El Secreto de Las Calafias Parte 1, here's another chance to see it! Starring Children with Special Needs participants and many more. 50 P and 70 P children and adults. Benefits Padrino Children's Foundation.. ☞ Nancy Naigle nnaigle [-at-] att.net, 612-178-0040, padrinocf.org
Thursday, July 18
Jenelle Aubade & Guests Live Music - 7pm ~ 9pm, La Esquina Cafe, , Todos Santos. Jenelle Aubade with Ker Rie G'ÄôAble on drums and Daniel Prather on guitar with more special guests tba Thursday July 18th La Esquina Todos Santos 7pm. ☞ Jenelle Aubade Beadsbot [-at-] gmail.com, facebook.com/events/613137242514912/permalink/613257259169577/
---
Submit your Featured Events/Community Calendar Items Here (Non-recurring Events Only, Please): bajawesternonion.com/submit-event.asp
---
Lost, Found, and Stolen Items Return to Top
---
Stolen: Trek Bike With Leather (horse) Saddlebags - Just arrived in TS, Las Brisas area from Grass Valley, CA. First night here my Trek mountain/road bike was stolen from my yard. It is silver/grey in color with standard handlebars (not racing). Also has a small utility bag on the handlebars. Reward for return. Please help. Thank you. ☞ Denes Mcintosh, denes.mcintosh [-at-] gmail.com, denesmcintosh.com, 530.906.8172, Baja California Sur

How To Remove Your Lost And Found Items Notice - If your Lost or Found item is reunited with its owner, let us know and we'll remove your notice. Send us a note through the Baja Western Onion online ad submit form. We'll be sure to get it. You can find the ad submit form here: bajawesternonion.com/submitad.asp -
---
Submit your Lost And Found Notices here: bajawesternonion.com/submitad.asp


---
Rides or Caravans Available/Wanted Return to Top
---
Orange County To Cabo, Anyone? (from the Baja Western Onion Facebook Group) - Leaving Orange County to Cabo June 30, driving a 8 year old VW Bug, any one interested , please respond! - Mario F. Malo ☞ Join The Conversation Online via Facebook: facebook.com/groups/TheBajaWesternOnion/


How To Remove Your Ride Share Ad - If you hook up with someone for a ride, let us know and we'll remove your notice. Send us a note through the Baja Western Onion ad submit form. We'll be sure to get it. You can find the web submit form here: bajawesternonion.com/submitad.asp -
---
Submit your Rides or Caravans Needed/Available Notices here: bajawesternonion.com/submitad.asp


---
Pet Corner (Lost and Found pet notices will run for two weeks) Return to Top
---
How To Remove Your Lost or Found Pet Notice - If you reunite a pet with its owner, let us know and we'll remove your notice. Send us a note through the Baja Western Onion ad submit form. We'll be sure to get it. You can find the web submit form here: bajawesternonion.com/submitad.asp -
Beautiful Boxer Needs A Home - This very sweet 5 yr old boy was surrendered by his owner for personal reasons. He is great with other dogs, likes kids, and will be a wonderful family dog. He is neutered and has all his shots. He's in great health. Contact Mariana for more information. ☞ Mariana Perea, dogprana [-at-] gmail.com, 624 178 4201, Rancho Migriño

Escorts Needed - ALMA does all the work - it's super simple and so rewarding! Please email for more information. ☞ Juli Collier, escort [-at-] almahumanitaria.org, almahumanitaria.org, Los Barriles


Transportation Needed for Kittens - Catslandia Sanctuary is looking for volunteers. We are not able to take all kittens at the same time so we really need help with transportation of them to Catslandia. Any help and support is appreciated!

If you interested, please contact us by email: catslandia [-at-] gmail.com, or phone: 6241374485 ☞ Angela, Los Barriles


Notice: Animal Abuse In BCS is Punishable By Law - Animal abuse in BCS is punishable by fines of up to 100 days and 2 years in prison: "In order to offer protection to the animals of Baja Southern California, article 386 of the penal code stipulates that any person who commits acts of animal abuse may pass from 6 months to 2 years in prison, besides being fined between 50 and 100 days of minimum wage," Executive Secretary of the Commission for Consolidation, Evaluation and Monitoring of the System of Criminal Justice in the state, Jesús Fernando Vázquez Savín. ☞ Alan And Debra, bajawesternonion [-at-] gmail.com, bcsnoticias.mx/maltrato-animal-bcs-se-sanciona-multas-100-dias-2-anos-prision/, The Baja Western Onion

Good Info On What To Do If You Lose Your Dog In Baja (or Anywhere) - This excellent article courtesy of Baja Insider: bajainsider.com/baja-life/pet-care/findinglostdogs.htm

---
Submit your Pet Corner articles here: bajawesternonion.com/submitad.asp (and remember to Spay or Neuter your pets)
Let us know if you find or place your pet so we can remove your ad -
---
Quote Of The Day:
" It has been my experience that folks who have no vices have very few virtues. " ~ Abraham Lincoln

---

---

Return to Top

---

---

Frequently Asked Questions

---

How Do I Submit an Article, Ad or Question? Visit Our Web Site at submitad.asp
How Do I Submit a Graphic or Photo to The Baja Western Onion? Visit Our Web Site at advertising.asp
How Do I Advertise in The Baja Western Onion? Visit Our Web Site at advertising.asp
How Can I Donate to The Baja Western Onion? Visit Our Web Site at donate.asp
What Can I Submit and How Often? Find Information Here: faq.asp
Where Can I Find The Best of The Baja Western Onion? Visit Our Web Site at best-of-the-bwo.asp
Where Can I Find Back Issues? Recent Back Issues of the Baja Western Onion are Here: back-issues.asp (NOTE: Not all Back Issues Posted)
How Do I Subscribe? Visit Our Web Site at subscribe.asp
How Do I Unsubscribe? Our link is at the bottom of every issue of the Baja Western Onion, or visit Our Web Site at subscribe.asp.
How Do I Contact the Human Owner of The Baja Western Onion? Please send an e mail to .
More FAQs Here: faq.asp

---

Home

|

Submit a Free Ad

|

Submit a PAID Ad

|

Submit a Community Calendar Event Paid Advertising

|

FAQs Back Issues

|

Subscribe

|

About the BWO

|

Privacy Policy
JOIN US ON FACEBOOK!

---






Todos Santos News Info Events Entertainment Things To Do Pescadero La Paz San Jose Del Cabo San Lucas Baja California Sur Mexico-Baja Western Onion. The Baja Western Onion e mail newsletter information community calendar want ads for sale for trade swap meet